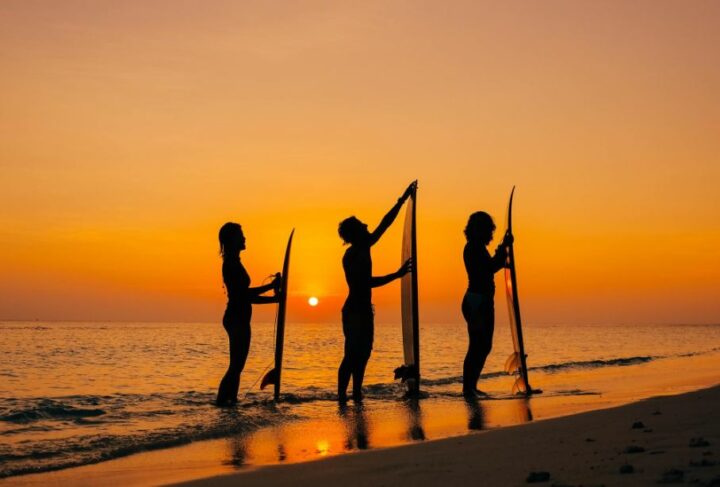 Soneva to introduce the world's first fully sustainable surfing programme
Renowned luxury resort operator, Soneva, has announced its plan to introduce "Soneva Surf", the world's first fully sustainable surf programme in May 2018. The launch is planned on the first day of the surfing season, which extends from May to October. As Maldives has become a well-known surfing destination, the programme will tap into the global interest for surfing in order to facilitate a more conscientious approach to the sport.
Soneva Surf will be offered at both Soneva Fushi in Baa Atoll, where 13 surfing spots have been discovered, and Soneva Jani in Noonu Atoll, where 11 surfing spots have been discovered. And Soneva in Aqua will offer a Surfing Charter within both atolls. The said locations are somewhat unknown and Soneva hopes to discover more. Though surfing in Baa Atoll is more suited to intermediate to advanced surfers, beginners will have the option of surfing at more suitable surfing spots.
Soneva Surf is introducing innovative yet sustainable surfing using eco-friendly surfboards, leashes, fins, rash guards, sunscreen and board wax. They encourage surf enthusiasts to leave their own equipment at home and use the eco-friendly brands selected by Soneva, which are also available for sale.
"Surfing here is about the search and discovery of something that is secretive and pristine. This is something that is so rare to find in the world these days and, what is incredible, is that this is something we have on our doorstep." Said Sunny Yang, Soneva's Surf Manager. "Our mission is to show surfers that sustainable surfing can be achieved without sacrificing the quality of the experience."
As part of the initiative, the brand will be working with the local communities to support the growth and development of surfing across the Maldives so as to encourage the younger generation to comprehend the power and vulnerability of their ocean home. Besides hosting surfing events in the future, Soneva will also be working with their partners to help provide equipment, opportunities and training for aspiring Maldivian surfers. The surfing spots will only be revealed to resort guests who choose the designated surfing packages that Soneva has to offer as they wish to keep the locations unspoiled.
Soneva is a conscientious brand of hospitality properties and products that takes a proactive stand for sustainability and the environment within their luxurious service to guests.  For more information about Soneva, visit www.soneva.com