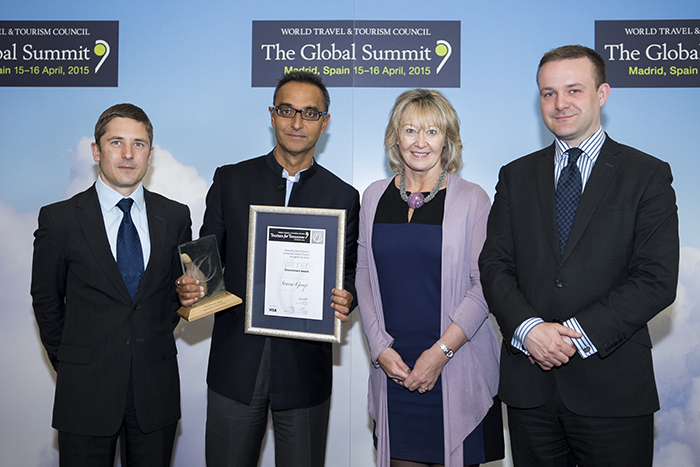 Soneva wins in the Environment category at WTTC's Global Tourism for Tomorrow Awards
From left: Graham Miller, Tourism for Tomorrow Lead Judge; Winner – Sonu Shivdasani (Soneva Group), Maldives and Thailand; Fiona Jeffery OBE, Chair Tourism for Tomorrow Awards; Environment Award Sponsor, Tristan Kirchner, Executive Director, Visa Europe.
World-leading luxury resort operator Soneva Resorts and Residences has been selected as the winner in the 'Environment' category in the annual World Travel & Tourism Council (WTTC) Tourism for Tomorrow Awards at the WTTC Global Summit. The summit took place on April 15 in Madrid, Spain.
The council awarded Soneva for its efforts in pioneering environmental sustainability at its two resorts; Soneva Fushi in Maldives and Soneva Kiri in Thailand. "We take our environmental and social responsibilities very seriously. Whether it is developing resorts using sustainable materials, recycling waste materials, conserving water or preserving ecosystems, we are always prepared to take the initiative and challenge established norms," said Sonu Shivdasani, Founder and Chief Executive Officer of Soneva Group.
"At the heart of our company and brand is our 'Intelligent Luxury' ethos, creating unforgettable, enlightening experiences whilst treading lightly on the earth. By making small changes to our business model, we have been able to help initiate and nurture positive change in our industry, without any negative impact on either our profitability or on our guests' perception of our products. We are extremely proud to have received this award, which is considered as one of the best sustainability awards in the global travel and tourism industry," he added.
Soneva's sustainability initiatives include adding a two per cent environmental levy to guests' bills, raising around USD 5.7 million towards environmental projects, which will mitigate one million tonnes CO2 over seven years; far exceeding Soneva's carbon footprint including guest flights. Similarly, the company also banned imported water in 2008 and produces all required drinking water on site. This has reduced carbon emissions and also avoided the estimated 900,000 plastic bottles that would need to be disposed of. The savings achieved from this have been used through the SLOW LIFE Foundation to give over 600,000 people access to safe drinking water and basic sanitation.
Soneva's annual SLOW LIFE Symposiums bring together some of the world's greatest minds across science, business, philanthropy and policy. Described by one of the participants as a 'laboratory of intent', the events provide leaders with the time and space to address environmental challenges and to create tangible, collaborative solutions. In 2011, Soneva conceived the WHOLE WORLD Water initiative, scaling up the Soneva model of filtering and bottling water locally and donating a percentage of revenues to clean water initiatives. The model eliminates plastic waste and unnecessary transportation miles and allows the whole travel and tourism industry to unite. Soneva also recycles over 80 per cent of its waste through its state-of-the art Eco Centro 'Waste to Wealth' programme. The company has also pioneered the development of its own Soneva Carbon Calculator and environmental profit and loss tool in order to measure and further reduce the environmental impact of their operations and supply chain.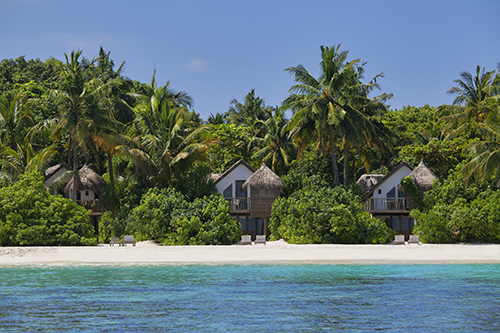 The WTTC Tourism for Tomorrow Awards recognize the best examples of sustainable tourism businesses and destinations around the world. Each year, more than 20 international experts from around the world, representing the private sector, academic institutions, non-profit organisations, and governments, come together as independent judges to select the finalists and winners of the Tourism for Tomorrow Awards. The judging process, where independent experts visit each of the 15 finalists, is the most rigorous of any awards process in the Travel & Tourism industry.
"The WTTC Tourism for Tomorrow Awards celebrate the very best examples of sustainable tourism businesses and destinations around the world. The Awards have been an established part of our industry for over 20 years, recognised as a way of sharing best practice in ways that everyone in our industry can understand; and to make a real difference to businesses wherever they operate in the world. This year's winners come from across the world and throughout our industry, but each one demonstrates a commitment to running their business to the benefit of their people, their shareholders and the environments they operate in", said David Scowsill, President and CEO, WTTC.
Other winners at the event include Reality Tours & Travel, India (Community Award); Ljubljana, Slovenia (Destination Award); TripAdvisor GreenLeaders, USA (Innovation Award); and Confortel Hoteles, Spain (People Award).