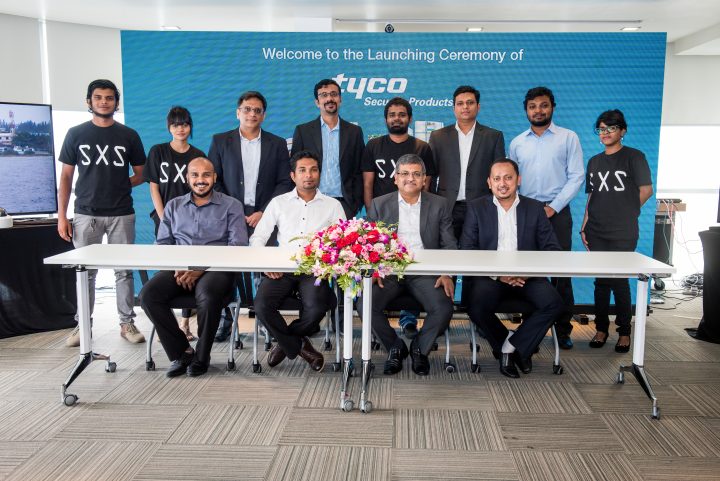 Spectra X Stream launches Tyco security products in Maldives
Local network solutions provider Spectra X Stream has introduced Tyco brand security products to the Maldivian market.
Tyco Security Products is a division of Tyco International, a global leader in fire protection and security solutions industries.
Representatives from Tyco were present at a launching ceremony held at the Salt café conference hall Monday morning  to provide information about their products, including fire detection, CCTV , access control,  and intruder alarms.
"Hospitality is a big industry in the Maldives. With our solution we can bring in both the proactive as well as the reactive element to secure the guests," said Rajeev Samanta, regional sales director of Tycho for South Asia.
Adam Nizween, managing director of Spetra, said: "It used to be that in the Maldives, people had security cameras installed without film to scare away burglars. But now, companies, home owners, hotels operators, they all want higher security and access controls.
"While working closely with hotels chains and other businesses, it was suggested to us that Tyco offered the best integrated solutions. Looking at the market, especially the hospitality industry, what we see are cameras, access and intrusion controls systems. These are all different brands that are not compatible with each other."
He observed that the lack of a single interface to control and monitor all security equipment is often a hassle for resorts and hotels.
"The beauty of Tyco is that it comes with an umbrella and offers a unified solution," Nizween said.
Tyco Security Products and its portfolio of brands form "one of the largest security portfolios in the world," according to the company.
The company touts its specialist engineers in Video Security, Access Control, Location Based Security and Intrusion Security as "a competitive advantage when it comes to system integration."
Tyco's security brands include American Dynamics, the world's most widely adopted line of video-based security and integration solutions; Bentel Security, a leader in product design and manufacturing of a complete range of intrusion security and fire alarm control equipment and accessories; CEM Systems, a leading provider of advanced access control and security management systems; and Connect 24, a cellular and GSM devices for security alarm dealers.
Visit tycosecurityproducts.com and spectraxstream.com for more information.