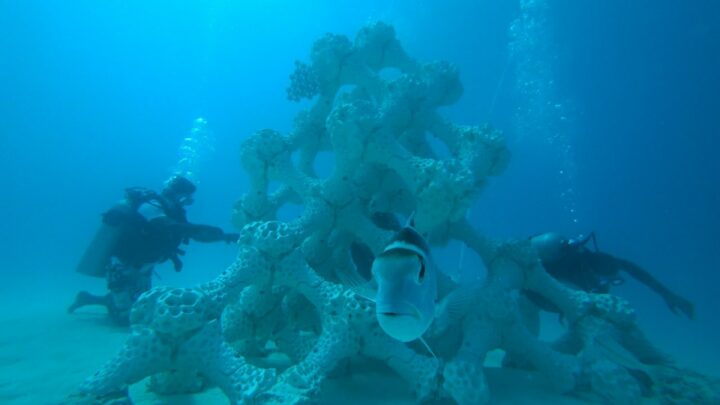 Summer Island introduces 3D-printed artificial reef for coral protection
Summer Island has added yet another coral farming method to its selection of successful coral farming projects by introducing Reef Design Lab's MARS system to the fold. The MARS or Modular Artificial Reef Structure was designed by Reef Design Lab's Alex Goad. The first of the MARS structures have been installed in Summer Island's 'Blue Lagoon' and the team has already started transplanting coral fragments onto it from the island's existing coral nursery.
The moulds for the individual pieces of the structure are 3D-printed and concrete is poured into the moulds to make the separate modular reef pieces. These pieces are slotted and stuck together much like a large puzzle to make the new reef. The resort, along with Alex, hopes to use the project as an experiment to see how corals would acclimate to the structures and to see the effects of transplanting coral onto structures made of different materials; mainly marine cement and ceramic.The team hopes MARS' lattice structure will allow the corals to grow with significant protection from the elements. The way it is built will also allow the team to study how the corals react to being placed at different depths. "3D printing technology helps us to develop more innovative ways of protecting coral reefs. The technology allows us to mimic the complexity of natural reef structures, which we hope will provide a more effective way of growing and restoring corals," said Alex.
The effort is part of Summer Island's bid to protect the fragile underwater environment, which faces big challenges because of rising ocean temperatures caused by climate change. The resort has been successfully using coral polyps; where corals are grown from vertically place individual PVC pipes and coral ropes; corals are strung out on ropes hung from a rigid steel structure.
Arjen Sierink, Diverland base leader at Summer Island said: "We are creating a beautiful new coral garden at Summer Island. Please join us on a dive, discover it for yourself, and help us with our coral conservation. The resort further stated that with the success of their projects, they hope to share their findings and help other parties to start their own coral reclamation projects as well.