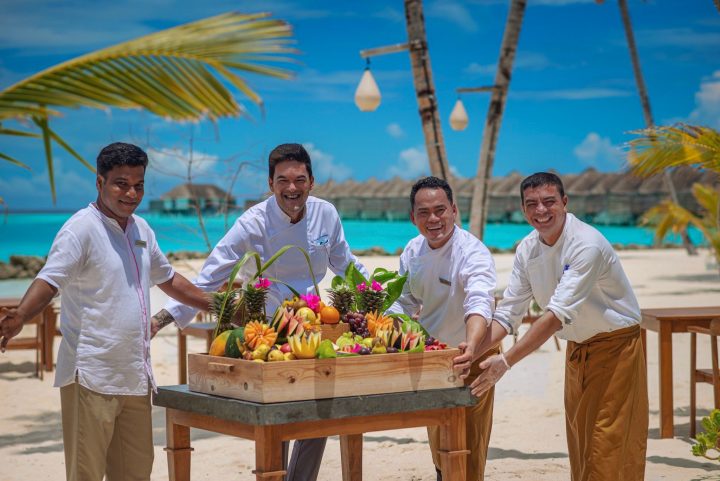 Sun Siyam Iru Veli Marks Third Anniversary
Sun Siyam Iru Veli is celebrating three years since its opening in Dhaalu Atoll on 15th December 2018.
To revel the occasion, the resort closed their à la carte outlets and hosted a series of events starting with a special evening management cocktail at Fresh Water, an exceptional pool bar where guests were greeted with a rose petal entrance. Complimentary champagne cocktails, white and red wine sangria, cocktails, mocktails and other beverages were served in colourful light decorations. Apart from the standard fare, a noteworthy selection of hot and cold Canapés was served as traditional dancers swayed to live Bodu Beru Drums.
The cocktail event was followed a special dinner buffet at Aqua Orange, the lagoon side restaurant. Guests were offered welcome drinks upon arrival along with a marvellous selection of sweets. A special tea station was also set up at Aqua beach along with free henna hand art for young guests. The dinner featured an exceptional curation and combination of culinary delights from around the world.
Afterwards, guests were welcomed to Chemistry beachside bar where they enjoyed free champagne, sparkling wine, cocktails and mocktails while dancing to the choice selections of the live DJ, before the official Sun Siyam Iru Veli Birthday cake was cut. The celebrations ended with a special raffle for all attending guests where they had the opportunity to win prizes including wine, champagne, spa sessions and more.