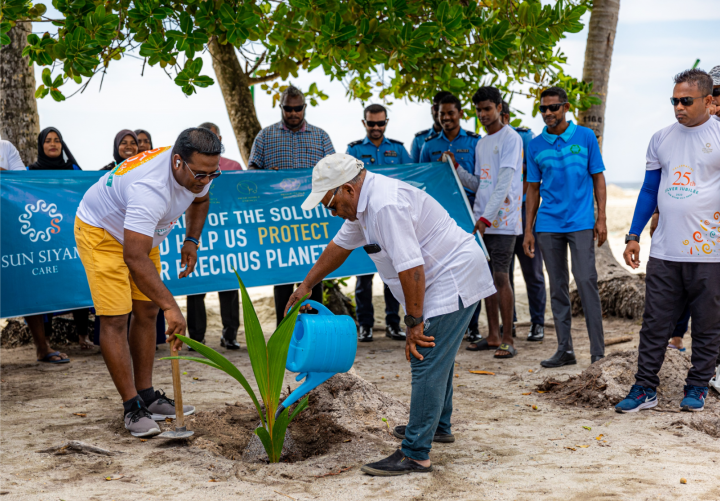 Sun Siyam Vilu Reef organises tree planting in F. Magoodhoo
Sun Siyam Vilu Reef, in line with its commitment to sustainable and eco-conscious practices, organised a tree planting project in F. Magoodhoo on the 25th of October, 2023, planting a total of 155 trees. The initiative primarily focused on areas designated for the construction of an airport, with the core objective of enhancing the ecological balance and promoting environmental consciousness within the community.
Under the leadership of Resort Manager Thoha Yoosuf and Vilu Reef's Family Club Chairman, Mohammed Hameed (Printey), along with 30 dedicated employees, the Sun Siyam team embarked on a significant journey to the pristine island of Maghodhoo, marking the continuous celebration of the Sun Siyam Vilu Reef Silver Jubilee.
Collaborating with the council and local communities, the various teams came together to plant a total of one hundred fifty-five (155) trees, a symbolic gesture of the unwavering commitment to both the environment and the well-being of the communities that the Sun Siyam Resorts teams wholeheartedly support. The project benefited greatly from the F. Magoodhoo Council's valuable collaboration and aid in logistical coordination and permissions, which played a crucial role in the event's success.
This tree planting project stands as a testament to Sun Siyam Vilu Reef's dedication to a greener and more environmentally conscious future, fostering a stronger and more sustainable community. The resort has a track record of conducting activities that benefit the public, the environment, and society as a whole.
Nestled within the picturesque South Nilandhe Atoll, Sun Siyam Vilu Reef has been a beacon of enchantment for travellers worldwide for over two decades. As the inaugural instalment of the Sun Siyam Resorts narrative, this breath-taking destination has set the stage for unforgettable journeys, and now, it proudly celebrates its Silver Jubilee, marking 25 years of luxury, sustainability, and Maldivian allure.
This activity is part of the Sun Siyam Resorts group-wide sustainability programme, Sun Siyam Cares, dedicated to operating sustainably and responsibly in the Maldives and Sri Lanka while offering authentic guest experiences.
The Sun Siyam Cares program prioritises sustainability through initiatives such as reducing energy and water use, managing waste to reduce plastic use, supporting community development, and investing in renewable energy. The programme also focuses on conservation efforts and works to preserve local heritage and cultural practices. By following these sustainability practices, the group aims to minimise the environmental impact, carbon footprint, and contribute to the socio-economic well-being of the communities in which they operate.
With just a 35-minute seaplane flight from Velana (Male) International Airport, this resort offers the ultimate tropical hideaway. Its 103 charming villas are a canvas of tranquillity adorned with vibrant tropical accents. Whether you're planning a romantic getaway, celebrating a special occasion, or simply seeking a peaceful retreat, Sun Siyam Vilu Reef provides the backdrop for life's most cherished moments. Indulge in a variety of world-class amenities that elevate your stay. The all-inclusive meal plan offers an array of dining options across three remarkable restaurants, accompanied by an exceptional selection of beverages. It's the perfect recipe for a culinary adventure, where each meal becomes a cherished memory. For those seeking relaxation, the resort's spa and wellness treatments offer a journey into rejuvenation, drawing from time-honoured techniques. Meanwhile, the Turtle Kids Club ensures that young explorers, aged 12 and below, are kept entertained, making family getaways truly enjoyable.
For more information on the celebrations please check the anniversary booklet. To book your stay, please visit our website or get in touch with us at book@sunsiyam.com.