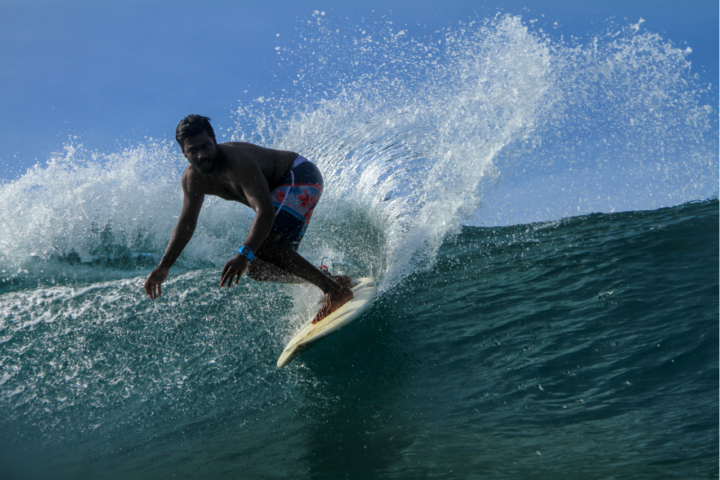 Surfing the waves with Ryan Thoyyib
Is a holiday in the Maldives all about relaxing in the sun? Well, this tropical paradise is not just a popular destination among leisure holidaymakers. But these dotted islands across the vast ocean makes it the ideal destination for recreational holiday-makers such as people who love surfing. Surrounded by numerous coral reefs, the islands feature several types of surf breaks; beaches, reefs and point breaks, perfect to paddle out and catch the waves for an exciting time.
In recent years, Maldivian waters have become a playground popular among professional surfers and beginners. The popularity of these breaks has risen with the hosting of numerous international surfing competitions. A surge in the number of surf enthusiasts flying into the Maldives has given rise to a need for well-trained local surf guides, to attend to these guests.
Let's surf the waves with Ryan 'Rye' Thoyyib, our local surf guide who shares his experiences and his visions for the future of surfing in the Maldives. Rye holds a BSc in Surf Science and Technology from the University of Plymouth, United Kingdom; he is the first Maldivian to hold such a degree.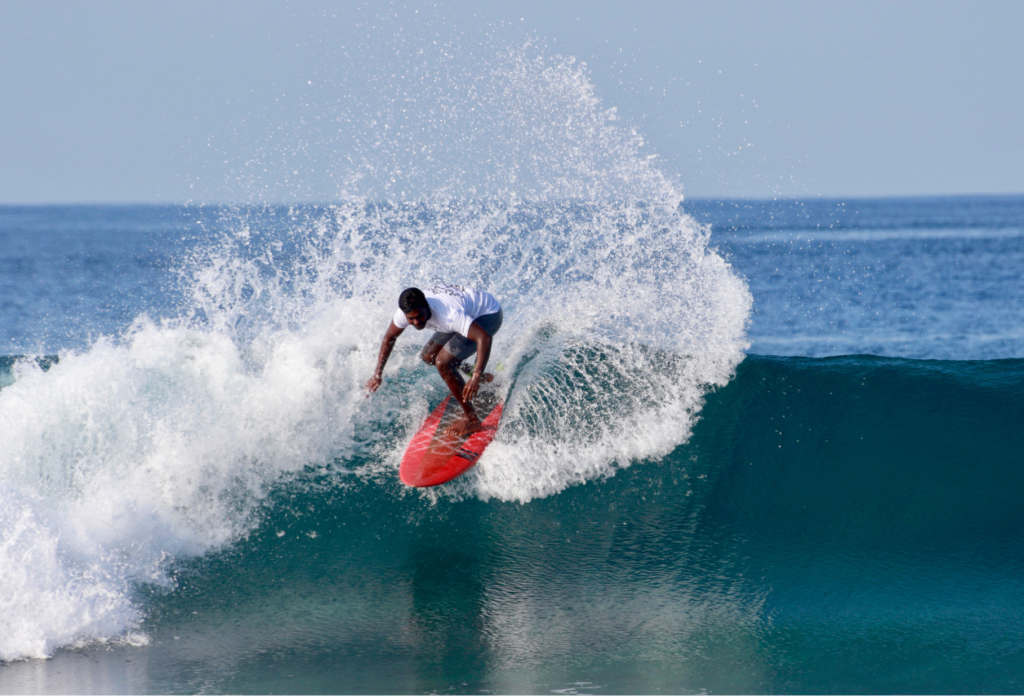 Following his graduation, Rye joined Land and Marine Environmental Resource Group (LaMER) as an Environmental Consultant. Having worked with LaMER for a little over a year, he sailed in a different direction—his next stop, Cinnamon Dhonveli Maldives as a surf guide under Atoll Adventures.
Rye always had a passion for sports; he loved swimming and water sports and went out surfing with his friends. His first time was to try it out for fun; this young "thalassophile" had no idea how addictive it would be and how it would change his future. The past 10 years of experience as a surfer saw Rye competing in national surfing competitions before he went on to become a professional surf guide; he won the Rookie of the Year award at a bodyboarding competition in 2014.
Now counting his fourth year as a surf guide, Rye describes his career as a very social job; getting to meet with surf enthusiasts like himself from across the globe. Being a surf guide, for him, is more rewarding than competitions; he believes being a surf guide is a career which allows him more opportunities for self-development. Currently holding a surf instructor level one certificate, Rye is an International Surfing Association (ISA) certified instructor.
His day begins at the break of dawn, first ensuring that all the equipment and safety measures are in place before guests come in for their morning surf. Apart from this, he explains to his guests–the surfers; about the wind, tides and currents work.
Additionally, he also plans trips to other nearby surf breaks. He conducts a short surfing lesson on the beach for non-surfing guests who needs lessons; by illustrating a surfboard on the sand, ensuring all the necessary techniques are demonstrated and conveyed.
"This is my dream job! I'm doing what I love to do. This is a very active job and helps to keep fit," he says, describing his fascination with the job. He is happy to work for a 100 per cent locally-owned company, alongside local surf guides, which he sees as a privilege. While Cinnamon Dhonveli Maldives is a haven for high-end guests, Rye is fortunate to meet these elite guests from all across the globe who come down to surf in Maldivian waters.
The uniqueness of the Maldives, when it comes to surfing, is that the surf breaks are not crowded, unlike other popular surf destinations. "Surfers pay a premium price to come to the Maldives because here we have sustainable surfing. Dhonveli has a limit of 30 surfers per day which is not the case in other parts of the world," he says.
Outlining the future of surfing, both globally and in the Maldives, Rye believes that the Maldives is becoming ever more popular with each passing day. He adds, "The demand has definitely increased. Businesses want to increase the number of surfers. But this is a premium service that the guests pay for. The Maldives is one of the prime surfing destinations".
Reflecting on past experiences and anticipating the future, Rye is certain that he would still continue his services in the hospitality industry. But maybe not as a surf guide in the coming years; he has bigger dreams. He is looking forward to the possibility of working on a project to stimulate artificial waves on a reef in Hulhumalé; something which could enhance surfing in the area.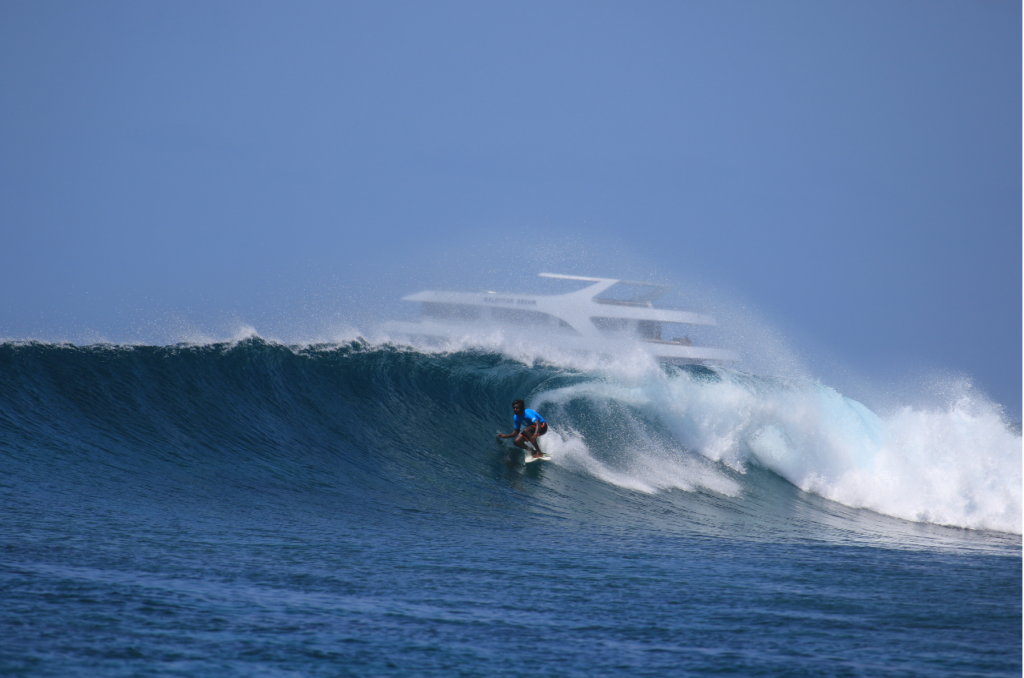 Rye also envisions himself operating a safari boat specialising in surfing, ensuring guests get to enjoy the best of surfing, with lessons by trained surf guides on board. More importantly, he hopes to give his guests the opportunity to explore and enjoy other untouched surf breaks around the Maldives. Motivated to pursue his career further, he is determined to create awareness and push policymakers to make it mandatory for all safari boats and tourist resorts to employing certified surf guides. At the moment, though most resorts have certified surf guides on board, this direction is not followed by safari vessels; raising the risk of unfortunate incidents in the event of an emergency.
He is also vocal against the recruitment of expatriates as surf guides, without considering the availability of capable locals in the field. Difficulties in finding employment for local surf guides is one of the biggest obstacles for the local surfing community.
Rye further expresses his concern over the possibility of the Maldives losing its exclusivity as a unique surf destination, "If we are unable to maintain sustainable surfing, we may become another Bali or Hawaii."