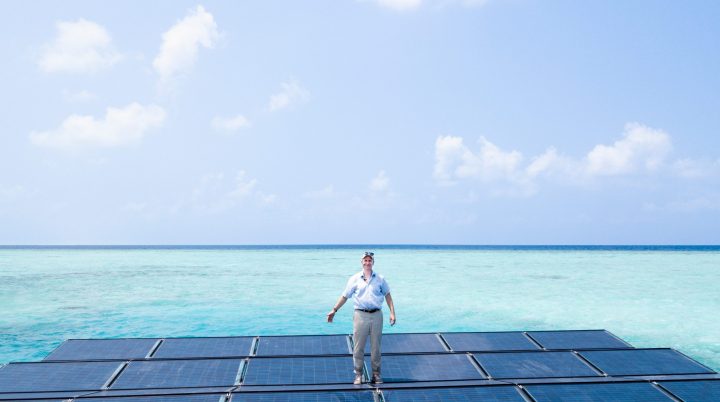 Swimsol's Martin Putschek to share insights on clean Energy transition at Hotelier Maldives GM Forum 2023
The upcoming Hotelier Maldives General Managers (GM) Forum 2023 is set to feature a prominent figure in the clean energy industry, Martin Putschek, the Managing Director of Swimsol. Putschek, known for his innovative approach to sustainable energy solutions, will take the stage to discuss how Maldivian resorts, and the nation as a whole, can transition to cheaper and cleaner energy sources.
Martin Putschek, a multi-talented individual with a passion for addressing climate change, hails from Austria, a country deeply affected by diminishing snow levels and shorter ski seasons due to global warming. His concern for the environment and a desire to make a difference led him to the Maldives 14 years ago, where the consequences of climate change are even more severe. It was in the Maldives that he conceived the idea of floating solar panels at sea, giving birth to Swimsol.
Swimsol, now the leading solar energy provider for Maldivian resorts, has become a global pioneer in marine floating solar development. With over 15 MWp of solar power installed in the Maldives, the company engineers robust and high-performance solar PV systems designed for extreme climates. Recognising the limited land availability on the Maldivian islands, Swimsol pioneered the concept of solar panels floating in the crystal-clear lagoons of the Maldives.
In 2014, in collaboration with European universities, Swimsol launched the world's first floating solar power plant for the sea, known as SolarSea. These innovative systems have been operating successfully in the Maldives for over 9 years. Swimsol also provides rooftop PV solutions, with 30 large solar projects implemented at luxury resorts across the Maldives. Their comprehensive solutions include electrical grid analysis to ensure grid stability and maximise savings by optimising generator efficiency. Local subsidiaries and partners provide on-site services and maintenance.
Martin Putschek's presentation at the Hotelier Maldives GM Forum 2023 will focus on the pivotal role of solar energy in reducing the Maldives' reliance on diesel consumption and transitioning to more sustainable and cost-effective power sources.
"We are thrilled to have Martin Putschek as a speaker at the Hotelier Maldives GM Forum 2023. Swimsol's pioneering work in clean energy aligns perfectly with the Maldives' commitment to sustainability. His insights will undoubtedly inspire positive change within the hospitality sector and contribute to a greener future for the Maldives," Ali Naafiz, Editor of Hotelier Maldives, said.
The Hotelier Maldives GM Forum 2023, which is the most anticipated event for hoteliers in the Maldives, will be held at Bandos Maldives resort on October 19, 2023. The forum is expected to attract over 100 hoteliers from various resorts and hotels in the Maldives. This year's forum is sponsored by several leading companies in the hospitality sector, such as Ooredoo Maldives, Fuel Supplies Maldives, Far Horizon, Bestbuy Maldives, Manta Air, Coca-Cola Maldives, Alia Investments, Villa Hakatha, Swimsol, Souvenir Marine, and more.
For more information, please visit www.hoteliermaldives.com/gmforum.