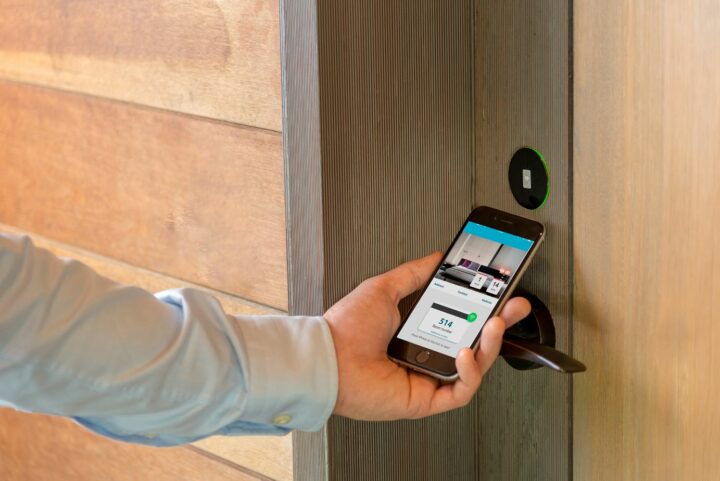 TGS Hospitality set to launch mobile access for VingCard Essence lock systems
With the rapid advancement of technology guiding our habits and routines, mobile access is shaping up to be the next logical step in security control within the hospitality industry. ASSA ABLOY Hospitality, one of the top security solutions companies in the world, has answered this trend with the introduction of VingCard Essence. TGS Hospitality — ASSA ABLOY Hospitality's local Maldives office, reports that five properties have already installed VingCard Essence locks and are ready to go ahead with implementing mobile access.
Security with Style
ASSA ABLOY Hospitality's integration of VingCard Essence promises to be seamless, is programmed to operate offline and is battery powered to ensure 24-hour security, seven days a week. Beyond the security component, which includes a top-of-the-line locking mechanism, VingCard Essence's sleek design elevates the overall décor of hotels.
In action, VingCard Essence's mobile access system sensors detect when a mobile device is in range and automatically begins reading the device for authorisation. It's purposely set to a short delay both for power conservation and also so staff will not accidentally open rooms by being in close proximity to the lock.
Installation Made Easy
With VingCard Essence, hotels are offered three easy set-up options for their mobile access locks. The standard ASSA ABLOY Hospitality applications allow properties the ease of creating their own access parameters, allowing hotels to track the usage of mobile access in real-time through a portal. This portal can be set-up in a way that allows the end-user to receive a notification for when their room is ready. It can also let the hotel know when a guest is arriving so its staff can generate and send the digital key to the arriving guest's mobile device using the app.
Since not every hotel can manage the use of the mobile access lock systems in-house, an additional set-up option leveraging a third-party application can be deployed that is built to work with the VingCard Essence V2 locks. There are applications available wherein properties can integrate the whole hotel solution and provide the ability to push offers to guests, all based on the user's profile.
Lastly, for properties craving an elevated level of customisation, ASSA ABLOY Hospitality offers a customised set-up that allows clients to make their own application. With the lock running on an open source platform, properties can develop their own mobile access application to run with the lock, which can be tailored to their exact needs. "Several major brands in the Maldives are already fitted with VingCard Essence and are well on their way to launching their own applications," said TGS Hospitality's Operations Manager, Shimas Rasheed.