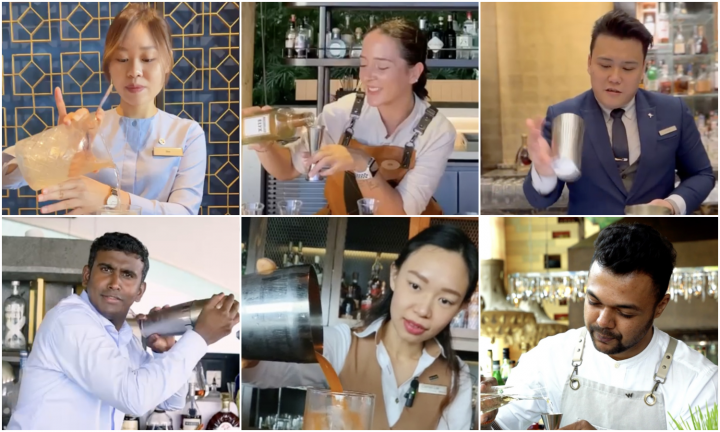 The Ritz-Carlton Maldives to host Marriott's Clash of Mixologists Finale
Marriott International has announced the much-anticipated grand finale of the Clash of Mixologists competition, a prestigious individual cocktail competition that aims to promote the rich Beverage Culture and unearth hidden talents among the associates of Marriott International managed hotels in Singapore, Malaysia and the Maldives.
In collaboration with renowned establishments 28 Hong Kong Street (Singapore), Junglebird (Kuala Lumpur, Malaysia), and main event sponsor Malfy Gin, the competition garnered immense enthusiasm and participation from mixologists in the region. Out of a pool of 40 highly skilled participants from the various hotels and resorts in the three countries, six exceptional associates have emerged as finalists in the competition, each ready to showcase their unique mixology flairs at the grand finale to be held at The Ritz-Carlton Maldives, Fari Islands. The finalists were chosen based on their crafted cocktails, each with its own unique story and recipe, through a combination of scores from judges evaluation and an internal social media contest. These are the talented mixologists representing some of the finest Marriott International hotels in the region:
Beril Elmas Özüerler – The Ritz-Carlton Maldives, Fari Islands
Daniel Thomas Stanislas – The St. Regis Maldives Vommuli Resort
Carman Lee – The Westin Singapore
Karan Vanker – W Singapore – Sentosa Cove
Eliza Tan – Four Points by Sheraton Kuala Lumpur, Chinatown
Jeffri Sulaiman – The St. Regis Kuala Lumpur
The judging panel for the grand finale to be held at The Ritz-Carlton Maldives, Fari Islands will include distinguished experts from the industry including Divyesh Chauhan, Owner of JungleBird, Kuala Lumpur – Ranked 35th in Asia's 50 Best Bars 2022 and Lukas Kaufmann – Operations Manager of 28 HongKong Street, Singapore – Ranked 24th in Asia's 50 Best Bars 2023. As well as a representative from MMI Maldives (Maritime and Mercantile International) – that exclusively supplies premium beverages to resorts and has achieved 100% distribution across Maldives, will also join the event as esteemed judges along with Anuj Sharma, Area Director of Operations, Marriott International, Singapore & Maldives.
The finalists' cocktails will be judged based on various criteria, including background & authenticity, technique & execution, appearance, taste & aroma, and complexity & originality. The winners will receive exciting prizes, and all finalists will receive an artisanal Cocktail Kit and a Cocktail Journal. They will also receive a certificate of recognition for their outstanding achievement. Additionally, Marriott International aims to explore opportunities to include the champions in international competitions, enhancing their exposure on a global stage. All participating hotels will feature the creations of their bartenders at their bars for guests to experience, sip and savour.
"We are exhilarated to witness the culmination of the Clash of Mixologists competition, which has been a celebration of creativity and passion for mixology. This unique event has brought together associates from our Marriott International Managed Hotels in Singapore, Malaysia, and the Maldives, fostering a sense of camaraderie and friendly competition among our talented mixologists. The grand finale at The Ritz-Carlton Maldives, Fari Islands, promises to be a spectacle, highlighting the finest cocktails and the incredible talents behind them. We extend our gratitude to our esteemed partners, 28 Hong Kong Street, Junglebird, and Malfy Gin, whose unwavering support has made this journey truly remarkable. Clash of Mixologists exemplifies our commitment to nurturing talent within the beverage culture and reinforces Marriott's dedication to delivering exceptional experiences to our guests worldwide," said Anuj Sharma, Area Director of Operations, Marriott International, Singapore & Maldives.
Malfy Gin, as the main sponsor of the competition, continues its regional partnership with Marriott International through Clash of Mixologists, reaffirming its commitment to supporting emerging mixology talent. The collaboration seeks to promote creativity and innovation within the beverage industry.
The finale is confirmed to be held on September 8, 2023 at The Ritz-Carlton Maldives, Fari Islands where the six finalists will showcase their skills. Clash of Mixologists stands as a testament to Marriott International's dedication to fostering talent and promoting the art of mixology in the region. This inclusive competition has provided a precious platform for high-potential talents to shine on an international level.