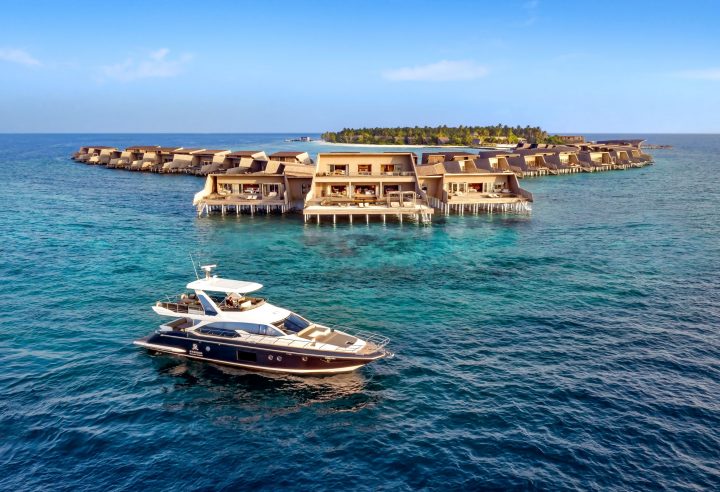 The St. Regis Maldives Vommuli Resort to Unveil Major Renovations 16th July
The award-winning five-star property, The St. Regis Maldives Vommuli Resort announces the unveiling of new, exquisite experiences as it resumes operations on July 16, following a brief 45-day closure for a property rejuvenation. The highly anticipated reopening of the Vommuli Island resort welcomes guests back to Maldives' with highest standard of luxury hospitality.
With the goal of refining the guest experience, accommodations underwent an attractive refreshment with an installation of new wood, roofs, decks and paint finishes. The appealing property changes were conceived to match and enhance the unparalleled excellence of the St. Regis Maldives Vommuli's signature services, world-class amenities and superior program offerings.
"We are thrilled to welcome our valued guests back to paradise as we introduce new and opulent innovations to Vommuli Island," said Vincent Pauchon, General Manager at The St. Regis Maldives Vommuli Resort. "We have taken this time to thoughtfully reconceive our programming putting a special emphasis on fresh, unique concepts in the health & wellness, lifestyle, food & beverage and sustainability spaces."
Following the property enhancements, guests can expect an elevated and impeccable private island stay that is emblematic of The St. Regis Maldives Vommuli. For added allure, extensions for ALBA beach and all beach villas have been completed. Furthermore, a reef breaker has been installed in the lagoon, creating calmer waters for guests staying in overwater villas, recreational water activities, and to aid in reef rejuvenation, among other purposes.
In addition to the resort's property updates, the Iridium Spa, has introduced an Ayurveda Monsoon Stay package targeting those seeking wellness offerings and treatments during the monsoon season. The St. Regis Maldives Vommuli will launch an exclusive Art Retreat, hosted by Denise Schmitz, founder of We Love Art, for a 3-day immersion. Cocktail connoisseurs and travelers alike are sure to appreciate the uniquely distinctive, new Bar Program, set to unveil in August. Featuring a captivating "Violet Hour" ritual and New York-inspired cocktails, the new program pays homage to the legacy and glamor of the original House of Astor. The five-star property is further enriching its impressive culinary concepts with the introduction of a new restaurant concept, T-Pan. The artistic touch of presentations, exquisite ingredients, and the apogee of the art of simplicity are imbued in the gracious art of T-Pan.
Set on more than 22-acres, the resort's 77 transcendent villas scattered through the island each offer a plunge pool and private entrance for an unparalleled degree of seclusion and privacy. The premium two- and three-bedroom villas – including the famed John Jacob Astor Estate, the largest overwater villa in the Maldives – are perfectly poised for families and groups looking for a destination retreat to escape to.