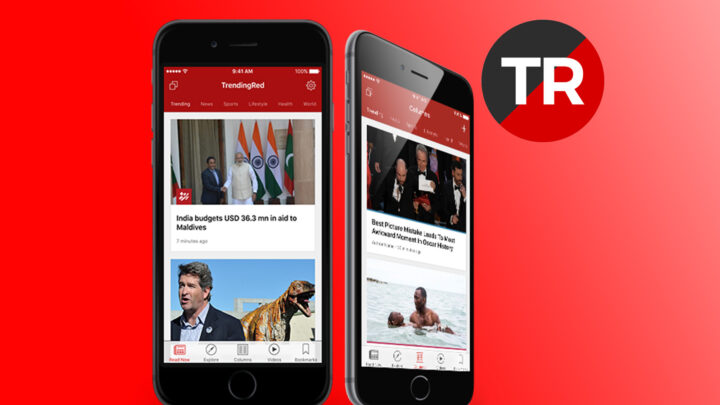 Trending RED: All your favourite news in one app
Are you a pantamoth; one with the need to know everything that goes around? In this Information Age, we are constantly bombarded with way too much information. Filtering out what we need to know, and want to know, can be something of a hassle. If you're one of those 'busy' people, who have multiple news applications on your smartphone taking up precious space, and eating away at your precious time and data plan while you sift through each app, having a hard time finding those news articles that interest you, then your prayers have been answered.
Trending Red is the solution for you. It is an application that will revolutionize the way you read the news, and change the way you're informed. It's time to get rid of those multiple news apps and get some peace of mind. TR is where you'll find news and information about what's happening around you, in just one simple app.
"Our main objective is to bring a daily digest to your fingertips," said Ali Haris, Founder and Key Architect of this innovative app. "We allow you to read the stories that you want and need, on the go."
Haris and a team of young and enthusiastic developers at Everything Red Pvt. Ltd. are behind this idea. "Rather than bombarding you with an excessive bundle of stories and news articles, we're giving you the option to receive 'curated' content, based on what you read," Haris told Hotelier Maldives. "If your interest is in sports or entertainment, you can subscribe to those categories, or even subscribe to a specific source too."
The app was launched in November 2016, and has since seen some new updates. But this is not the end. An all-new version is in the making, and will come to your fingertips soon, with even more exciting features and options. What's in the name 'trending red'? TR brings you what's "trending and going viral", added Haris.
Some of the new exciting features that are expected to hit the app stores by early April include the 'video snap on the go' – a feature which brings you trending videos, read offline mode – downloading content while you're connected to the internet for later reading, and yes, push notifications too. "If you are one for politics and breaking news, yes, we are developing the option to alert you through push notifications," Haris explained. "TR has content from over 99% of news outlets in the country, and we have both Dhivehi and English editions available."
Expansion is also on the table for the team, with plans to introduce TR in neighboring Sri Lanka, and other emerging markets in the very near future. "TR is the smarter choice, giving you smart content, based on your likes," the TR team said, who are also behind other life-changing apps including FoodHub and DocMV. They are also developing other new apps, including MessageOwl, CrowdFund and Topup.mv, set to be released in the coming weeks. TR is available for download on the Apple Store and Google Play Store, and yes, it's free for download, and bound to stay that way.