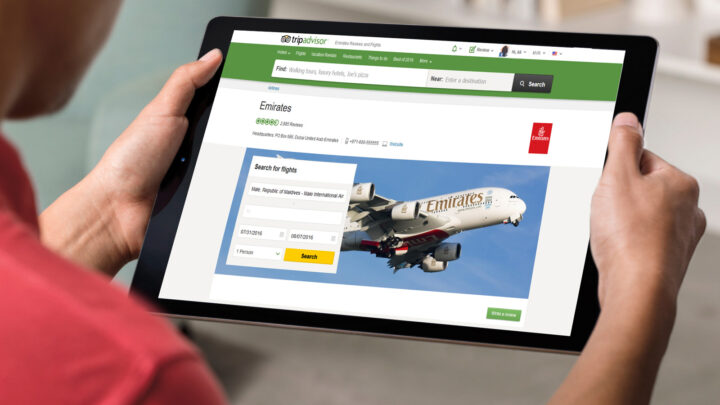 TripAdvisor introduces airline reviews platform
TripAdvisor has announced the launch of a new airline reviews platform, a newly re-designed Flights Search service, and beta launch of its 'flyscore' that rates the quality of each air travel itinerary for consumers.
Bryan Saltzburg, senior vice president of TripAdvisor's global flights business, told Telegraph Travel that he believes the market place has become more confusing for passengers in recent years, as airlines look to unbundle services that have traditionally come with the price of a seat, such as checked baggage and seat reservations.
The Airline Reviews Platform gives travelers a platform to share their feedback — both good and bad — about all major airlines around the globe.
Flyscore (beta) displays a review score out of 10 for individual flights based on traveler reviews, the quality of the aircraft, in-flight amenities and the duration of the itinerary. The score helps travelers to scan for the best flight options before booking.
Enhanced amenities showcases even more comprehensive information about in-flight amenities, such as power ports and the availability of in-flight Wi-Fi.
With the introduction of the airline platform, which includes all major airlines, TripAdvisor has expanded its base of 350 million traveller reviews and opinions. Travellers can now make more informed travel decisions based not only on the price of flights, but the total experience with the airlines as viewed by TripAdvisor's massive community of monthly unique visitors.
"With all the changes that have happened we're really hoping to demystify the flight shopping experience and help customers manage what's become a very complex and differentiated segment within the travel space," Saltzburg said.
Many airlines around the world have embraced TripAdvisor's launch of airline reviews. While travellers can review any airline they have flown, airlines are making an effort to engage with their customers and collect their honest feedback.
All reviews submitted by travellers are subject to TripAdvisor's review submission guidelines.
Top-rated airlines featured in the reviews section include Singapore Airlines, Emirates, Southwest Airlines and Lufthansa with more than 500 reviews.
In 2014, TripAdvisor became the first to feature comprehensive in-flight insights, amenities information and traveler photos coupled with the ability to scan for the lowest prices for airlines globally.
According to TripAdvisor, the developments will give travellers more confidence when booking with airlines they have not experienced before.
Additional enhancements to flight search are expected to follow later this year.