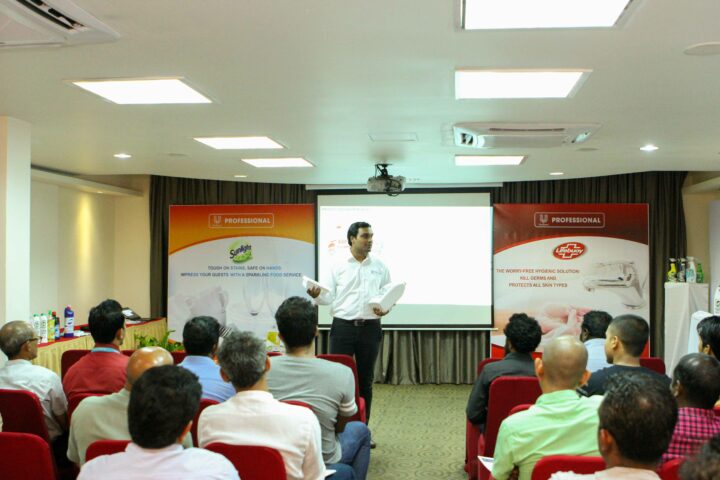 Unilever Professional launches new range of cleaning and hygiene products
Unilever Professional has launched a new range of cleaning and hygiene products in the Maldives. Unilever Professional products are distributed and marketed in the Maldives by Bestbuy Maldives Pvt Ltd (BBM) – the premier supplier offering top brands and hotel solutions in the country. The new product range targets healthcare facilities, hospitality and food service establishments, manufacturing sites and facilities management establishments.
An interactive session was held by Unilever Professional to introduce the new range of ready-to-use customised solutions to the respective community, accommodating a generous turn out from resorts, cafés, hospitals and government institutions.Deepak Bansal, Business Head of Unilever Professional, Asia Pacific, conducted the session, engaging with the participants to determine what their biggest concerns and difficulties were when maintaining their establishments and to offer alternative solutions and improve their own products to cater to market needs in the process.Home to some of the world's leading home and personal care brands including OMO, Surf, Comfort, Sunlight, Cif, Domestos, Lifebuoy and Lux, Unilever Professional is a cleaning and hygiene partner for institutional customers, serving  restaurants, hotels, hospitals, care homes, offices, schools, manufacturing sites and other such establishments. Unilever products are eco-friendly and designed to "not be hazardous" to the health of their immediate users, making the cleaner's experience as pleasant as possible.
BBM will be supplying Unilever Professional's new range of safe and effective industrial products to the Maldivian market and will begin conducting training sessions at resorts to demonstrate their effectiveness. Unilever Professional will be conducting additional sessions in Malé, on a quarterly basis, with further solutions for the feedback they receive from previous sessions.
Unilever Professional is launching the products in New Zealand, China, Singapore, Australia, Thailand, Indonesia, Philippines and India as well and will keep on improving their range of cleaning and hygiene products to suit the needs of their customers.