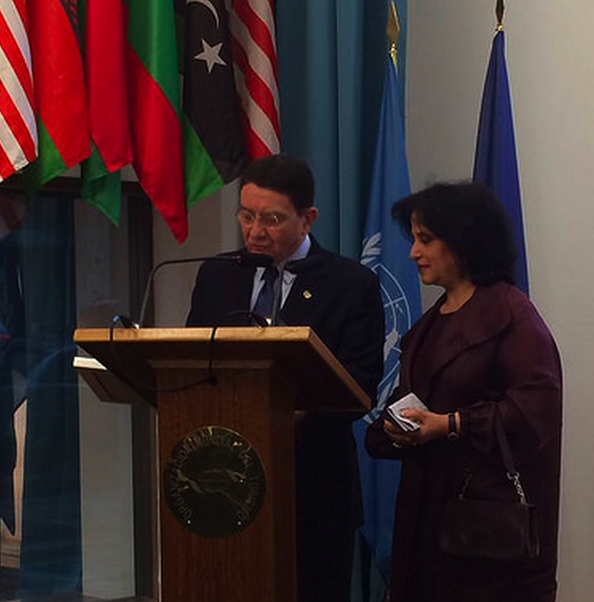 UNWTO appoints Shaikha Mai Bint Mohammed Al-Khalifa as Ambassador of the International Year of Sustainable Tourism for Development
In the resolution that adopts the Year, the UN General Assembly specifically stresses how tourism can foster "better understanding among peoples everywhere, leading to a greater awareness of the rich heritage of various civilizations and bringing about a better appreciation of the inherent values of different cultures".
The ceremony, conducted at the Headquarters of the World Tourism Organization (UNWTO) in Madrid, Spain, praised the role that Shaikha Al-Khalifa has played in advancing culture as a key component of tourism development in Bahrain and the Middle East, through the Arab Regional Centre for World Heritage.
"Your Excellency is an example for all of us in the work she does in Bahrain to promote and protect culture, to link tourism and heritage and to bring culture to life" said UNWTO Secretary-General, Taleb Rifai, in the ceremony.
"It is an honor to be selected as an ambassador to UNWTO in this special Year of Sustainable Tourism for Development.  I believe that now more than ever tourism and culture have a vital role to play in promoting peace and understanding and in encouraging a dialogue between civilizations, not walls between nations. Coming from the Arab region, the cradle of civilizations and the home to many of the world iconic heritage sites; a region traditionally known for its hospitality and acceptance of the other, I believe that cultural tourism can be an effective tool for sustainable development. Tourism add an economic value to the historical value of all cultural sites, it creates jobs, revitalize crafts and generates revenues for people wherever they are.  I also believe that tourists enjoying a cultural tourism experience, they themselves become the best ambassadors of what the Arab World has got to offer," said in her intervention Shaikha Mai Bint Mohammed Al-Khalifa.
Shaikha Mai Bint Mohammed Al-Khalifa will join as Ambassadors of the International Year of Sustainable Tourism for Development 2017 Juan Manuel Santos, President of Colombia, Ellen Johnson Sirleaf, President of Liberia, Talal Abu-Ghazaleh, Chairman of Talal Abu-Ghazaleh Organization, Michael Frenzel, President of the Federal Association of the German Tourism Industry (BTW) and Huayong Ge, CEO of UnionPay.