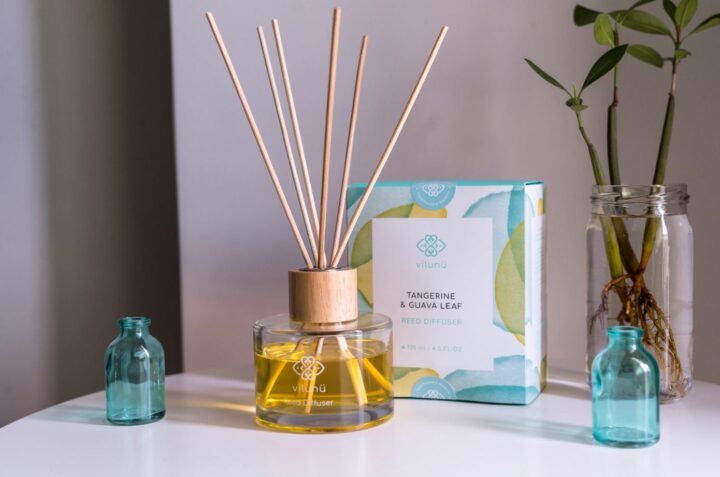 Vilunü arrives in Male'
Vilunü, is a Maldivian brand that focuses on creating scents unique to the Maldives. Inspired by the secluded tropical jungles and luscious flora of the unique Maldives archipelago. The innovative brand is on a mission to capture the essence of Maldives, through a range of bespoke scents created using natural and sustainably sourced ingredients.
When you think of the Maldives, what comes to mind is the white sand, blue lagoons and palm fronds. Vilunu believes that the Maldives lush surroundings have much more to offer. Drawing inspiration from the tropical flora and spices found throughout the country, the core scents in their products aim to invoke nostalgia and capture the fleeting special moments spent on our islands. That stroll by the beach on a balmy evening, the earthy smell in the air after the monsoon rain, the salt in your hair after a dip in the ocean, the scent of the fruit trees and of tropical flowers in your hair.
Vilunu's flagship scent, Tangerine & Guava Leaf evokes a memory of a Maldivian island, in the form of a reed diffuser. The mingling notes of the warm, radiant guava leaves and the zesty aroma of tangerine are reminiscent of a lazy afternoon stroll after a dip in the ocean, with sea salt still in your hair and sea spray on your skin. The woody citrus blend helps refresh any room and adds a hint of nostalgia. It will be available for retail in Male' as a 135ml reed diffuser.
The brands diffusers are mixed, hand-poured and packaged here in the Maldives. Formulated with 100% pure natural therapeutic grade essential oils, the diffusers do not contain alcohol, DPG or any artificial fragrances. The essential oils used in the formulations are 100% vegan,100% organic, and are sourced sustainably from organically grown aromatic plants that are procured from a network of reputed harvesters, farmers and distillers. All of Vilunu's suppliers are ISO 9001 certified, implement Good Manufacturing Practices and are certified Fair Trade and cruelty free.
After a year of testing and product development, starting Saturday, February 1, 2020, Vilunu's products will be available for purchase at Island Bazaar. While this is the first time the brand is launching in Male', the scents have been available at Velana International Airport since January 2020.