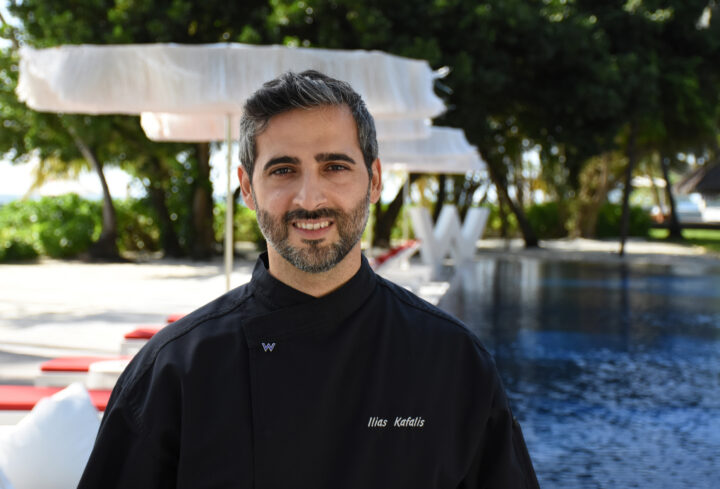 W Maldives appoints new director of cuisine
W Maldives resort has appointed Ilias Kafalis as Director of Cuisine to oversee its five vibrant dining venues.
With 15 years of experience at a vast range of international locations, Chef Ilias brings culinary expertise refined from Greece, Cyprus, France, China and Qatar. He joins W Maldives from InterContinental Hotel & Resort – Doha, Qatar.
"We are ecstatic to have Ilias join our resort and lead our very talented kitchen talents. He has tremendous experience, a very impressive resume and possesses excellent leadership and management skills," said Anton Birnbaum, General Manager, W Maldives.
Born in Athens, Chef Ilias graduated with a degree in Culinary Arts from the Hospitality School of Galaxidi in Greece. He started his gastronomical career in Nice, France, followed by a three year culinary journey under the helm of a 3-star Michelin Chef Alain Ducasse and 2-star Michelin Chef Helene Darroze. In Paris, he also worked for such luxury catering companies as Potel & Chabot, Saint Clair and Fauchon Epicerie.
Chef Ilias also participated in the Greek 2011 edition of the famous cooking show TOP CHEF, where he made it through to the semi-finals. He is the author of the culinary book 'A Look on the Modern Greek Cuisine' and has cooked for a number of famous personnel such as the Princess Stéphanie of Monaco, Nicolas Sarkozy and Carla Bruni, Jacques Chirac and Andrés Iniesta.
"Taking the lead at W Maldives will truly mark a new beginning for me in the country. I aim to bring here my own menu of French Mediterranean cuisine with a touch of Asian and Arabic flavours. I would like to create a food culture that will concentrate on sourcing the best of the local produce and making everything we do sustainable by using the freshest and organic ingredients possible," said Chef Ilias
W Maldives is a private island located in North Ari atoll. Surrounded by turquoise lagoons, the island offers one of the best house reefs in the Maldives. W Maldives features 78 private retreats – each with its own plunge pool and sundeck, six gourmet eateries and lounge bars, including 15BELOW, the first underground nightclub in the Maldives, and an over-water AWAY® Spa.
W Hotels is a contemporary, design-led luxury lifestyle brand and the industry innovator with 47 hotels and retreats, including 17 W-branded residences, in the most vibrant cities and exotic destinations around the world. Inspiring, iconic, innovative and influential, W Hotels provides the ultimate in insider access, offering a unique mix of cutting-edge design and passions around fashion, music and entertainment.
With 15 years of proven success, W Hotels is on track to reach more than 60 hotels by 2018. W Hotels have been announced for Shanghai, Tel Aviv, Abu Dhabi, Dubai, Amman, Jakarta, Panama, Muscat, Suzhou, Changsha, Chengdu, New Delhi, Kuala Lumpur, Shenyang, Marrakech and Brisbane, while upcoming W Retreats include Goa, Phuket, Hainan Island and Mexico's Riviera Maya.