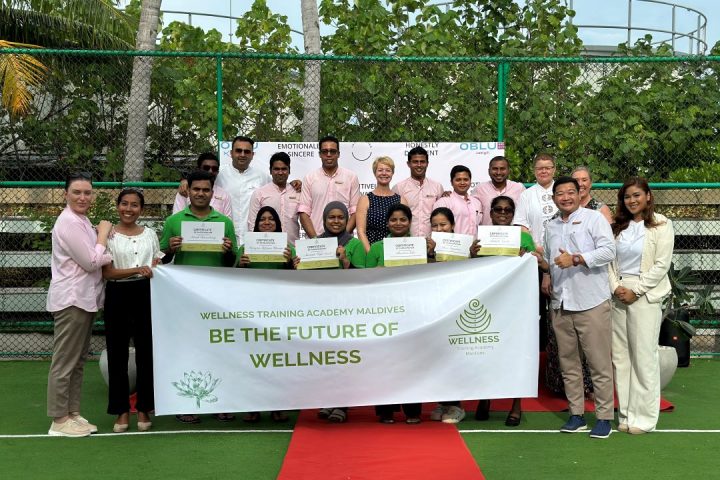 Wellness Training Academy celebrates successful completion of inaugural hands-on training: CIBTAC Bespoke Massage Diploma
Wellness Training Academy Maldives, a leading institution in holistic wellness education, is proud to announce the successful completion of its first hands-on training program, the CIBTAC Bespoke Massage Diploma, held at OBLU XPERIENCE Ailafushi. This achievement marks a significant milestone in the academy's commitment to providing world-class training and education in the field of wellness and holistic therapies.
The CIBTAC Bespoke Massage Diploma, a comprehensive course designed to equip students with the essential skills and knowledge in massage therapy, was conducted over a rigorous 7 days period. Students were immersed in practical training sessions, theoretical knowledge, and practical assessments, ensuring a well-rounded learning experience. The successful completion of this program not only signifies the dedication and hard work of the students but also the academy's unwavering commitment to excellence in education.
In line with their mission to continually enhance and expand their course offerings, Wellness Training Academy Maldives is excited to announce a lineup of upcoming courses for the remainder of the year:
CIBTAC Diploma Anatomy and Physiology Diploma: Virtual Classes – This course provides a deep understanding of human anatomy and physiology, laying a strong foundation for a variety of wellness therapies. Students will engage in virtual classes to grasp the intricacies of the human body and its functions.
Wellness for Cancer: 18th – 20th September – This specialized workshop aims to train wellness professionals in providing safe and effective treatments for individuals dealing with cancer. The academy recognizes the importance of adapting wellness practices to cater to the unique needs of cancer patients.
Natural Face Lift Treatment: 28th-29th September – A cutting-edge course that explores natural and non-invasive techniques for facial rejuvenation. Students will learn innovative methods to help clients achieve a youthful and revitalized appearance.
These upcoming courses exemplify Wellness Training Academy Maldives' dedication to offering a diverse range of programs that cater to both traditional and emerging trends in wellness. The academy remains committed to fostering a learning environment that promotes hands-on experience, theoretical excellence, and a deep appreciation for holistic well-being. "We are thrilled to have successfully completed our first hands-on training program and to have empowered our students with valuable skills in massage therapy. As we move forward, we are excited to introduce a variety of new courses that reflect the evolving landscape of wellness," said Heidi Grimwood, Vice President. "Furthermore, in alignment with our sustainability core philosophies, we are proud to announce our renewed dedication to hiring locally. This initiative not only strengthens our commitment to sustainability but also fosters a sense of belonging and support within our local wellness ecosystem. We believe that by nurturing the talents of our students and fostering local employment opportunities, we can create a brighter and more sustainable future for all." For more information about the courses offered at Wellness Training Academy Maldives and to inquire about enrollment, please visit https://wellnesstrainingacademymaldives.teachable.com/ or contact trainingacademy@ele-na.com