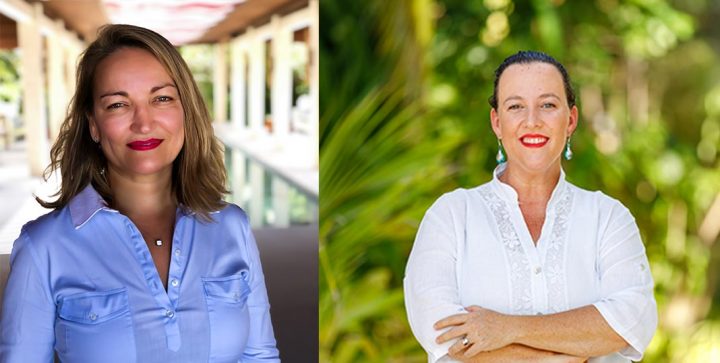 Women Hoteliers lead the way at THE OZEN COLLECTION
Leadership dynamics in the hospitality industry in the Maldives have seen more leading ladies at the top of resorts in a world of brilliant turquoise views, ultra-sophisticated service, and effortless perfection.
The Ozen Collection has placed the reins of its two flagship resorts in the capable hands of women managers. Maria Luisa Lalli and Henar Gil Rios are the General Managers of OZEN Reserve Bolifushi and OZEN Life Maadhoo and making their mark in paradise. Adding a feminine touch to these resorts both bring elegance to these pristine and unspoilt destinations.
Responsible for all the key operational and commercial aspects of the resort, the two women oversee the day-to-day operations while also driving the resorts' performance with long-term vision and business strategy.
Maria Luisa Lalli, a seasoned hotelier from Italy with over eleven years of experience in the Maldives, has an empathetic approach that puts every guest at ease. She builds genuine connections that often result in repeat visits. Leading her team by example she inspires every colleague to create authentic experiences for guests with an impeccable service culture and warm-hearted spirit and she is excited to lead Ozen Reserve Bolifushi – a new resort concept for the brand.
Henar Gil Rios, recently appointed as the General Manager at OZEN Life Maadhoo also brings a wealth of luxury hospitality experience to OZEN. A native of Spain, Henar is in spirit a global citizen. She has lived and worked in the United States, France, Asia, and Mexico. Motivated and highly driven, Henar is at her best working under high pressure – using initiative, in-depth knowledge, and creativity to lead her team to success.
The OZEN Collection by Atmosphere is an award-winning, Uber-Lux, hospitality brand, owned by Atmosphere Hotels & Resorts in the Maldives, elevated by signature luxury aesthetics, subtle glamour, and bespoke services. Ozen Reserve Bolofushi has 89 villas and suites offering guests absolute seclusion, with a private swimming pool and direct access to sun-kissed beaches or lagoons. The jewel in the crown is Royal Reserve with 3,500 square metres of luxury and elegant living where guests can set off for private adventures on the resort's 85-foot, MY Vittaveli Yacht. Meanwhile, Ozen Life Maadhoo is found amidst the exotic turquoise hues of the South Male Atoll. With 41 beach-front villas, idyllically positioned on a soft and pristine sandy beach, overlooking the horizon and 49 over-water villas, this is the epitome of luxury and it's all inclusive too.
Salil Panigrahi the CEO and Managing Director of the OZEN Collection said, "Hospitality is a people-centric industry and I feel it can contribute a lot to equal opportunity in the workplace. At OZEN, we want to usher in a new culture of leadership – one where equal opportunity is valued.
"Diversity is not only the order of nature, but also brings a fresh perspective to work culture. Surveys show that a diverse workforce is more productive, and appointing women to key leadership positions that they genuinely qualify for should be a norm rather than an exception."