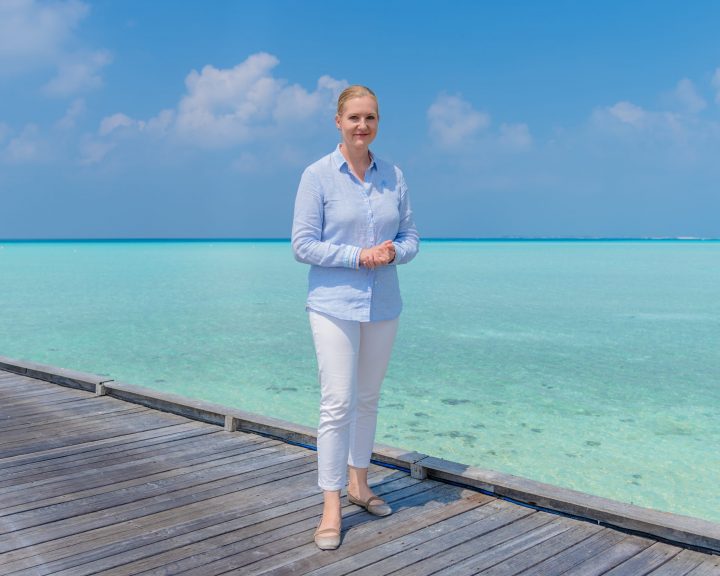 Women in Hospitality: Corinna Luebbe
Corinna Luebbe is the Cluster General Manager of Taj Maldives overseeing the operations of Taj Exotica Resort & Spa and Taj Coral Reef Resort & Spa. With a career spanning over 25 years and across continents, Corrina brings her rich international experience to the Maldives. Besides a hotelier, Corinna is a community champion, scuba diver and passionate environmentalist.
Hotelier Maldives interviewed Corinna Luebbe to discuss her career, experience as Taj Maldives' first female Cluster General Manager and advice for young women in the hospitality industry.
HM: Can you tell us a little bit about yourself and career? 
CL: As long as I can remember, I was fascinated by different cultures, languages, food, and I always enjoyed traveling. After growing up in Germany, I started my career with Aman Resorts in France and Indonesia, and I quickly fell in love with the hospitality industry, which allowed me to combine my other passions of skiing and diving.
After expanding my experience with Mandarin Oriental in New York, I again crossed oceans to begin my journey at Taj, as Rooms Division Manager in the pre-opening team for Taj Exotica Mauritius. In 2005, when Taj took over the management of the iconic Pierre Hotel in New York City I decided to move back to the U.S. From there, I was promoted to Hotel Manager at Taj Boston, and in 2016, to General Manager at Taj Campton Place, San Francisco. When the opportunity for the Cluster General Manager role at Taj Maldives came up, I felt I was coming full circle back to where it started.
HM: What are your first impressions of the Maldives?
CL: Maldives, as a destination, is similar to the name of our brand 'Exotica.' My first impressions of Maldives was of a pristine, unadulterated, naturally blissful destination with one of the most beautiful marine lives. Hospitality comes naturally to Maldivians, and they take great pride in ensuring that travelers from all over the world fall in love with their beautiful archipelagic state. Taj Exotica, which is my home in the Maldives, is a natural island with beautiful local flora, an awe- inspiring underwater world, limitless instagrammable views and endless opportunities to indulge in diving, water sports, award-winning Jiva spa treatments and unique dining experiences.
HM: Have you had role models or mentors throughout your career? 
CL: I have been fortunate to work with many great leaders and mentors who have been my inspiration. It has been my endeavor to imbibe each of their strengths to add to my own.
I am deeply fascinated by the quote from our founder Jamsetji Tata – "In a free enterprise, the community is not just another stakeholder in business, but is in fact the very purpose of its existence."
As a guiding philosophy of my life, I strongly believe that staying true to your purpose and honest to your conscience is the stepping stone to success. Performance never goes unnoticed, and one should follow the law of Karma – we must do our best and strive for excellence in whatever we do, results will follow on their own.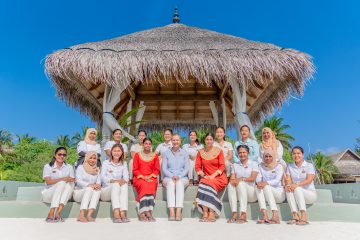 Featured Image: Corinna Luebbe with colleagues
HM: What is the most rewarding and challenging part of your position? 
CL: I have thoroughly enjoyed every stint of my hospitality career. However, as General Manager we have an extra opportunity (and responsibility) to support, inspire, train and motivate our team to deliver the best service to our guests. Seeing team members grow is extremely rewarding and when you achieve a team of self-driven, motivated and happy professionals, inevitably, they will exceed the guests' expectations.
I feel particularly honored to lead one of Taj's most iconic and picturesque resorts worldwide. Hospitality is a way of life involving creativity, innovation, communication, and sincere care. Above all, it is a business of making people happy and hence it is imperative to be driven with passion. I relish this passion and admire seeing the teams reflect the same by delighting guests. The little pleasures of creating memories that build relationships forever is a magical inspiration to look forward to every new day as a new opportunity.
HM: Is the industry welcoming to women in senior positions? 
CL: About 10 years ago Harvard Business School published a study on "The Impact of Gender Diversity on the Performance of Business Teams" that revealed that Business teams with an equal gender mix perform better than male-dominated teams in terms of sales and profits.
My first General Manager when I started my career was a woman. I always felt welcome in the industry. But especially in the last ten years, there has been an increased focus in our industry on diversity, equity and inclusion with companies actively trying to recruit female leaders.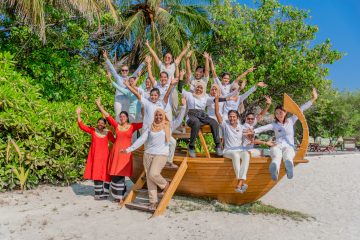 Featured Image: Corinna Luebbe with colleagues
HM: Can you tell us about She Remains The Taj initiatives? 
CL: 'She Remains the Taj' is a holistic framework of women-centric initiatives that was introduced by IHCL for all stakeholders, including guests, employees, partners and the community. IHCL champions the cause of women and enhances their participation both within and outside the organization. Its industry leading policies include extended maternity leave, crèche facilities, healthcare benefits including IVF treatments, and providing skill training for women in under-served communities and regions. IHCL also announced its goal to raise women's participation in its workforce to 25% by 2025, and support women-led businesses and partners. As part of its commitment to increase women in leadership positions, 25% of these roles at upcoming IHCL hotels will be women. This also encompasses enhanced experiences for single female travelers, including heightened levels of privacy, security, bespoke amenities and stay offerings.
Examples of "She Remains the Taj' initiatives include the Second Career Policy that enables women to return to work post careers break and a new Sabbatical Policy empowering women to pursue aspirations beyond the workplace. The initiative is also empowering women outside of the hospitality industry, for instance, the Ginger Santacruz hotel in Mumbai is being built by an all women engineering team.
HM: What advice do you have for young female hoteliers?
CL: Follow your heart, believe in yourself, and don't try to be like your male colleagues. You were hired for a reason.