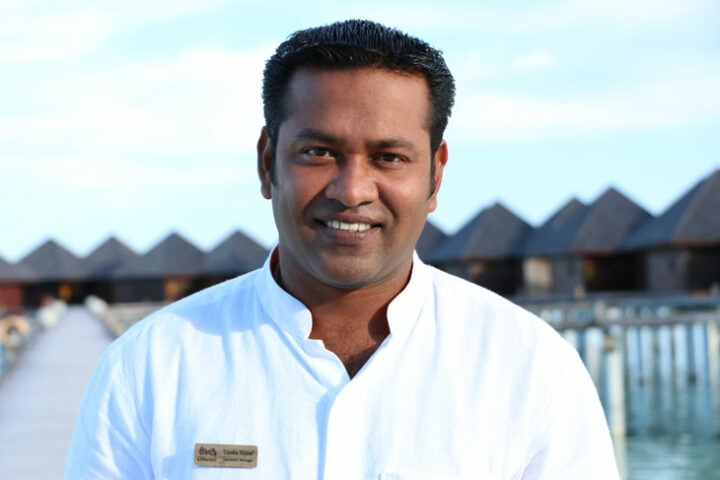 Careers: Thoha Yoosuf, Operations Manager at Olhuveli Beach Resort and Spa
Thoha Yoosuf started his career in the hospitality industry as a teenager working as a waiter. Presently he is the operations manager at Olhuveli Beach Resort and Spa. Hotelier Maldives spoke to him about his career highlights so far. Olhuveli currently has 164 rooms and being located in Male atoll, it is one of the busiest resorts throughout the year.How old were you when you became a waiter at Kurumba?
I was a teenager when I started my career at Kurumba Maldives in 1996. It was my very first job and I was highly energized as any teenager would have been. Starting at such an age was one of the best advantages I've had as I was able to develop a better personality and reputation when I was in my late 20's.
What are the qualities that you believe "are needed to become an F&B professional"?
According to what I have learnt and which now constitute my beliefs, the qualities that are required for being an F&B professional are as follows – being motivated, energetic, confidence and being able to provide an unquestionable service to the guests. There should also be good knowledge on the tasks that are assigned as we should be ready to provide any explanation that the guests may require. I was always open minded and very confident. There were also times that didn't seem like everything was working as planned but my confidence kept me on track and always helped me in succeeding all obstacles.
Which element of working in F&B did you enjoy the most?
The fact that F&B plays a great role in a guest's satisfaction was the greatest element that I enjoyed the most. Reason being if the guest does not find any of the other services impressive, the only area the guest will be satisfied with will be at their daily meal. Providing a splendid service with a big smile and helping hand has been the greatest enjoyment for me while working in F&B.
What was the greatest lesson you learnt from your cross exposure trainings?
Greatest lesson learnt at the cross exposure trainings in Rome Cavalieri Italy 2011 was that employees with multiple talents make a stronger staff. Through this training I learnt that if the managers are trained in several areas of a business, it would require less back up employees and will also effect in improving the team's versatility.
What are the greatest challenges of your current role?
At present I am employed at Olhuveli Beach & Spa Resort, Maldives as the Operations Manager. In this role I need to look into the entire operations of this beautiful property. It is also my duty to deal effectively with guests, higher management and staff while keeping the resort running smoothly. To be honest it is a very smooth operation I've got at Olhuveli because the whole team acts as one big family and are very cooperative so there are almost no challenges for me and even if there are I could say that with the competent team on the island, I am confident of handling them constructively.
What excites you most about what you do?
The greatest excitement in my profession is a positive guest feedback and the assurance from a guest that they were satisfied with the service given to them. It is my ultimate goal to ensure that our little patch of paradise be a center of attraction amidst competitors.
What do you hope to achieve in the near future, in your career?
I would like to gain more exposure and experience by traveling worldwide, as it would be much helpful in reaching the next step of my career and expanding the scope of my knowledge about this industry.