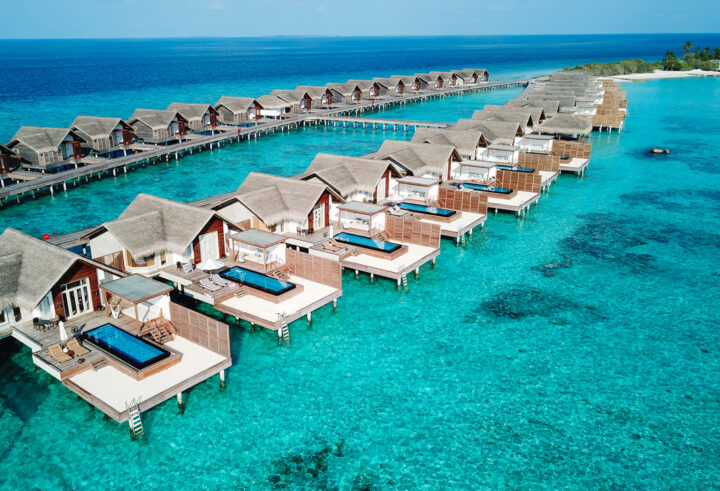 AccorHotels introduces first Fairmont resort in the Maldives
April 2018 – With the opening of Fairmont Maldives Sirru Fen Fushi in April 2018, AccorHotels introduces the Fairmont luxury brand to the Maldives.Located on the Shaviyani Atoll in North Maldives, which boasts one of the country's largest resort lagoons, the stunning new property offers 112 luxury villas, each with a private pool. The all-villa resort is ideal for couples or families, and features 200 meters of infinity pools as well as luxury safari-style tented villas nestled in the island's lush interior jungle."We are thrilled to introduce the first Fairmont and our third development in the Maldives since our entry into this region in 2017. Fairmont guests feel like they are in the heart of the destination; and at our first Fairmont property in the Maldives, we are delighted to offer them the full Maldivian immersion with locally inspired design and indigenous cultural experiences, enhanced by Fairmont's welcoming service and the destination's fabled natural beauty," says Patrick Basset, Chief Operating Officer of AccorHotels, Upper Southeast and Northeast Asia.
The 112 villas are categorized based on the island's stunning topography, and include Beach Villas, Water Villas, and Tented Jungle Villas. Specially adapted to the Maldives, the unique tented jungle villas offer privacy and a romantic castaway vibe; other guests can also experience the verdant island interiors with camping, BBQs or jungle cinema.Dining outlets on the island include an international all-day dining spot called Raha Market; an over-water Japanese restaurant, sushi bar and sea lounge named Kata; and the over-water fine dining destination, Azure.Both AccorHotels and the Fairmont brand have a strong reputation globally for sustainable tourism and are committed to improving the well-being of local communities and ecosystems wherever they operate and addressing the environmental impacts of their operations.
In addition to the Willow Stream Spa with a 2,000 sqm wellness area and a dedicated Olympic size Jacuzzi pool, the resort also has an on-site art studio offering guests all the tools and materials required to be inspired and express their creative spirit with the guidance of resident and visiting artists. Families are well-catered with a Kid's Club, Toddler's play garden, and the dedicated Teen Town, offering a wealth of exciting experiences for young adults, as per the resort.
Fairmont Maldives Sirru Fen Fushi is also poised to bring the essence of its secret water island location to life with experiences that bring guests closer to nature. A sunset dolphin tour offers guests the chance to watch dolphins playing in the light of the setting sun.
Guests can also give back to nature by planting coconut trees on the island, or by participating in coral restoration efforts and turtle release programs.For more information on Fairmont Maldives Sirru Fen Fushi, please visit www.fairmont-maldives.com