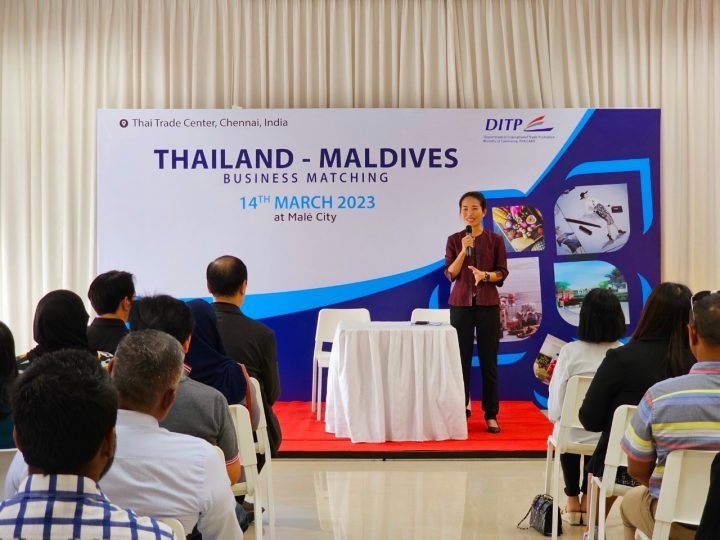 22 Exhibitors Attend 5th Thailand-Maldives Business Matching Event
The fifth Thailand-Maldives Business Matching event was held on March 14, 2023 at Manhattan Business Hotel. The event was organized by the Thai Trade Center Chennai, Department of International Trade Promotion (DITP) and the Ministry of Commerce, Thailand. The purpose of the event is to match relevant Thai manufacturers and suppliers to Maldivian distributors and resorts.
Twenty-two Thai companies exhibited their products in the categories of fashion and textiles, food & beverage, health & beauty and household products. Over 200 registered participants attended the two sessions.
Many suppliers were looking forward to connecting with Maldivian resorts to exhibit their products. Agora Design Mat Marketing Manager, Miss. Nontikarn Assarasakorn remarked, "We are happy to be here! We look forward to connecting with the resorts and hotels in Maldives. Our products, including mats, slippers, handbags and wall coverings, are woven from recycled plastics. This is in line with many of the resort's values of sustainability." Agora Design Mat creates bespoke, UV and water resistant products using 100% recycled plastics.
Exhibitors were excited to return to the Maldives for the first time since the pandemic. Mr. Sorakit Manbuphachat, the Managing Director of Pasha, stated, "It is my first time back in Maldives after the pandemic. I wanted to return to evaluate the business environment post-COVID." Pasha is a luxury hotel supplier that manufactures customizable soap dispensers, bathroom sets and sustainable toiletries. All of Pasha's custom designs are protected as intellectual property.