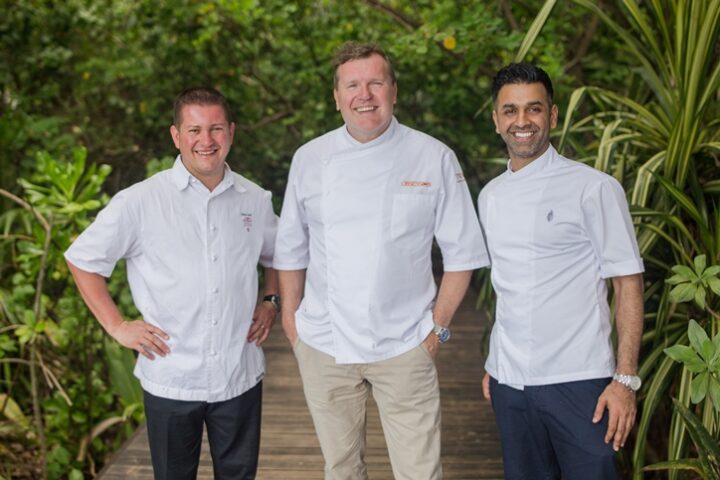 World-renowned chefs spice up Savour 2016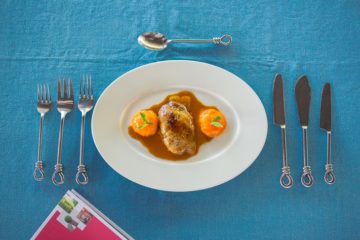 Coco Bodu Hithi's annual culinary event, Savour 2016, concluded last Friday. The event's final night featured Aktar Islam's cuisine and a closing ceremony held at Latitude beach with a DJ.
The two-week event saw the return of Michelin-starred French Chef Frédéric Doucet, renowned British Chef Aktar Islam, and Michelin-starred Chef Nigel Haworth.
Savour 2016 began on 21st February with management cocktails at Latitude beach followed by a barbeque held at Breeze beach.
Over the course of the next two weeks, the three celebrated chefs hosted sushi classes, wok cooking classes, wine tastings, as well as master classes and special dinners.
On the first week of Savour, French Chef Frédéric Doucet conducted two master classes and hosted two dinners at Aqua restaurant. For his first master class, chef Doucet whipped up his signature lobster dish, stir fried lobster served on a bed of zucchini and red peppers, bursting with freshness and flavoured with honey, balsamic vinegar, soy sauce and coriander.
The main dish was followed by a light dessert; a fruit salad with a hint of lime and ginger served with whipped egg whites, cream and mango sorbet, topped off with thin strips of dried mango and strawberries, and garnished with caramel sticks.
Several guests and the resorts' resident chefs attended the classes.
"I'm very happy that people are coming here to learn from me. I admire the professionalism and work ethic of Maldivians, and they are very eager to learn," said chef Doucet.
Chef Doucet became a restaurateur in 2007, when he bought his parents' restaurant in Charolles and opened his own, Restaurant Frédéric Doucet. The gourmet restaurant received 3 Gault & Millau toques and 15/20 in the Guide Champérard, and a Michelin star in 2012.
The second week of Savour saw the return of Michelin-starred British Chef Nigel Haworth, who conducted two master classes and hosted two a 'la carte dinners.
The dinner was a grand affair, which reflected chef Haworth's gastronomic brilliance. The menu consisted of succulent wagyu beef, yellow fin tuna, octopus, shrimp and lobster dishes, as well as slow cooked goat shoulder, followed by two desserts; vanilla ice cream with roasted pumpkin seeds and oil, and tiramisu perigold truffles served with salted bananas.
After the dinner, the chef visited the guests' tables and received rave reviews about the food.
According to chef Haworth, the master classes were a great success as well. "I try to make the classes fun and interesting for the guests instead of just giving instructions," he said.
Haworth, Chef Patron at Northcote Restaurant from Northcote in Langho, Blackburn, is renowned for his seasonal, British food. Haworth received his Michelin star in 1985, and has won an Egon Ronay Chef of the Year Award and  Since winning Great British Menu in 2009 with his now-legendary Lancashire Hot Pot, chef Nigel continues to make regular appearances on television and frequently showcases new dishes to James Martin on Saturday Kitchen.
Savour is part of an effort to position Coco Boduhithi as a culinary hotspot in the country.