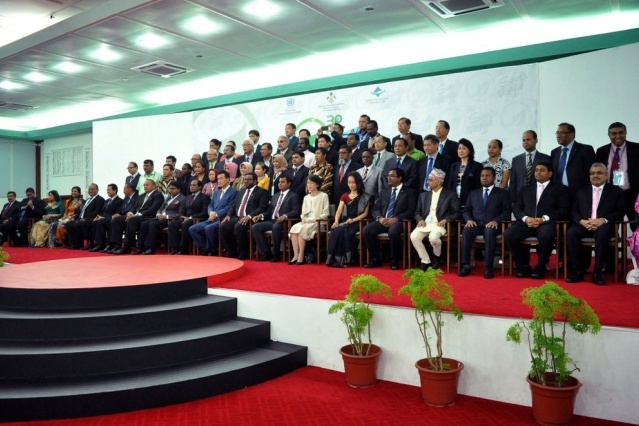 99 resorts sign 'Male 3R Day Declaration' to pledge commitment to sustainable waste management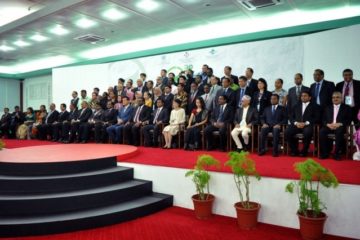 The Sixth Regional 3R Forum in Asia and the Pacific is underway at Dhaarubaaruge Convention Centre, Male'. The Forum, which is a joint initiative of the Japanese government and the United Nations Centre for Regional Development (UNCRD), is being hosted by the Ministry of Environment and Energy in partnership with the Ministry of Tourism. The forum's objective is to promote sustainable waste management and the theme for this year's event is '3R as an Economic Industry – Next Generation 3R Solutions for a Resource Efficient Society and Sustainable Tourism Development in Asia and the Pacific'. 99 Maldivian resorts are said to be participating in the event alongside delegates from 33 countries.
"The Regional 3R Forum was launched in November 2009, with an objective to provide strategic policy advice to national government authorities in mainstreaming 3R (Reduce, Reuse, Recycle) into overall policy, planning and development," the Environment Ministry explains on its website. "It seeks to address policies, programs, measures, tools and technologies in the context of achieving resource efficiency, sustainable production and consumption, integrated solid waste management, sound material-cycle, low-carbon and zero waste society."
Today, a highlight of the forum was the introduction of the 'Male 3R Day Declaration' – a statement of intention to start operating environmentally sustainable waste management policies in resorts across the country. The declaration was signed by Chairman of Maldives Association for Tourism Industries (MATI), Mr Mohamed Umar Manik on behalf of the 99 resorts participating and by Environment Minister Thoriq Ibrahim on behalf of the government.
As a consequence of the agreement, the Environment Ministry announced that they would introduce a number of new waste management strategies with the aim to reduce, reuse and recycle.
The forum will conclude on Wednesday 19th August.