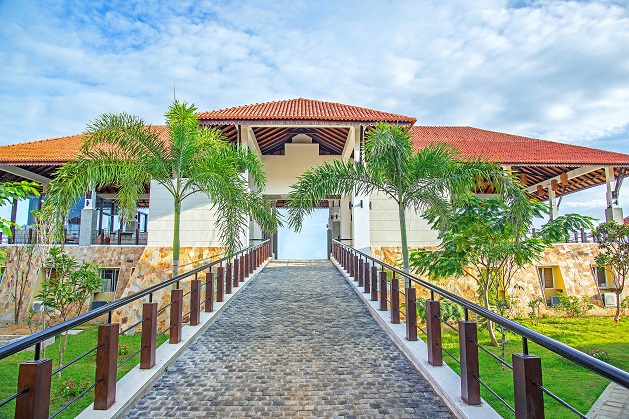 Sun Aqua Pasikudah receives rave reviews on TripAdvisor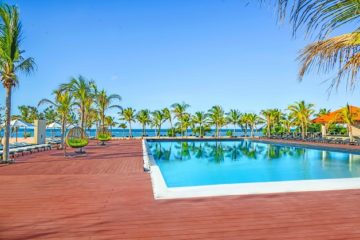 The Sun Aqua Pasikudah, the first property of the Maldives-based Sun Siyam Resorts' new Sun Aqua brand, has received rave reviews on TripAdvisor since opening in November 2014.
Guests raved about the "world class service," "fantastic rooms," and "amazing food," on the travel and review site. The resort was also tour company Sri Lanka Tailormade's featured property of the week in late February. "Located on the east Sri Lankan coastline, Sun Aqua Pasikudah is the gateway to one of the world's greatest unspoilt destinations," observed Sri Lanka Tailormade.
"This luxurious property offers boutique-designed five-star suites and villas, including 34 suites and 2 grand beach pavilions. Every detail has been carefully considered, from comfort and relaxation in meticulously manicured gardens, to the beauty and tranquility that comes from floor to ceiling glass doors offering mind-blowing ocean views from every villa."
The Sun Aqua Pasidukah welcomed its first guests on November 15 after the Sun Aqua brand was launched in the same month at the World Travel Market 2014.
"The Sun Aqua brand is a visionary creation from Sun Siyam, one of the most forward-thinking and dynamic hospitality companies in the Maldives," Sun Siyam Resorts explained in a press release at the time.
"With Maldivian entrepreneur Ahmed Siyam Mohamed at the helm, Sun Siyam aims to create a collection of hotel and resort brands across the Indian Ocean and Asia infused with his uniquely passionate and colourful spirit."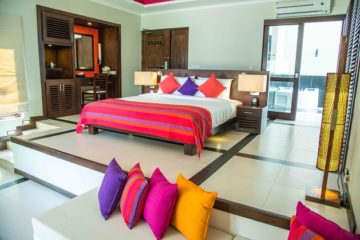 The resort offers Family Suites with a loft bedroom for children as well as a sprawling 2-bedroom Grand Beach Pavillion.
"Not only that, all suites take up to 2 children and with children menus available at select outlets, a kids pool and Activity Club on offer, our tiny VIP's are well provided for," Sun Siyam Resorts noted.
Sun Aqua Pasikudah merges tradition and modern luxury to cater to all types of holidaymakers, the press release added.
"If pure relaxation and indulgence is on your wish list, round-the-clock butler service, private sun decks and personal plunge pools are all there at your convenience. Pasikudah offers sapphire seas and golden, sunbaked sands to lie back and enjoy a slice of paradise," it continued.
"Enjoy a moment of relaxation and vitality in one of the four treatment pavilions at the holistic Sun Aqua Spa. From signature couples' rituals to traditional well-being therapies, take a moment to indulge and renew body and mind. With fitness and healthy living options to suit everyone, the Baywatch Gym and Beauty Salon offer a myriad of options to enjoy."
The resort's restaurants meanwhile offers locally sourced organic produce vegetables from the garden and boasts a fully stocked cellar of Old and New World wines in its exclusive glass enclosed infinity wine cellar "Pavilion".
"All day dining can be enjoyed at Latitude or sample the freshest sea food imaginable at Medium Rare, the grill on the beach. In Villa and Destination Dining ensures that dining can be as personalised as you wish, so for an intimate special evening, choose to dine on the beach at sunset or under the stars," Sun Siyam Resorts noted.
With some of Sri Lanka's best diving spots, including the shipwrecked HMS Hermes, accessible from the resort, guests have the opportunity for diving at all levels with an experienced and multi-lingual PADI Five Star dive team.
"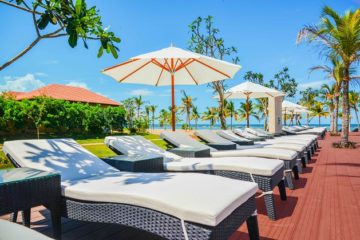 On land, visitors can enjoy jungles, mountains and archaeological wonders at their fingertips, whilst within the mists of Minneriya National Park, nature lovers will discover raw undisturbed nature in all its glory, get up close and personal with elephants, an array of rare birds and butterflies and revel in the undisturbed scenery," Sun Siyam Resorts explained.
"A scenic journey from Colombo by road or by air, this exclusive address is one of the island's most serene coastal getaways.
"Pasikudah enjoys an incredible climate year round and Sun Aqua Pasikudah is easily accessible from Colombo, guests can choose from a scenic drive through the mountains or a luxury flight from Colombo to Batticaloa Airport, the nearby city. Pasikudah is easily accessible from Kandy, Dambulla, Polonnaruwa and Batticaloa."
Sun Siyam Resorts is currently in the process of rebranding and renovating its deluxe Vilu Reef Beach & Spa Resort in the Maldives with new room interiors, upgraded facilities, a new spa concept and new food and beverage offerings.
The rebranded Olhuveli Resort meanwhile opened in the last quarter of 2014.
Sun Aqua Vilu Reef will welcome guests in the first quarter of 2015, as the third Sun Aqua property.