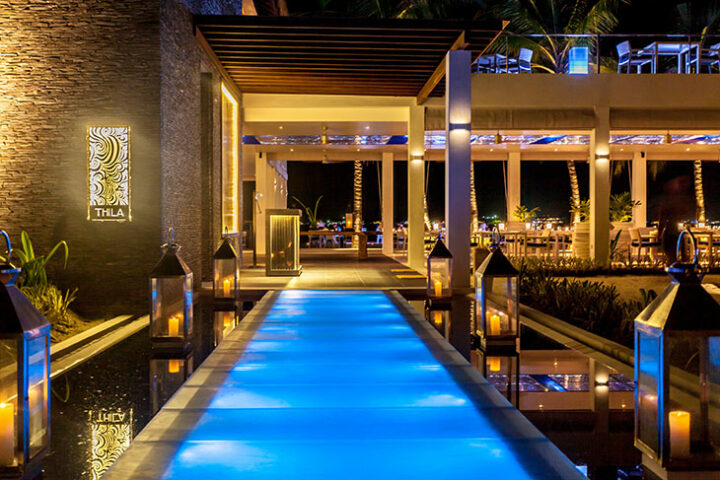 Thila – A playful take on dining
Kurumba Maldives holds the honour of being the country's first resort, and it's also led the way in a number of other aspects. It might interest you to know that it was the country's first ever five star resort, the first with pool villas and the first property with multiple restaurants.
With eight restaurants and three bars, it's evident that food is a major part of the Kurumba experience; it won Tripadvisor's Best All Inclusive Resort Worldwide title of 2015.
Kurumba offers guests a broad culinary spectrum that spans from the Far East to Europe. But the recently refurbished Thila restaurant is their proudest achievement in this regard.
The focus of the refurbishment was not only aesthetic, General Manager Jason Kruse informs; there was also a lot of consideration put into the time and motion of team members plus the guest experience: what they touch, feel and see. With a unique design, it allows an increased number of guests to sit over the shallow lagoon or 'thila' from which the restaurant derives its name, and take in some of the sights for which the Maldives is best known.
Thus, what used to be just a seafood and meat grill metamorphosed, in late 2014, into a stunning beachside restaurant. Thila is open and airy, with a fresh white theme interspersed with touches of cobalt that brings to mind clouds and cerulean skies.
Dee Paulse, the restaurant manager, says of the resort's signature restaurant: "What we're offering here is a refined, sophisticated take on cuisine." She adds: "Even some of our appetisers, scallops for instance, aren't just handed over on a plate but presented with such finesse and artistry that sometimes we get people saying that it's just too beautiful to eat."
And that's part of what Thila is about, refinement. Guests can indulge in fine champagnes, which Thila takes great pride in, paired with fresh lobster, oysters and other seafood.
The two storey building accommodates 150 people, and special functions can be held upstairs without inconveniencing the diners below. Its glass-walled kitchen offers guests a window into the bustle of the world within, and enables one-on-one interactions with chefs.
Breakfasts here have an Australian café feel, so you get your waffles and smoked salmon, (which is smoked in-house) on top of the usual breads, cereals and fruits."We're trying to do something that's a little bit different from the other restaurants here," says executive chef Ross Chapman. "We're playing a little bit more with the dishes."
In tune with its playful nature, the menu changes slightly every month, keeping things fresh and exciting, not just for diners but also for those involved in the creative process. Instrumental to these changes is the monthly specials menu. Through it the restaurant engages with guests on possible new items that may be added to the menu based on positive feedback and popularity.
"We're very keen on experimentation," Dee reveals. "From the chef's point of view, we focus on a different food source every month. In January we focussed on cod, and this month it's shellfish – oysters, razor clams and such. So with our change in focus comes the ability to play. That's when we do something different."
She mentions an intriguing item, black garlic ice cream, that is currently featured on the menu. "It's made here, and it takes about a month to make it," explains chef Chapman. He describes the taste – like molasses with a little bit of fennel. "It goes well with parsley and lemon, you really wouldn't know that it's garlic," he laughs. The restaurant also recreates the familiar; a new interpretation of the Maldivian staple Garudhiya is quite a hit with diners.
A kind of DIY philosophy is also apparent at Thila. "We try and make as much as we can in-house," says Chapman. Some items require weeks of effort, but the results are worth it. "So you know the delicious smoked turkey that you had for breakfast was made in-house, the result of a five day process," he adds. The restaurant also makes different yogurts, bakes its breads, even experiments with creating different types of honey.
However, Thila is not just for the gastronomically adventurous. Guests can enjoy perennial favourites like steak and poached eggs. There are also options for vegans and vegetarians. Moreover, special requests for items not included in the menu are accommodated whenever possible.
So Thila manages to be a restaurant that's interesting without being too eccentric. One that is innovative without being pretentious. It's the sort of place that makes you want to grab a seat and be surprised (pleasantly) by something new, or return to an old favourite. The sort of place that you imagine will stick around and remain remarkable for quite some time.