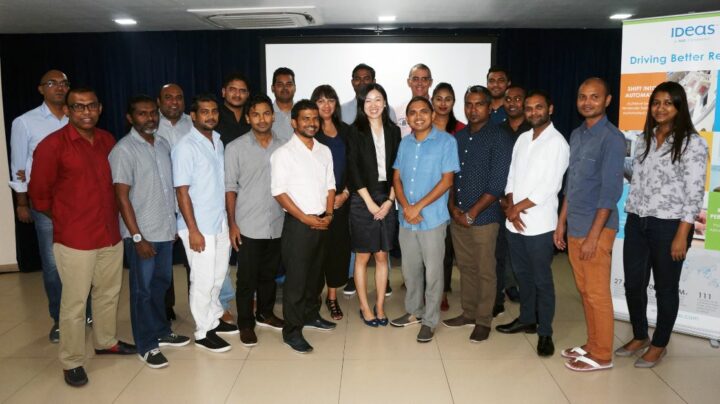 Hotelier Maldives, IDeaS conclude second Revenue Management Concept Workshop of 2017
The second edition of the Revenue Management Concept Workshop organised by Hotelier Maldives and IDeaS Revenue Solutions, has come to a successful close. The two-day workshop was held on December 4 and 5 at Champa Central Hotel.
"Platforms providing comprehensive knowledge and expert advice on important topics such as revenue management are not readily available or easily accessible to hospitality professionals here in the Maldives," says Aminath Ali, Head of Operations at Perspective Pvt Ltd, the publisher of Hotelier Maldives.
"Our aim is to facilitate such opportunities, and given the successful turnout of the workshop, we're planning to make it an annual event and hoping to hold an advanced version of the workshop next year."
The workshop was facilitated by Tracy Dong, the Lead Advisor of Asia Pacific region at IDeaS, a SAS Company based in Singapore."It was a very successful two-day workshop and it was apparent that the participants were genuinely interested in the subject. We will have more workshops next year, and preferably a three-day workshop, specially designed for revenue managers and revenue directors," says Tracy, commenting on the success of the workshop.The workshop was composed of a Revenue Management Overview and covered Market Segmentation, Pricing, Forecasting, Revenue Management Tactics, Channel Management, Strategy Setting and Implementation.
Commenting on the experience, Peter Gremes, the General Manager of Reethi Beach Resort says: "The workshop was informative and precise and all the participants were interested in the challenges associated with revenue management and learning more about the topic, including me. We gained a considerable amount of information and we will be applying that to our operations."
The workshop was attended by General Managers, Resort Managers, Revenue Managers, Accountants, Financial Controllers, Sales and Marketing Managers and Reservations Managers from a number of hotels and resorts along with other support industries."From the beginning, we haven't really been using revenue management systems and this can be a good start for resorts to build a revenue management culture within the Maldivian hospitality industry," notes Mohamed Shiham, the Sales and Marketing Manager of Malahini Kuda Bandos Resort."I hope the information we acquired here will be passed on to the colleagues of all the participants and therefore enabling hotels to make more revenue than we have in the past."
The workshop also featured a presentation by Chitra Randhawa, Regional Director of Sales, of the Asia Pacific Region at IDeaS, about the revenue management solutions provided by IDeaS – a company that provides innovative solutions, exceptional client support and strategic advisory services to help hospitality businesses drive better revenue.