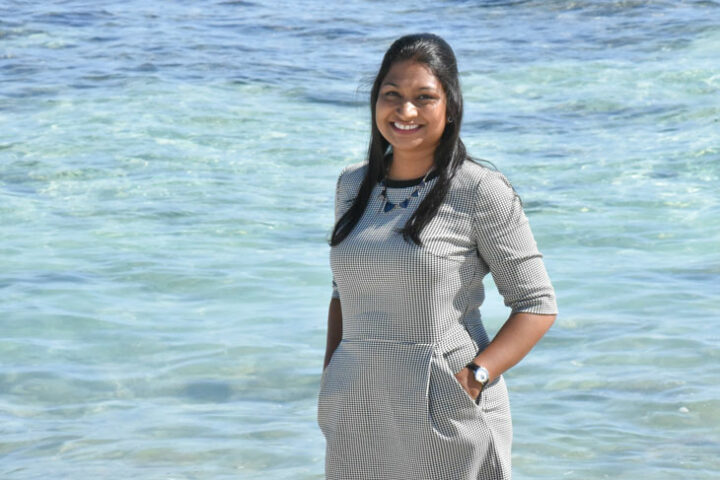 Women in Hospitality: Shafa Shabeer, director of marketing at Coco Collection
For this edition of Women in Hospitality, Hotelier Maldives speaks to Director of Marketing for Coco Collection, Shafa Shabeer. In an industry where women make up only 8% of the workforce (of which only 3% are Maldivian women), this series aims to spotlight women in leadership positions throughout the Maldivian hospitality sector. Having witnessed the inception of Coco Collection and having been part of its dynamic growth, Shafa shares her experiences as a leader in an industry that is constantly changing.You've been with Coco Collection since its inception. How have you seen the company develop over the years? What elements of the brand's growth are you particularly proud of?
First of all, I'd like to distinguish between Coco Collection and Sunland Hotels, Coco Collection is the luxury resort brand that we created under Sunland Hotels, which began as a specialist travel agency. I started working with Sunland in 2002 and Coco Collection came into being in 2005, so I had the chance to see it evolve, and be a part of its development. And I think what really stands out to me is the adaptability of the company. We've been very good at foreseeing where the market is headed and we really use our core competencies to be ahead of the market. Towards the beginning of the '00s, we foresaw the arrival of international brands in the country and realised that it was a necessity to create this brand to remain competitive. And I think this has been our biggest achievement. We are recognised in all our key markets in the trade as a luxury local brand; by trade partners, tour operators and in the media. The challenge now is to really reach that level of brand awareness at a consumer level.
When you became Director of Marketing last year, was it your intention to take the brand in a new direction, or to build upon the company's existing marketing strategies?
If I look back at my career, one of the things I'm personally very proud of is that I didn't start right at the top. I started as a reservations officer based in Male' in 2002. I was fresh out of university, with a BA in Business Studies. Doing that gave me the chance to understand the company from an operational point of view. It allowed me to gain more experience rather than jumping straight into a leadership position. After two years, I moved into marketing, and worked very closely with one of our directors, Mr Hilmy, who was overseeing sales and marketing at that point. I learnt so much from him, and he inspired me. It was at that time that the company developed a formal sales and marketing department and I was able to be a part of that. So when I became its marketing director after completing my MA in Marketing and Strategy, it was never going to be about reinventing the wheel. Instead, what I wanted to do was strengthen what was already there.
How would you describe your approach to marketing?
This is a dynamic industry, and the approaches that need to be taken in terms of marketing are forever changing and the key is to be dynamic ourselves. This is not to say that we should jump onto any platform that is available to us, but rather that we should understand that communication gaps are closing, and that we should choose platforms that are relevant to us.The Maldives is an internationally popular destination. How do you market Coco Collection to such a variety of different potential clients, whilst staying true to the essence of the Coco Collection brand?
Our vision is to be a strong, experience-led brand. I think no matter which region you're travelling from; everyone is seeking a new experience, a unique experience. This is how we relate to the different markets. Having said that, in terms of marketing, if a certain element of the brand appeals more greatly to a specific market, then of course we would highlight that a little bit more. For instance, the European market – especially the German and French markets – is very receptive to our eco experiences. On the other hand, the romantic element of our brand is something that appeals greatly to travellers from the East.
What is it about your role that excites you the most?
The challenges! It's challenging to be in a market that is so prevalent, with so many international brands. Carving a niche for the brand can be tough but it's very interesting. We're competing with such well-established brands, and reaching that level takes time. Staying in line with them requires a lot of effort, but it's exciting to work on differentiating ourselves by bringing out the values that we have in our brand promise.
Which aspects of leadership do you find the most rewarding? What leadership style do you aspire to?
I enjoy developing and mentoring individuals. At the moment my team are all local Maldivians. I'd like to be the kind of leader that empowers them, whilst allowing them the space to broaden their creativity and their horizons. We work as a team, rather than top down. It's a style of leadership that has always been present at Coco Collection. This was a family business, and we've retained that feel.
Do you think that attitudes towards women working in the tourism industry are changing in the Maldives?
Yes. We have moved away from the stigma that was attached to women working in the tourism industry, not only in Male', but across the Maldives – and that's visible. For example, there are some female associates at Coco Collection with older male relatives that have worked for the company. I think that the experience of the previous generation and closer ties with the resorts could have prompted a change in how the industry is viewed by the society.What practical steps can leaders in the tourism sector take to increase the number of women working in the industry?
We need to ensure that industry leaders are committed to gender equality, that it's something that matters. Once that commitment is there from the top management, you automatically see things changing. This has been true for Coco Collection. Our COO had this approach and as a result we are already seeing more women in leadership roles within the company. Of course, hiring has to be based on merit but I think there are enough qualified women – local women as well. However, this needs to be facilitated. We need to implement policies that work towards recruitment, training and empowerment of women. For instance, it would be possible to identify candidates with talent and fast track them into leadership. Although we've moved away from the stigma, because this was traditionally a man's industry, it takes time for women to be immersed into the industry at an equal level as the men. Even small things such as accommodation within the resorts – these places were designed for men, and these things take time to change.
Do you think an increase in female employees would change the tourism sector?
Of course, having a diverse workforce always helps. We need to tap into a wider talent pool and if we manage to do that, it will definitely benefit the industry. I'd like to see more local women in leadership roles, too.