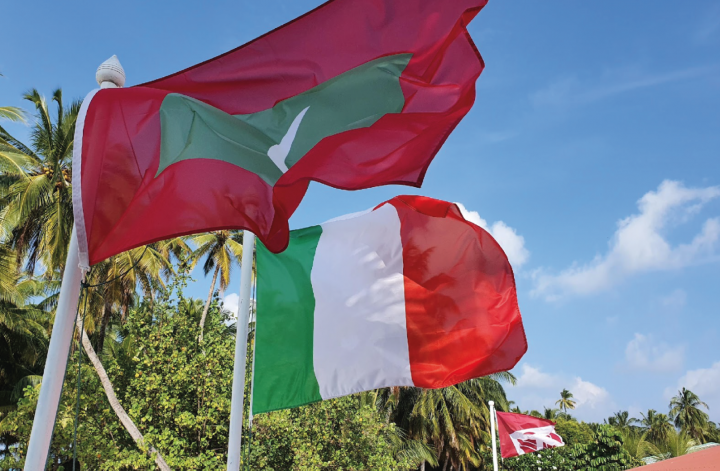 A bridge between Milano-Bicocca and the Maldives for the protection of coral reefs
A signing ceremony of the agreement between the University of Milano-Bicocca and the Government of the Republic of Maldives will take place on 24 February 2021, at 10am Italian time. The ceremony will be live streamed (http://s.unimib.it/maldive).
The University of Milano-Bicocca (Italian: Università degli Studi di Milano-Bicocca, UNIMIB) is a public university located in Milan, Italy, providing undergraduate, graduate and post-graduate education. Established in 1998, it was ranked by the Times Higher Education 2014 ranking of the best 100 Universities under 50 years old as number 21 worldwide and first in Italy.
Participants will get to know a priceless underwater heritage, complex and rich in biodiversity, that must be protected. Milano-Bicocca and the Maldives Government are starting a partnership that aims at studying the most effective, sustainable and cutting-edge coral reef restoration techniques, while developing guidelines for their application.
The partnership is part of a larger project. For over ten years, since the MaRHE research and higher education center was established on Magoodhoo island in the Maldives archipelago, the University of Milano-Bicocca has been studying sustainable development solutions in collaboration with the Maldivian Government, as well as with foreign universities and research centres.
Speakers include: Giovanna Iannantuoni University of Milano-Bicocca Rector, Abdulla Shahid Minister of Foreign Affairs, Republic of Maldives, Ibrahim Hassan Minister of Higher Education, Republic of Maldives, Zaha Waheed Minister of Fisheries, Marine Resources and Agriculture, Republic of Maldives, Fabrizio Sala Regional Councillor for Education, University, Research, Innovation and Simplification, Anna Scavuzzo, Deputy Mayor of the Municipality of Milan, Roberta Cocco, City Councillor for Digital Transformation and Civic Services, Municipality of Milan, Rita Giuliana Mannella, Italian Ambassador in Sri Lanka and the Maldives, Paolo Glisenti General Commissioner for Italy at Expo 2020 Dubai, Giorgia Marazzi Italian Honorary Consul in the Maldives and moderator Paolo Galli MaRHE Center Director of the University of Milano-Bicocca.
For more information:  
University of Milano-Bicocca Press Office
Maria Antonietta Izzinosa +39 02 6448 6076 – +39 3386940206   
Veronica D'Uva +39 02 6448 6373 – +39 3351685364        
ufficio.stampa@unimib.it