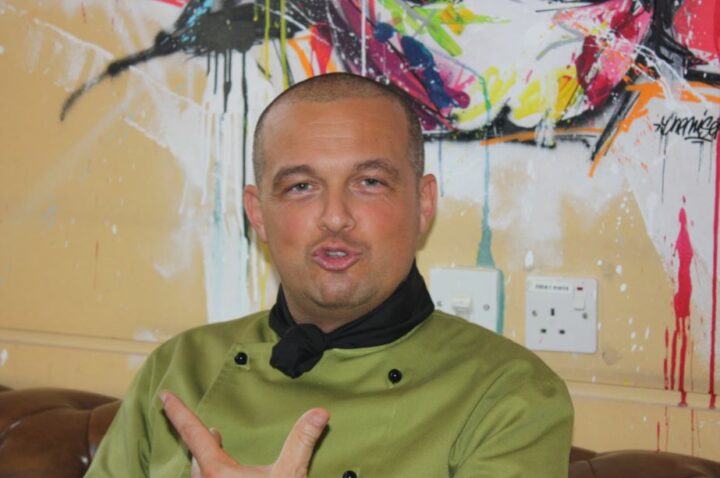 The story of Chef Giovanni De Ambrosis; the talent behind Taste of Italy
Taste of Italy, a state-of-the-art authentic Italian Restaurant is undergoing its final preparations for opening in Malé City. On this issue, Hotelier Maldives introduces the incredible talent behind this restaurant, Chef Giovanni De Ambrosis.
Taste of Italy is curated by Chef Giovanni, a man in love with taste and rich traditions of Italian cuisine. An award-winning international culinary professional with an incredible portfolio of global restaurant set-ups, consultation and culinary experience at cities like Nairobi, Kenya; Zanzibar, Tanzania; Dubai, UAE; Miami, USA; Moscow, Russia; Lugano, Switzerland; Shanghai, China and now proudly adding the Maldives to his long list of achievements.Giovanni de Ambriosis, aged 41 was born in the small town of Angera, Varese in Italy. Since graduating from Hotel Institute E. Maggia, Stresa, he has never looked back and chased his dream of becoming an international chef. The past 18 years, he travelled to different parts of the globe, sharing the beauty of Italian taste, discovering the art and techniques of food from different parts of the world.At the age of 12, Giovanni was inspired by a family friend named, Alberto who was a travelling chef working on a yacht. After hearing his story, he fell in love with this job and set his mind to achieve his dream of becoming a chef and travel the world. He began working at Villa Casigcioni at the tender age of 13 and quickly learnt the art of traditional Italian cuisine, working in different parts of Italy. By the age of 25, he was already working as an Executive Chef in Italy. In 2014, The Federazione Italiana Couchi awarded him the Ambassador of Italian Taste.
"Another great influence in my life was Nello and Liliana, a couple from Napoli who operated Pasticceria Cali, a small pastry shop across my house. When I was young, I used to work there for free every weekend just so I could learn from them," says Chef Giovanni.
"I was lucky enough to start very early; my first experience abroad was at 14 in Crans Montana, although the experience that gave me a rise in quality was that in Zanzibar at a five-star resort, Breezes Beach Club & Spa," he adds.Some of his recent consulting projects include "Tribeca Kitchen & Bar" in Dubai, a lifestyle venue with a Mediterranean-inspired menu, based on organic, healthy options; "Purobeach Club" JA Jebel Ali Golf Resort, Dubai; a luxury fusion lounge restaurant with a menu covering global cuisine and "Under 500" Calories, restaurant in Jumeirah Lake Towers (JLT) and Business Bay, Dubai, which is a home-style café with an innovative concept of healthy food under 500 calories, providing a wide selection of delicious options suitable for health-conscious customers. This brand is currently expanding within the region. Other experiences include "Da Ivo" in Shanghai and "Al Faro" Restaurant in Lugano.
Cocoon Maldives & Taste of Italy
In 2013, Alessandro Azzola, owner of Azemar, opened a five-star resort called "Gold" in Zanzibar. Giovanni was contacted for the start-up and throughout the process, they became good friends. Once again, he proposed to help him with the start-up of Cocoon Maldives, and Giovanni ended up in the Maldives. He has been in the Maldives since 2016 based here as the Corporate Chef of Cocoon Maldives.With the success of Cocoon, Abdul Majeed, Chairman of Bison, Alessandro Azzola, MD of Cocoon and Mohamed Abdul Majeed (Monni), MD of Bison Travels were inspired to start Taste of Italy in partnership with Giovanni. With their common interest and a strong passion for food, Taste of Italy will become the first restaurant in Malé to be opened by a well-accomplished international chef.Their goal is to introduce Maldivians to authentic Italian food providing the same quality and standards of services provided at Cocoon Maldives. With the opening of their new resort, You & Me Maldives by Cocoon end of this year, Giovanni will be overlooking both the resorts and Taste of Italy. Taste of Italy will serve authentic, traditional wooden oven baked pizzas, produce their own pasta and fresh mozzarella cheese. Their mozzarella cheese lab will be the first of its kind to be opened in the whole of the Maldives.Chef Giovanni has always stayed true for his original roots of Italian and Mediterranean Cuisine. His strong passion for authentic Italian cuisine and natural ability to maintain high standards in this demanding industry has helped him reach where he is today. His enthusiasm for sharing the knowledge of traditional Italian cuisine with his charismatic techniques of presenting impressive dishes has made his customers crave for more.The art of combining his international exposure along with finding creative ways for the use of new ingredients to incorporate with innovative ideas has always kept him interesting and relevant. So, we can only wish Giovanni De Ambriosis another successful adventure with Taste of Italy, something completely unique from what he previously attempted ever before, introducing true Italian taste at the heart of this tiny Capital City of the Maldives.