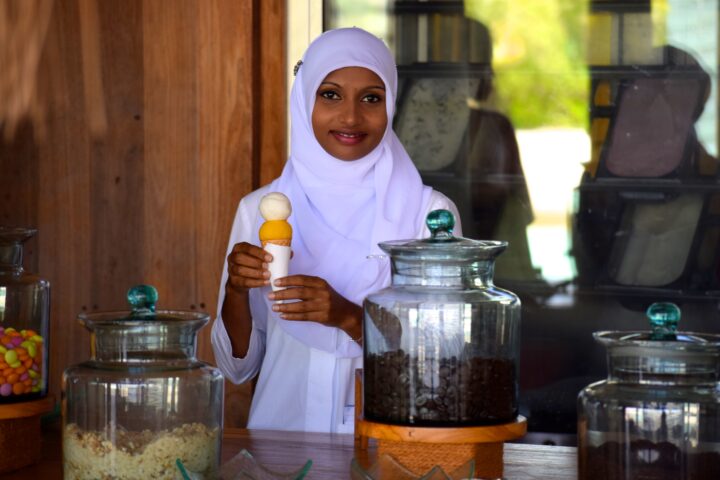 A Day in the Life Of: Abida Abdul Samad, ice cream parlour attendant at Six Senses Laamu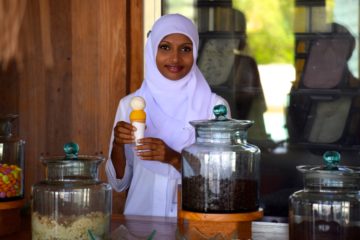 Our 'A Day in the Life Of' series examines a typical working day of an employee in the hospitality industry. Today, we speak to Abida Abdul Samad, who has been working as an ice cream parlour attendant at Six Senses Laamu's mouth-watering Ice and Chocolate Studio for almost four years. Having previously worked in a café in Male' as well as in a bakery, Abida has always liked being surrounded by the sweeter things in life.
08:30 On a normal day, I wake up and take a quick shower and pop down to have breakfast with my colleagues in the staff canteen.
09:00 After breakfast, I head back to my room. I call my mom every day to see what's happening back home. I'm lucky because I'm from this atoll, from an island called Maamendhoo, so I get to go home every week on my day off but even so, I like to chat to my family every day.
11:00 After a couple of hours, I put on some music and I start to get ready to go to work. I love listening to all kinds of music, as long as it's soft – it puts me in a good mood for the day.
12:30 Before my shift starts, I go to the laundry area and pick up everything the ice cream parlour needs for the day – napkins, thing like that. I head over to the parlour a little early, and wipe down the tables. It's clean already – but I like to make sure!
13:00 When my shift starts and the parlour opens, I already have guests waiting at the door! Ice cream is complimentary here, so you can imagine how busy it gets! It's not uncommon to see people coming twice a day. We've got 25 flavours of ice cream and 17 kinds of sorbets, so people like to sample them all. The maximum I've ever seen anyone eat in one sitting is ten scoops!
I work alongside the in-house ice cream and desserts chef, who as well as making all the ice cream also makes lots of sweets, desserts and chocolates. They are all so delicious! From time to time, we do try new flavours and I must admit we've had some weird ones! The strangest for me were goat cheese and orange marmalade, as well as watermelon, feta cheese and pumpkin seed! We also did a Japanese special made with wasabi and sour cream. I definitely prefer the sweeter ones. My favourites are chocolate sorbet and burnt milk ice cream – it's so creamy! In fact, I never eat lunch – instead I eat an ice cream!
18:00 At six, I take a break. I go to my room for a while and then have an early dinner.
19:30 In the evening, I head back to the studio. People often come for an ice-cream after dinner, and I'm usually really busy just before closing at ten thirty. I'm alone most of the time, so the day flies by. However, when I get busy my colleagues are always ready to help out – even the captains, managers and chefs. That's what I love about this job – there's such great teamwork. I've just completed my cross training and now I can also make the ice creams, so if the chef's not there, I can also help with that.
22:30 At the end of the day, I count how many scoops I've served. Some days I serve 600, maybe even 700 scoops! I make sure everything is ready for the next day and housekeeping will come to clean. I then head back to my room to chill out.
Abida says: My favourite part of this job is serving ice cream to the children. They always make me laugh because they are so happy! I remember seeing a child with two scoops in each hand, with ice cream running down his elbows – I was running behind him to clean up but I couldn't stop laughing. Ice cream is like magic – it makes everyone smile!