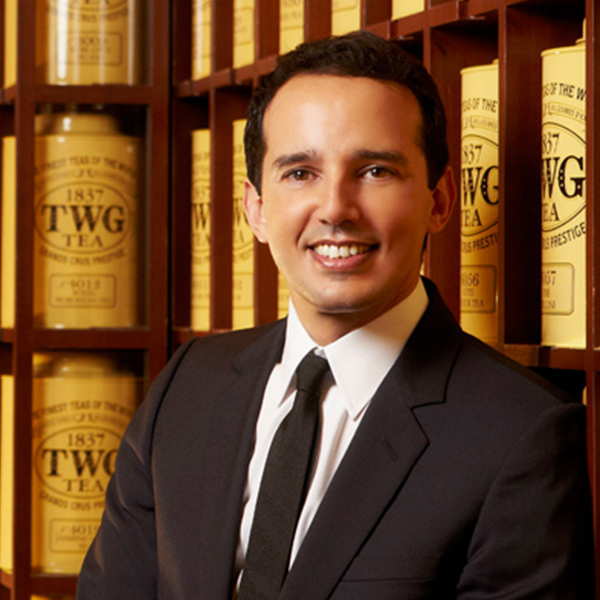 Taha Bouqdib, President & CEO, Co-Founder of TWG Tea
One of the most renowned tea innovators in the world, Taha has over 20 years of experience in the luxury tea industry and is passionate about introducing the world to the finest quality teas, and continually interacts and dialogues with tea planters to yield new and exceptional teas adapted to the tastes of modern tea drinkers.
What are today's popular teas?
TWG Tea customers are global tea drinkers and are increasingly demanding in their requests for the finest harvests tea as their palates develop. The ever changing tastes of tea drinkers drives TWG Tea to continually delve deeper into unchartered territories seeking special conditions, rare species, harvests and more imaginative combinations of varieties that have never been explored. This relentless quest means fruitful contact with tea planters and allows TWG Tea to discover more wonderful teas, and devise new tea varieties.
The fastest growing variety of tea today is white tea because of its many recently proven health benefits. Fully unprocessed, white tea leaves are simply picked and sun-dried, and consequently retain the highest concentration of anti-oxidants. Their infusions are pale, subtle and brilliant, making a highly refreshing tea, perfect for hot climates.
Are some teas more popular than others in certain location or settings?
There is a tea for all occasions and situations. TWG Teabags are perfect for guests who are travelling or want to enjoy the same quality of exquisite teas in their hotel rooms. TWG Tea hand-sewn, 100% cotton teabags ensure that flavours are not absorbed by the teabag and tastes are not compromised. Conveniently portioned in precise 2.5gram servings of whole-leaf teas, TWG Teabags offers the perfect cup. Unlike paper teabags, which "drink" the aroma of the tea before you do, cotton teabags act like a natural sieve, transferring the flavors directly to the teacup.The entire TWG Teabag is made of natural, biodegradable cotton without any glues or stables and leaves ample room for the tea leaves to expand, ensuring a full and aromatic infusion. For a morning cup of tea, we recommend full-bodied breakfast blends such as Singapore Breakfast Tea, a natural blend of green tea, black tea, rich vanilla and rare spices that yield a complex flavour with a sweet and lingering aftertaste. If guests prefer to enjoy a cup of tea at night, the best nightcap is a caffeine-free red tea blend such as Crème Caramel Tea, a delicate red tea from South Africa with a secret TWG blend of sweet French spices or Vanilla Bourbon Tea, red tea blended with sweet TWG Tea vanilla.
TWG Tea also offers a large selection of teas to be paired with the finest and most luxurious meals and is able to create the perfect selection to go with any type of fine food and gastronomy. TWG Tea selection of fine harvest teas, sourced directly from the world's most renowned plantations by TWG Tea Masters, comprises rare and exclusive harvests such as Gyokuro Samurai, a Japan green tea that pair perfectly with fish dishes and the finest Japanese cuisine. Meat dishes can be paired with the finest selection of TWG Tea Darjeeling first flush such as Okayti Excellence SFTGFOP1 or Lingia FTGFOP1 for example. And tea connoisseurs in search for an exclusive and unequaled luxurious experience will be delighted with the selection of exclusive teas offered by TWG Tea such as Da Hong Pao Prestige sourced directly from an ancient tea plantations in the Wu Yi Mountain of Fujian, China or Yellow Gold Tea Buds from Schechwan, very small quantities of which are sold outside of China every year and reserved exclusively for TWG Tea.
For a fun afternoon tea with friends, TWG Tea recommends to pair time pastries and lights sandwiches with exclusive blends. Lighter, fruitier cakes and tarts pair better with lighter teas, such as white and green teas, whereas heavier, richer patisseries blend well with China blue teas and black tea blends, since neither the tea or patisserie will overpower the other. TWG Tea Signature teas 1837 Black Tea and 1837 White Tea blended with notes of fruits and flowers from the Bermuda triangle, which leaves a lingering aftertaste of wild berries and anise, Bain de Roses Tea, a sensual Darjeeling is a magical union of extraordinary roses and hints of vanilla or Weekend in Hong Kong Tea, a grand mélange of TWG green tea, wild rhubarb, a scattering of blossoms and subtle overtones of malty toffee.Do you see a difference between the requirements of Asian compared to Western guests?
There is most definitely a move towards preference for premium teas, with gourmet and luxury tea consumption increasing with rising affluence in consumers who have travelled internationally, tasted exquisite foodstuffs in all categories and developed a palate keen to appreciate the most refined and subtle intricacies in flavor. Asians moving towards an appreciation of their own heritage products, we believe that there will be a growing interest in the rarer and superior quality teas as well as trend setting tea blends in Asia, as opposed to dust and fannings. Black tea was traditionally and commonly exported to Europe and America because it's the best type of tea that can be kept at sea.However today, European and American consumers enjoy green tea and white tea, not only for the taste but also because of the obvious health benefits and lower caffeine contents that these teas offer. Personal preferences also play an important role, as there are excellent teas of all varieties, including white teas, green teas, blue teas, black teas and red teas that TWG Tea recommends depending on the origin, blend of the tea and the time of the day when the tea will be consumed.
Are teas blended with fruits, flowers or spices becoming popular?
Our customers who are global tea drinkers are increasingly demanding in their requests for the finest harvests tea as their palates develop. We expect to see connoisseurs of fine harvest, single estate teas becoming more adventurous by moving towards tea blends. Simultaneously, we foresee that our customers who only drink blends will become more curious to learn more about single estate teas, tasting their way little by little around the tea world, developing their own personal preferences with tea harvests from everywhere from Africa to Australia.
TWG Tea is renowned for its exclusive tea blends created with the most fragrant flowers, fruits, and spices from around the world resulting in beautifully balanced, unique creations. TWG Teas are blended in Asia, which results in fresher blends with more pronounced nuances and greater complexities on the palate. Far from the ceremonies of times past, tea is evolving with tastes, fashion, and cultures. Today, we see that tea has become a beverage enjoyed by men during meetings, for example, as well as flavours like chocolate and caramel becoming increasingly popular with customers who might not previously have appreciated tea.
BBM (Bestbuy Maldives Pvt Ltd) is the Business Partner for TWG in Maldives. Currently TWG Tea is served as a high tea in resorts and BBM emphasizes on offering tea training to the resorts every year.