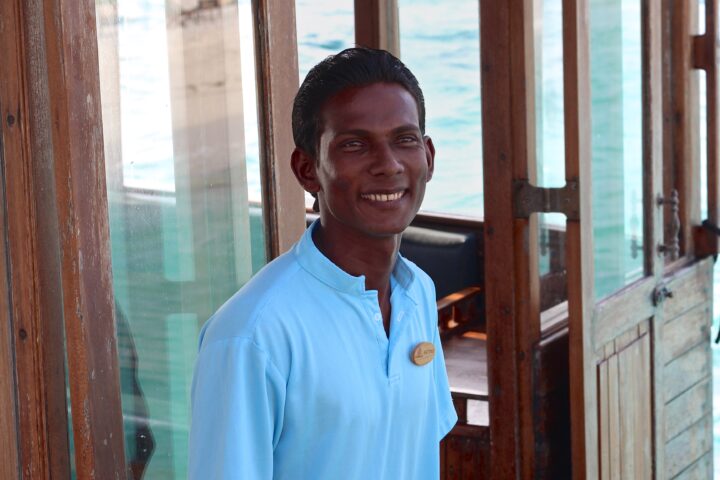 A Day in the Life Of: Ahmed Abdul Sattar, Boat Crew at Coco Palm Dhuni Kolhu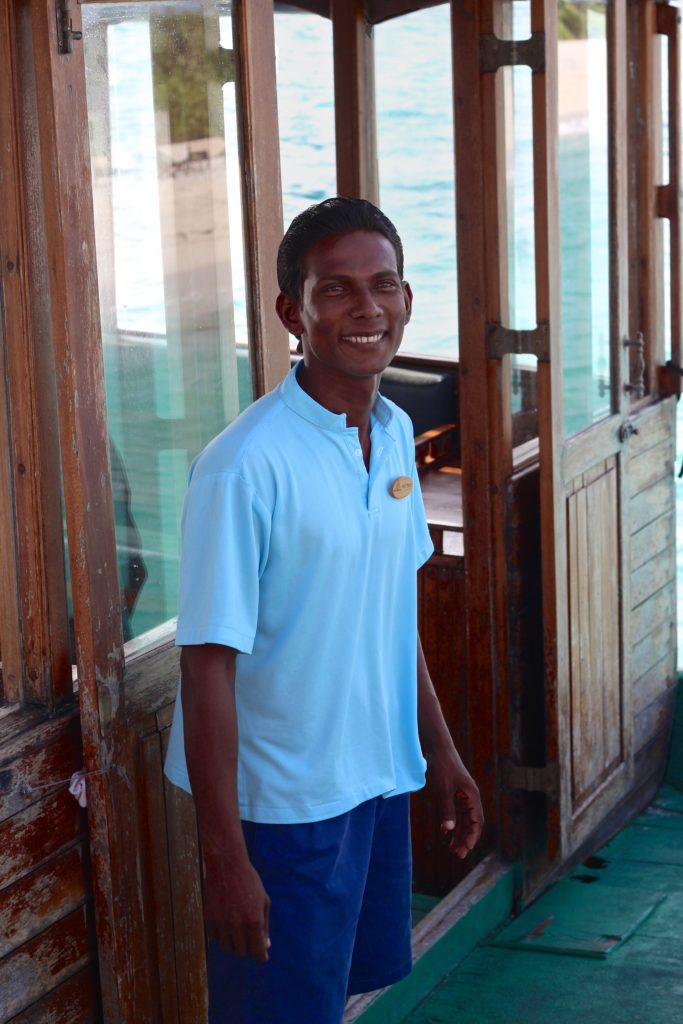 This new 'A Day in the Life Of' series looks at a typical working day of an employee in the hospitality industry. The series kicks off with 24 hours in the life of Ahmed Abdul Sattar, a boat crew attendant at Coco Palm Dhuni Kolhu, in Baa atoll. Sattar celebrates his one-year anniversary with the company today.
06:30 I'm from Baa atoll originally and one thing that I love about working at Coco Palm is that I get to go to my home island of Hithadoo on a regular basis. If I stay over, I'll wake up early to catch the 7 o'clock ferry back to the resort, which also stops off at other local islands along the way.
07:30 I'm not one for breakfast so I head straight for my first excursion of the day, which is an early morning deep-sea fishing trip. On these excursions, it's my responsibility to take care of the guests. This means making sure their fishing lines are ready, serving them drinks and breakfast and giving them fishing advice! Before working in the hospitality industry, I used to work on fishing boats with my father, so these excursions are my favourite. On a good day, we can catch tuna, wahoo or even a sailfish. I never get bored of fishing, and I'll often take my own boat out on my days off to see what I can catch.
10:00 By ten, I'm back on the island. I help unload the equipment from the trip and tidy the boat. It's then a case of helping with any arrivals over the next couple of hours. We mainly have seaplane arrivals and the platform is very close by so we collect the guests and give them a small drink and a cooling towel.
12:00 At midday, I go for lunch in the staff canteen and catch up with my colleagues. And if there are no arrivals, I'll take a rest for a couple of hours.
15:30 In the afternoon, we take the guests for a local village excursion, where they get to have afternoon tea with a family in a local island called Thulaadhoo. We deliver the guests to an island guide and I get to have some time off in the island. I normally catch up with friends I have on the island or chill out on the boat until 18:00, when it's time to return to the resort.
21:00 After some dinner, and if there are no late arrivals, we again use the boat to ferry those staff members wanting to spend a night in a local island. I then return with the boat to the resort in the morning.
Sattar says: "I've always loved boats and I've always known I wanted to work on them. Working in a resort, each day is different and it can be hard work but I definitely wouldn't change it. Nowadays, I'm looking to get my boat captain's license to continue up the career ladder. For those thinking of becoming boat crew attendants, I would remind them that the most important aspect of the role is being attentive and caring towards the guests."