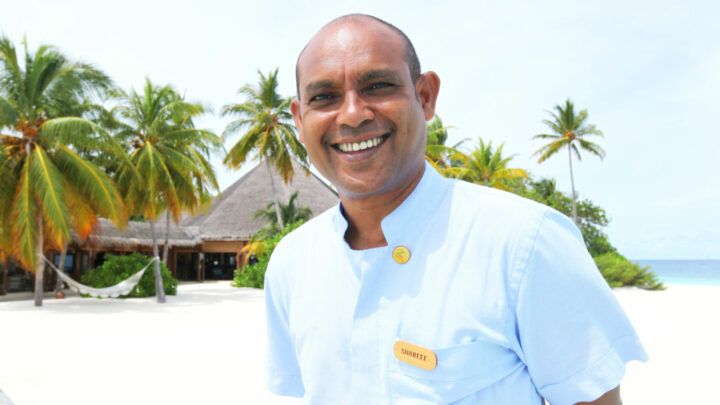 The GM's View: Mohamed Shareef
Hotelier Maldives spoke to Mohamed Shareef, the General Manager of Mirihi Island Resort about his journey to the top echelon of the hospitality industry, the challenges of managing a small resort, and his plans for the future.
What attracted you to work in the industry?
When I was younger I had always heard about the resorts, and what life was like living and working at the resorts. So I had been very intrigued and wanted to find out what was so special about working on a resort, away from home and the regular friends, with people from different nationalities – the idea appealed to me. I was 20 years old when I got the opportunity to work at my first job as a Receptionist. I soon realized I want to build a career in this industry and went back to study hotel management. After training I tried my hands at food production on recommendation by my lecturer. After few years in the kitchen I moved in to general hotel operation. I was lucky enough to get the opportunity to work in almost every department of a resort. After about 10 years enjoying the resort life, I decided to take a break and moved to Male'. I was very fortunate to get to practice what I learned when I took up the job of opening an 80 bed hotel in Male'.
My break didn't last long as I became very interested in being involved in a resort under development. I then joined Mirihi as the Assistant Manager in 2001. We demolished the entire island in 2002, and re-opened in 2003.
What are the challenges you face in running a resort as small as Mirihi?
Being a tiny island of just 25000 sqm is very attractive from the sales point of view but to run the back operation without any inconvenience to the guests and to provide adequate space for staff and other operational needs is a huge challenge. Just like every island, we also need to operate power generators and other heavy machineries but being a small island we need to put a lot more effort to making sure our guests are not disturbed by those.
Smaller islands are also more vulnerable to beach erosion and other extreme weather conditions. But over the years we Maldivians have learned to deal with these challenges and I am lucky to be working with such a Team.
In addition to that, getting supplies for the kitchen, or any department for that matter, is a bit of a challenge during the rainy and windy seasons. The islands being so far apart from each other, at times it gets difficult with the delivery getting postponed, etc, but we have managed to work around it in the past and will continue to do so in the future.
You have managed to retain more than 30 per cent of your staff for more than 5 years, not an easy feat in the tourism industry today. How do you motivate your staff to stay at Mirihi?
'We don't only work here, we live here.' That's a line we often use here in Mirihi, to emphasize the importance of feeling at home for everyone while on the island. Our treatment of the Team is entirely based on that simple philosophy. For example; when decorating staff rooms we let them decide on color schemes for their own rooms and provide them with linen and furnishing according to their preferred colors. Something very popular with our Team is the football coaching camps we run with the local football legend Kuda Moosa. Since most of us Maldivians are football crazy, it's always fun to beat the much bigger neighbors on our home turf. Fun for our Team of course!
In general we try to build a working relationship with our Team based on trust. As I am always confident of the entire Team's dedication to deliver their best service, I want them to be confident that the Management will make sure they are well taken care of.
How does your previous experience come into play here, at your current position as GM?
I have worked with great people from all over the world and they all have taught me valuable lessons. I've been very involved in all the fields I've worked at, purely to quench my curiosity on how different departments run. I am quite familiar with how a Maldivian resort works. I've worked in resort development too so I know what it takes and how long it takes to get some of the work done.
I try to apply them to my everyday work, but adopt small changes as I go along. At the end of the day, it's about offering your best services to the guest, to make them feel at home, away from their home. To make it worth their time and money to spend the holiday here.
What are your plans for the resort's future?
We have managed to do well in the past couple of years – that is staying as we are. The only thing we enhance is our service. We make sure to offer our guests a very personalized service. We want to make them feel at home – for Mirihi to be their home away from home. And as you can tell by our repeater clientele, we've been doing well.
The thing I learned in my career is that it doesn't matter the brand, or the size of the resort, or how many rooms you offer. At the end of the day, the only thing guests will remember when they fly back home are the people – the smiling, friendly faces. How we greet them by their names, how we welcome them and how we go out of our way to make their holiday a memorable one.