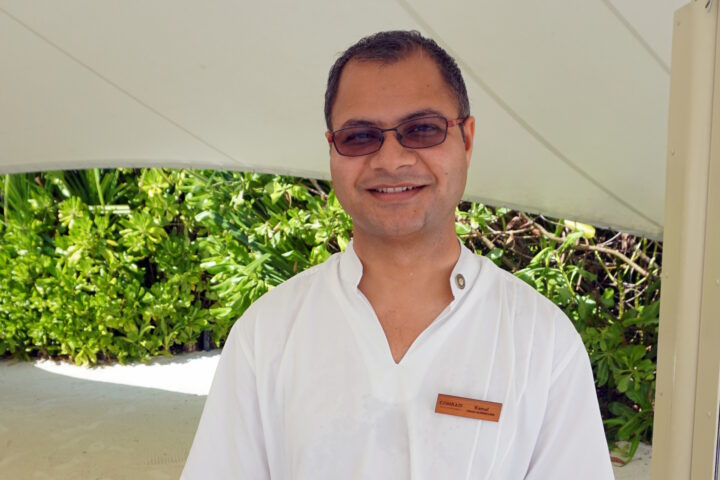 A Day in the Life Of: Kamal Malik, Chief Sommelier at Conrad Maldives Rangali Island
For our A Day in the Life Of series, we look at what really happens in the life of a tourism industry employee. For the latest edition, we speak to Kamal Malik, Chief Sommelier at Conrad Maldives Rangali Island. A certified sommelier, with a diploma in Wines and Spirits from WSET (The Wines and Spirits Trust), Kamal has been at Rangali Island for just under two years. As well as being extremely knowledgeable about wines, Kamal is also a certified sake sommelier. His passion and expertise recently led Kamal to be named the Sommelier's Cup Champion at the Hilton Worldwide South East Asia F&B Masters in Jakarta. Here he shares what it's like to work with one of the finest wine collections in the country.
8.30am Wake up and get ready for work. I am not a breakfast person and generally miss it. Instead a cappuccino in the morning is just the right start.
9.30am Go to work. I start by visiting the stores to help issue the right stocks of wines and liquor to outlets for their service requirements.
10.00am Go to office, check the emails, read the information logs for the day and prepare a plan for the day.
10.30am Morning coffee in the Manta Club, our team bar.
10.45– 11.30 Plan wine requirements for the coming months. The lead time for these could be anywhere between one week if they are in the Male' bonded warehouse to four months if it is an overseas sea shipment. Our purchasing team helps us get these over; we need to forecast the right amounts to run through the next few months.
11.30-12.00 Food and beverage team meeting. We discuss the day's plan ahead and discuss areas we need to focus on. We have 12 different restaurants on the island and we can then plan the requirements based on where more guests are going that day.
12.00-12.30 Lunch time. A healthy lunch at Malaafai, our staff restaurant gives me energy to go through the day!
12.30-14.30 Lunch is being served in many outlets at this time. This is also a good opportunity to interact with guests, inform them about food and beverage facilities on offer, make bookings for them the next day, and serve what they need for Lunch.
14.30-15.30 I work on menu updates to remove non available items or add new wines that have come over. I also deal with any follow ups for the evening or on special guest requests for the day.
15.30 My second coffee of the day before the break.
16.00-18.00 Break time split between cleaning the room, getting uniform from laundry, a half hour nap and reading a book.
18.00 to 22.00 Dinner operations in the outlet. I choose one outlet based on bookings for the day and go to help them. I might get a call in between if someone needs any special bottle somewhere else as well. We have 1500+ different styles of wines in the resort and many rare bottles are kept securely in our cellar. We also conduct dinners in the wine cellar which I host, where we pair multiple wines with food, I explain the wines, food and pairing concept. It is a fun filled and informative evening.
22.00 Finish working for the day!
22.00 to 23.00 Catch up with friends, have a drink and gossip at the Beach Club, our staff bar on the team member village island.
23.00 to 01.30 Read books watch movie or listen to music. Relax and unwind in the room before falling asleep.
Kamal says: "Conrad Maldives is a great place to work, with some of the best team member facilities. The wine programme is extensive and I am extremely proud to work here."