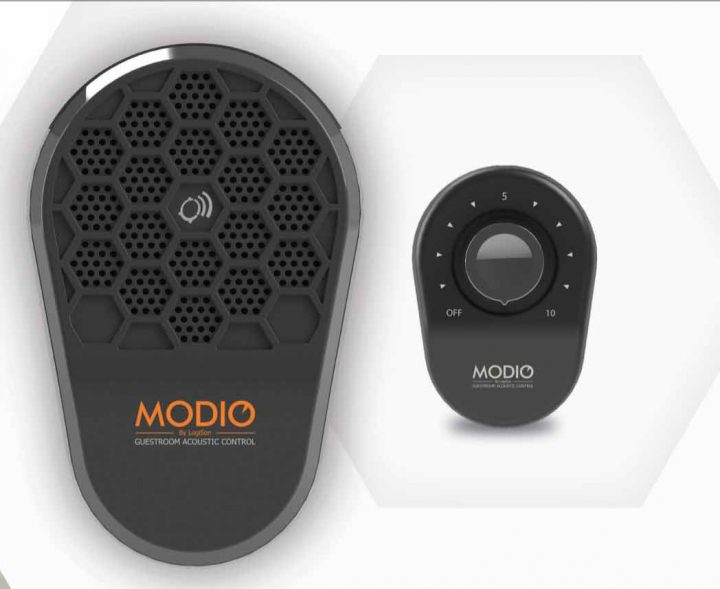 A QUIET REVOLUTION
Noise is by far the most common complaint you will hear from hotel guests. This is especially prevalent with city hotels, and less so with beach resorts. However, it is not that outlandish to receive a complaint or two about being deprived of sleep due to an unrelenting barrage of noise by an obnoxiously loud ocean. No matter how luxurious or opulent your hotel may be, this seemingly small matter may very well ruin an entire holiday for a guest, and even tarnish your hotel's reputation through unfavorable online reviews. From shared hallways amplifying the sound of your neighbor's footsteps, to roaring beach parties and soirees that keeps sleep at bay, noise can be quite the troublemaker.
K.R. Moeller Associates Ltd., a global developer and manufacturer of sound masking technology has found an answer for this age-old problem. Say hello to MODIO, a sound masking device specifically built for hotel guest rooms.
So how do we measure the noise levels of our hotel rooms?
The amplitude of a sound wave is how much force or pressure the sound wave carries, and this measurement is expressed in decibels. Now although it may be debatable, it is commonly believed that acceptable noise levels for hotel rooms are between 30dBA and 45 dBA.  However, most guest rooms actually have even lower background sound levels. Somewhere between 28 to 32 dBA. In these ultra-quiet environments, occupants can be easily disturbed by any airborne or impact noises.
How does it work?
MODIO generates a continuous flow of background sound that fills up the room and allows its occupants to adjust and control the acoustic ambience of the space just as simple as adjusting the temperature and lighting. This acoustically-engineered sound is designed to cover a wide range of noise pollutants.
Although adding more sound to a noisy environment may very well seem to go against solving the matter, guests can actually be made more comfortable by increasing the background sound level of the room in a controlled way. The sound spectrum that the MODIO device generates is engineered to balance acoustic control and guest comfort. The sound can be calibrated and tailored to suit the individual needs of each room through a process called 'tuning,' which ensures the sound meets an optimum masking curve, regardless of furnishings and finishings which would otherwise cause limitations to performance with many alternative devices.. However, even the default setting is still sufficient enough to deliver an unapparelled noise masking solution to cater to most situations.
Quick and easy installation
Easily mounted to the back of any flat screen TV, a wall or furniture, the device seamlessly blends into the room and can be installed within mere minutes by in-house engineers.
MODIO is extremely user friendly, with an easy-to-use dial on a control pad that allows the guest to set the background sound level according to their personal preference or as needed depending on any external disturbances.
MODIO devices come with a 5-year warranty, and the technology is commercially certified and has been deployed for use in numerous regions around the world including the Americas, Europe and Asia. For more information about MODIO, visit www.modio.audio.
About K.R. Moeller Associates Ltd.
K.R. Moeller Associates Ltd. is a global developer and manufacturer of sound masking technology, including the first networked sound masking, paging and music system: LogiSon Acoustic Network. K.R. Moeller is committed to product innovation and high-quality customer service, as well as to providing sound masking education for customers and related professionals. K.R. Moeller is headquartered in Burlington, Ontario, Canada and is a privately-held company.
---
Naufal Naeem, a contributing editor to Hotelier Maldives is a sales and marketing specialist with a background in hospitality and tourism operations. You can reach him at naufal@hoteliermaldives.com