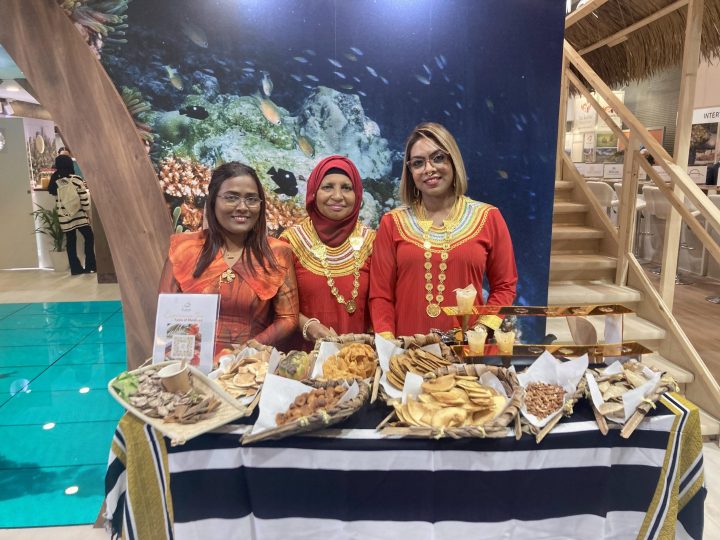 A Taste of Maldives at ITB Berlin
The bright tropical flavors of Maldives make an appearance at ITB Berlin. Visitors to the beautiful two-story Maldives stand can delight in a taste of Maldives. The flavor profile is fresh and tangy but is balanced with a mild sweetness. Maldivian cuisine emphasizes locally sourced ingredients. Coconut, fish, and starches are prepared in countless ways for breakfast, lunch, dinner and tea time.
Taste a Maldivian breakfast in a bite with the Mas Huni and Roshi Canapé. Mas huni is a savory breakfast dish made of grated coconut, tuna, fresh red onions, lime and chilis. It is served with roshi, a traditional flatbread. For a sweet, milky treat, try a Kashikeyo Kandhi Shot made using screwpine fruit. Many crunchy snacks are on offer, including taro, breadfruit and kanamadhu nuts.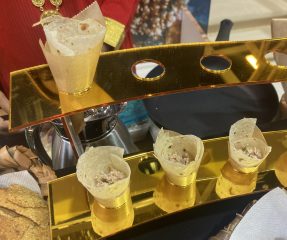 Featured Image: Mas Huni and Roshi Canapé
All of the snacks were prepared from scratch with local Maldivian ingredients by Executive Chef, Ms. Maha Naseer and Assistant Chef, Ms. Shihama Shafeeu. The duo spent three days cooking and preparing the snacks for transport.
Maha Naseer is a celebrated Maldivian chef. She holds the title as the only Maldivian Masterchef by the World Masterchef Society. Maha is also the Secretary General of Chefs Guild of Maldives. Assistant Chef, Shihama Shafeeu is an exceptional baker with over 15 years' experience as a Certified Cake Decorator and sugar artist.
ITB Berlin is the world's largest travel trade show. The three-day convention is considered the travel industry's leading think tank. The Maldives contingent is among the largest at ITB Berlin 2023, consisting of 91 companies with 233 participants representing resorts, travel agencies, guesthouses, liveaboards and airlines.
Hotelier Maldives is in Berlin covering the event. Come and have a chat with our editor at the Maldives stand.