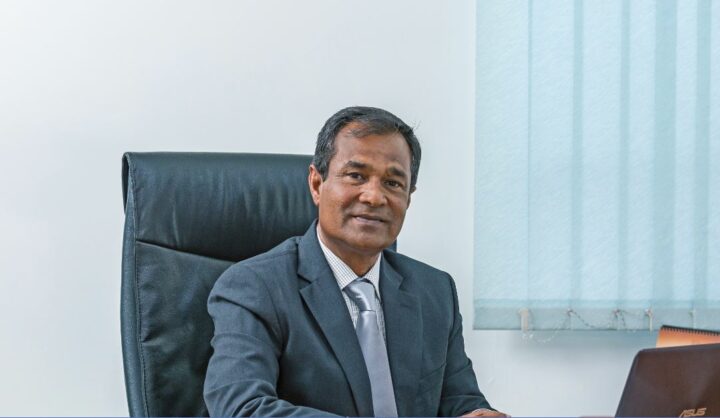 Exclusive: Abdul Majeed, Managing Director/CEO of Bison Maldives Pvt Ltd
Abdul Majeed, the managing director and CEO of Bison Maldives Pvt Ltd, has been actively engaged in the construction industry for over 30 years. Bison is operating in a wide range of businesses ranging from building construction, aluminium and glass fabrication and hardware retail, in addition to fashion and travel & hotel operations. Hotelier Maldives sits down with Majeed, inquiring about the company and the future of the construction industry.
Hotelier Maldives: Bison Maldives has been actively engaged in the building construction industry for over 30 years. How did you enter into resort construction?
Abdul Majeed:  From modest beginnings, Bison Maldives is well-seasoned in the construction industry, and we have been involved in the resort construction sector for over many years. Before the Bison brand entered the resort market in 2004, we have had some stints at resort development; Mahchafushi Island in Ari Atoll was one of our first projects.
Since then, we have undertaken a number of projects, some of them large, as we were chosen as the principal contractor for large investment projects. Some of our notable projects include Constance Halaveli Maldives, Jumeirah Dhevanafushi, and huge refurbishment works in One&Only Reethi Rah.One of our most recent, and most prominent is Cocoon Maldives which opened around six months ago. We are currently working as the principal contractor for the development of Akirifushi. Apart from resort construction, we are also shareholders of some resorts with foreign collaboration, which we are developing, including Uthurumafaaru which is expected to commence operations in 2018.HM: What does it take for a company to undertake such a huge project as the development of a luxury resort?
AM: The first and foremost is the staff. The company takes pride in its highly motivated and talented workforce, which is the driving force behind its success. Building a good management team who are capable of overseeing a project as huge as the development of a resort is vital.I always foresaw a boom in the tourism sector, which I knew would lead to growing demand for contractors. As such, I have always been training and building the management team here. Some of our team members have over 15 years of experience in the field, and I am proud to say, Bison has some of the most skilled and most experienced teams in the country.Second, comes the equipment and machinery at your disposal. Building a fleet of equipment and machinery takes years and is costly. But today, we have enough equipment and machinery to undertake two resort projects at the same time.
HM: What are some of the most significant advancements that you have seen over the years?
AM: Bison Maldives was recognised as one of the leading companies in the Maldives, and was awarded the Gold 100 award in 2016, awarded by the Corporate Maldives Magazine. We have been acknowledged for our expertise, reliability and superior quality of work, by both local and international investors.  Further, Bison Group is presently focused on implementing best practices of Corporate Governance and Risk Management practices within its Group.
We have defined ourselves by continuously re-investing our knowledge and capital. This has helped us evolve from working alongside several international contractors to executing some of the most prestigious building and resort projects in the Maldives. Today Bison Maldives stands tall, as a truly Maldivian company and should be acclaimed as a national asset.
The construction industry is not the same as when we first started. Today, we research and find the most feasible and cost-effective method of construction, before we undertake any project. Methods of construction have changed so much over the years, where today we can sit with the designers and produce a 3D visualisation of the property before we begin development.
HM: While construction is the second largest sector in the country, there are many challenges to any industry. What are some of the barriers that you've had to overcome?
AM: The biggest challenge we face, and for every other contractor too, is the difficulty in securing much-needed finances required to undertake such large projects. We are talking about millions of Dollars, and most contractors simply do not have sufficient financial backing for local established contractors.We see a number of foreign contractors—mostly from neighbouring countries—operating in the Maldives, and we see that they have the financial backing from lenders in their respective countries. I'm afraid, that is a luxury we don't have here in the Maldives.Securing finances are the biggest challenge to the construction industry, and I believe lenders such as banks can do a lot more to assist in the development of the sector; in the means of providing the much-required bank guarantees and performance bonds.
HM: Both the tourism and construction industries are intertwined, one dependent on the other. What does the future hold for the construction industry, in terms of the growing number of resorts?
AM: Truly the country is seeing significant development in the tourism sector, which is thus driving the construction industry forward. In order to take both industries to the next level, we need the development of more support infrastructure, including that of airports and other such facilities. And with this comes more projects for the contractors, while it also boosts tourist arrival figures.
So I believe the future is promising. But we need huge support in order to flourish, especially from lenders and other respective authorities. I cannot foresee a shortage of construction projects in the country anytime soon, and I believe the future looks very bright.