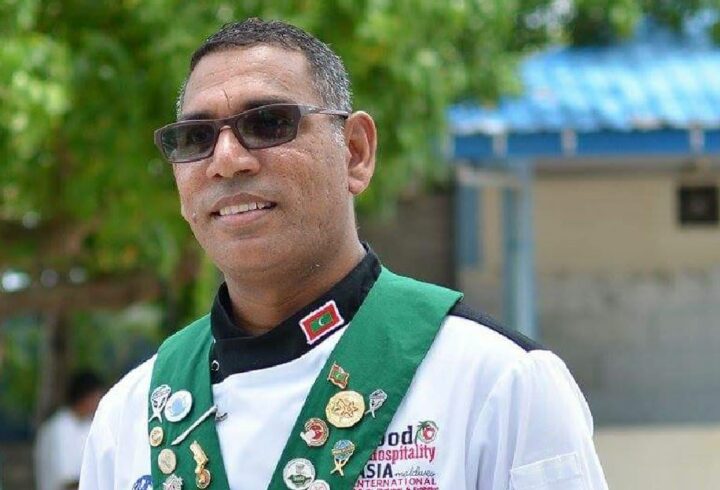 Careers: Abdulla Sobah, Sous Chef at Soneva Fushi
Abdulla Sobah is a well-known name in the Maldivian culinary world, having been in the field for over two decades. He's forty but has accomplished a lot, garnering awards and praise from competitions, international and local.
Sobah's foray into the culinary realm began after a stint as a dishwasher and steward at Kuredu Resort in the early 90s.
"I got an opportunity to do a short course in F&B production organised by UNDP," he says. "It was a two-week course and at the end of it, I realised that this is what I wanted to do. I wanted to pursue a career in the culinary arts."
So, he went to hotel school in Malé, completing his studies in three years. Afterwards, he trained at Rangali Resort, where he ended up working for six years. At the end of his spell at Rangali, he was Chef de Partie.
He went away for a six-month training programme in Sri Lanka before joining the team as Chef de Partie at Kihaadhuffaru. The next few years saw him hopping from resort to resort until he settled at Royal Island, where he was once again Chef de Partie.While he was at Royal Island, Sobah began to participate in various culinary competitions. "I won lots of awards every year, silver and gold medals," he says. "My biggest achievement was in 2015 when I won several prestigious awards, including Best Chef at the FHAM 2015 International Culinary Challenge & Exhibition."No stranger to awards, he was also named the Best Outstanding Chef and Best Maldivian Chef in 2006, at an event organised by the Singapore Chefs Association that saw the participation of over 150 chefs from across the Maldives.
After ten years at Royal Island, Sobah moved to Soneva Fushi, where he has been for the past six years. Now a Sous Chef, he oversees the resort's overall cuisine, though his area of specialisation is Maldivian fare.
Sobah has also done a bit of travelling in South Asia and South East Asia, visiting countries like Vietnam, Singapore and China to experience their cuisine and learn from their chefs.
"Experiencing new things is essential to a chef," says Sobah. "It's what helps you grow, and you can't afford to be stunted in an ever-changing field like this."
One of his memorable experiences was when he got the chance to cook for mega-celebrities, the footballer David Beckham and the uber-chef Gordon Ramsay. "They were both staying at Soneva Fushi at the time," Sobah recalls. "I will never forget the compliments I received from them, especially from Gordon Ramsay. It was a moment of pure happiness, I will treasure those remarks forever."
Soneva Fushi also gave him an opportunity to do something that he considers just as important as his awards. "Here, I got the chance to pass on the knowledge I had gained over the years to others, the new generation," he says. "In some ways, what I have achieved by training others in the art of cooking has been a lot more significant for me than any of my other achievements."
These days, Sobah keeps himself busy hosting cooking competitions for children aged between 10-12 years, working closely with parents and the Baa Atoll Education Centre."The aim is to let the children form an understanding of what the industry is all about," he explains. "It shows them what's possible if they choose this as their career path. We train them for three months prior to the actual competition and during that time they learn everything about working in a professional kitchen to how a restaurant works."The competition is basically like Master Chef, and the contest has a live audience. In addition to the children's families, interested people from nearby islands also drop by to watch and cheer for the young contestants. All ingredients required for the contest are provided by Soneva Fushi.
"In the future we plan to expand the contest to include children from all over the Maldives, competing between islands and atolls," reveals Sobah. "Ultimately, only the most talented little chefs from across the Maldives will compete in the final round."
Sobah believes the culinary world is a fulfilling and rewarding place. "The best advice I can give to aspiring chefs is 'never stop learning'. Also, always work to improve yourself through experimentation and experiencing new things. You should never stop growing. There's no limit to what you can achieve down this path; it all depends on your creativity."