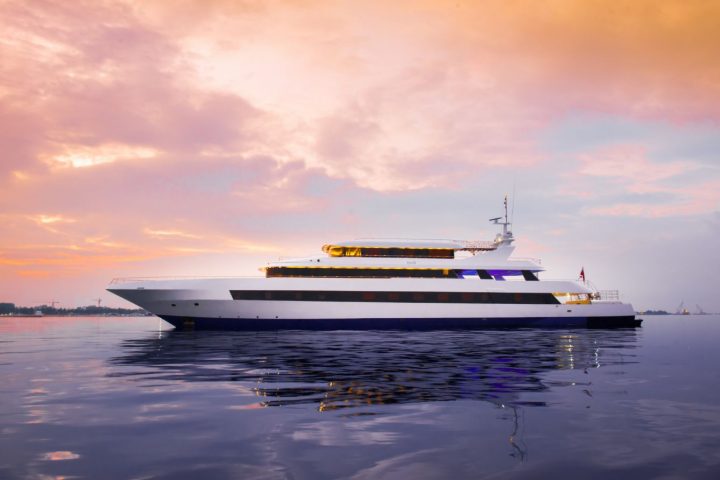 Aboard Ritrella, the biggest yacht cruising the Maldives
Ritrella stands out like a crown jewel in the Maldivian waters as it is the largest luxury cruise hotel registered to operate within the country. The yacht has a length of 58 meters and began operations in 2017. Ritrella offers packages catering to divers, surfers, big game fishing, and for guests looking at cruising and relaxation.
Ritrella was initially built in Greece and the owners undertook some refurbishments and changes to the exteriors in Cyprus before making the journey to the Maldives. Additional interior works were done in the Maldives."As this is an open ocean going vessel, we brought it from Greece to Asia via open waters," said Ibrahim Nasheed, the local partner of Ritrella. "It was refurbished and remodelled in the Maldives." Rirtella is operated by Maldiviana Pvt Ltd; part of Maldiviana Group of Companies.Now branded Ritrella Cruise Hotel, the yacht has twenty-five cabins and can accommodate a maximum of fifty passengers at full capacity. It has five decks, two bars, and a restaurant to cater to 50 guests. The yacht also has an onboard spa, dive school, water sports and a saltwater pool.
Ritrella's longer length gives the added advantage to its' sails in terms of strength and stability when cruising. Even in challenging weather conditions, the yacht can sail very smoothly. This also makes it possible for the yacht to operate throughout the year irrespective of the monsoons when the seas can be rough in the Maldives.The operators of Ritrella endeavour to provide memorable experiences to its guests; be it a range of water sports activities including jet skiing, canoeing, Stand Up Paddle-boarding or whale shark and manta watching, or island hopping and visits to local communities. More activities such as deep sea diving, snorkelling, surfing, and big game fishing are also offered.In addition to these, Ritrella is also open for corporations and other organisations wishing to host corporate functions, as the vessel is able to accommodate over 100 hundred guests in the common areas of the vessel. For more information about Ritrella, please visit ritrella.com.