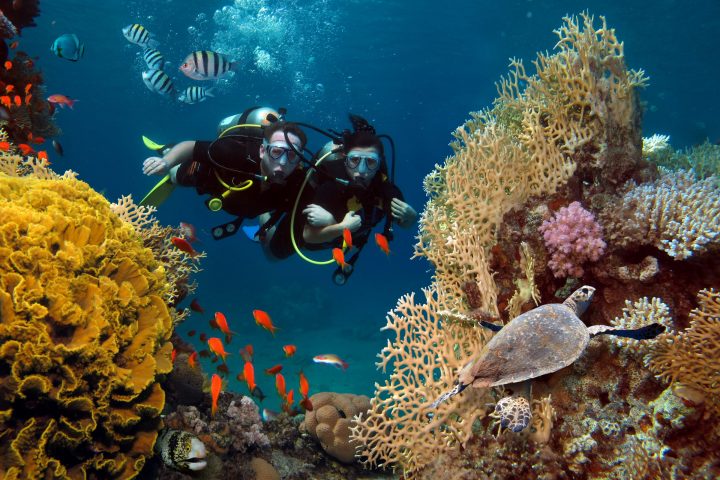 Once-in-a-lifetime diving experiences at Hilton's Maldives resorts
In a first-of-its-kind collaboration, Hilton Maldives Amingiri Resort & Spa, Waldorf Astoria Maldives Ithaafushi and Conrad Maldives Rangali Island, introduce Dive with Hilton, a seasonal collection of distinct dive experiences that showcase the wonders of the archipelago's world renowned marine biodiversity.
To mark the launch, marine biologist, master reef guide and underwater photographer Jacinta Shackleton will conduct a two-week residency beginning on July 17 through to August 1, 2023. This will provide ample opportunity for guests at all three resorts to join her on underwater excursions. Ms. Shackleton will also host marine conservation talks for adults and junior explorers alike.
Ms. Shackleton will be visiting Hilton Maldives Amingiri Resort & Spa from July 17 to 22, followed by Waldorf Astoria Maldives Ithaafushi from July 22 to 27. She will wrap up her residency at Conrad Maldives Rangali Island from July 27 to August 1, 2023.
All Dive with Hilton experiences are available from July 1, 2023 through September 30, 2023.
Vibrant Discoveries at Hilton Maldives Amingiri Resort & Spa, North Male Atoll
North Male is one of the best-explored diving atolls, characterised by reefs, caves and drop-offs, and large wildlife such as reef sharks. Dive sites close to Hilton Maldives include Sandbank Reef, teeming with curious batfish and snappers; and Anemone Reef, known in the local Dhivehi language as a classic thila or submerged rock and coral formation, flourishing with clownfish, turtles and rays.
A five-night stay starts at $1,055++ per person per night and includes six dives, in addition to accommodation in a beach or overwater pool villa, daily half board, roundtrip premium speedboat transfers, and privileges such as a one-time signature treatment at Amingiri Spa. Intrepid guests who wish to extend are also able to book a seven-night stay inclusive of ten dives, beginning at $1,070++per person per night.
Unforgettable Experiences at Waldorf Astoria Maldives Ithaafushi, South Male Atoll
Surrounded by the turquoise waters of South Male Atoll, the celebrated luxury resort offers access to 30 different dive sites, including four well-known shipwrecks, as well as snorkelling trips to view stingrays, nurse sharks and dolphins. Nighttime underwater expeditions highlight dramatic transformations as corals bloom into vivid colours.
Waldorf Astoria Maldives offers special savings on dive package rates beginning at $115++ per dive.
Impactful Encounters at Conrad Maldives Rangali Island, South Ari Atoll
Guests of the twin-island resort enjoy enviably close proximity to marine megafauna. Whale sharks make their home in the protected South Ari Atoll Marine Park, the only location in the world where the gentle giants can be seen in their natural habitat every day of the year, while resident reef manta rays, sea turtles and dolphins also make frequent appearances.
Dive with Hilton packages at Conrad Maldives include a five-night stay with five dives at $650++ per person, while A seven-night stay from $920++ per person features nine dives. Luxurious villas are available starting from $950++ per night and must be booked separately.
These packages also include a captivating whale-shark encounter, a 60-minute spa treatment, a mixology masterclass, and complimentary access to non-motorised water sports activities such as kayaking and snorkelling.