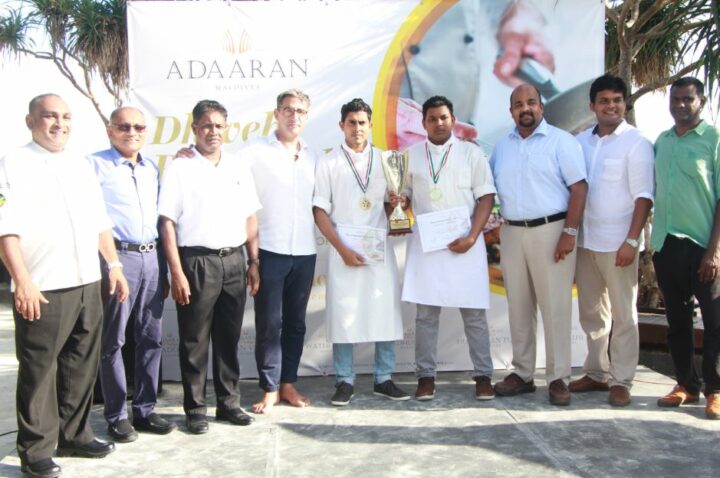 Adaaran Resorts Maldives holds Dhivehi Rahathah Challenge
Adaaran Resorts Maldives' first ever culinary challenge competition, dubbed the 'Dhivehi Rahathah Challenge', has concluded. The culinary competition concluded after three months of training programmes and competitions among resort teams, and a day-long culinary competition between the winning teams.
The most prestigious award of the competition was awarded to Team 2 from Adaaran Club Rannaalhi with two teams from Adaaran Meedhupparu winning second and third places, respectively. Yoosuf Ali and Abdulla Zaheen from Team 2, Adaaran Club Rannalhi resort took home the winning prize.The purpose of the culinary competition is to bring out the hidden talents of the associates and to highlight the traditional cuisines of the Maldives with a twist to suit the palate of today's discerning travellers. Additionally, the competition aims to highlight the preservation of authentic cuisines as a part of the culture for future generations."The response to this competition has been overwhelming. A number of none-culinary staff also took part in this competition and we are very thankful for that," said Hemantha Ratnayake, one of the guests of honour and judges of the Dhivehi Rahathah Challenge."This was a well-planned event by Adaaran Resorts Maldives and we are thankful for the support given by executive chefs and general management of the resorts."
The competition saw amateur chefs prepare 80 dishes in categories inclusive of typical Maldivian condiments and ingredients, typical Maldivian cooking techniques, and Maldivian desserts and drinks.Headed by Bjorn van der Horst, Corporate Director Food and Beverage at Aitken Spence Hotels and chief judge of the competition, the judging panel consisted of three judges. The panel of judges also included Chef Lalith Gunasekara (Winner of the Best Chef of the Year at the Heritance Hotels and Resorts Awards 2012) and Hemantha Ratnayake (Consultant for Learning and Development at Adaaran Resorts).Commenting on the competition, Bjorn van der Horst, said: "There is a tremendous amount of talent and creativity by the participants. With more training, there is a possibility of showcasing this talent and this cultural experience to guests that come to the Maldives."The competition saw four stalls including teams from Adaaran Meedhupparu, Adaaran Rannalhi, Adaaran Select Hudhuran Fushi, Adaaran Vadoo, Adaaran Ocean Villas and Adaaran Water Villas.