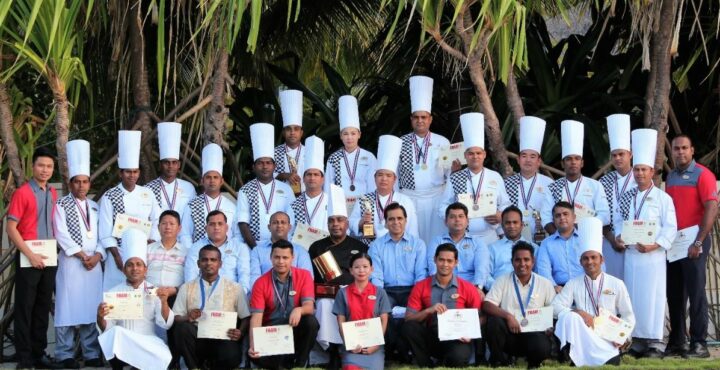 HIH bags top honours at FHAM Culinary Challenge 2017
For the 8th time, Hulhulé Island Hotel (HIH) has been adjudged the 'Best Culinary Establishment' or the 'Most Outstanding Culinary Organisation' in culinary competitions at the International Culinary Challenge held as part of Food and Hospitality Asia Maldives.
According to HIH, it seems like the Culinary Team at HIH works round the year to be able to win laurels in these competitions. The team participates in style focused on quality, keeping a close eye on what is trending in the F&B world, challenging their own previously set benchmarks and creative skills, resulting in felicitations year after year, says the hotel in a statement.
This year was no different for the HIH Culinary Team! At the recently concluded FHAM Culinary Challenge, Hulhulé Island Hotel bagged The Top Honour i.e. 'Most Outstanding Culinary Organisation-2017' Trophy along with trophies for 'Best Pastry Chef', 'Best Artistic Pastry Showpiece' and 'Creative Maldivian Meal'.
This year, another category of Bed Making and Decorating competition was introduced at the FHAM, providing an appropriate platform for the Housekeeping colleagues of HIH to showcase their talent in conjunction with their colleagues in restaurants and bars.
In the first ever Bed Making and Decorating competition, HIH romped home with Bronze Medals, prizes, certificates in the team event and most importantly the experience gained while participating in the competition.
The F&B team also added to the tally of medals by winning a silver and a bronze medal each in Mocktail and Coffee making competitions. Team HIH medals' tally is nothing short of impressive with a total of 4 Top Honours' Trophies, 6 Gold Medals, 8 Silver Medals, 14 Bronze Medals and various tangible prizes and cash prizes, reads the statement.
To celebrate the success of the achievements at the Culinary Challenge, accolades were presented in the hotel's rewarding ceremony. General Manager, Utkarsh Faujdar thanked and congratulated entire Team F&B and Housekeeping, in particular, the winners and addressed the entire Team HIH to seek inspiration from one another in scaling new heights for their self-development and that of the organisation, according to the hotel.