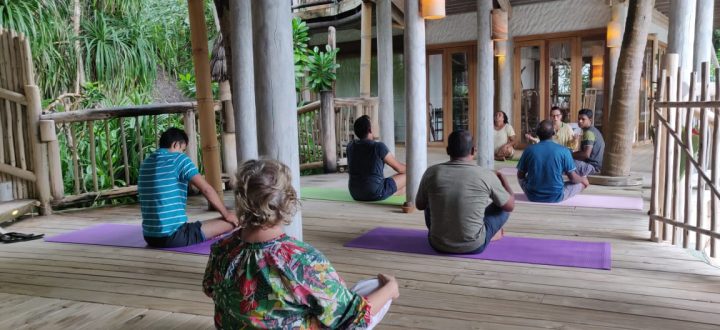 Ajna Retreats Provide Holistic Wellbeing Support to Resort Staff
In a world where we are constantly rushing to check a task off our list, we often forget the most important part of being human – our well-being. In today's times, good/bad mental and physical well-being are the root cause and solution to most of our problems.
Ajna, a well-being organization committed to healing trauma holistically and making workplaces more compassionate provides one-to-one sessions to those who seek mental wellness and hosts wellness retreats around the world to enhance wellbeing through education, connection and relaxation. The professional practitioners use a myriad of methods, including Qigong, sound healing, somatic regulation, and psychological approaches to restore the mind-body connection. Ajna seeks to raise awareness of how trauma seeps into every aspect of life.
"Qi-Gong is extremely fun and helpful. I definitely will keep doing the exercises in the future. Really appreciated."

– Raul*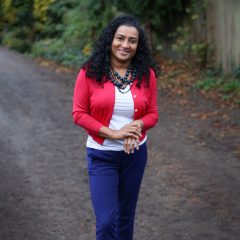 Founded by Dr Mariya Ali, whose career spans over 30 years working with women and children's rights, both nationally in the Maldives and internationally Ajna is able to flourish with her expertise of working with those affected by varying levels of trauma. She is a Visiting Knowledge Exchange Fellow at Oxford Brookes University where she continues to research and publish. She became passionate about making workplaces psychologically safe and compassionate having witnessed toxic work environments that hinder staff productivity ultimately impacting service delivery.
She explains that toxic work environments usually result from staff or managers playing out their traumas. Trauma is something that happened in the past but leaves a mark that continues to live in our bodies as sensations of fear, pain, hypervigilance, rigidness, anxiety, anger, rage and so on.
For example, it could be as simple as "I don't feel smart enough", "the managers won't like me", "I am always the second best." These beliefs result from childhood traumas and may cause feelings that one is unable to tolerate, so it overwhelms and hinders our capacity to function at our optimal. It usually manifests as physical health conditions or mental health issues, such as chronic pains, anxiety, gut issues etc. So, Ajna's approach embodies multiple therapeutic approaches including somatic, body-based approaches to uncover what is behind people's beliefs and behaviors that are no longer serving individuals.
Unlike many other wellness retreats, Ajna's approach is trauma informed. This approach takes into account that trauma, especially early childhood trauma caused by adverse childhood experiences (ACEs), can have an impact one's neurological, biological, and psychological development.
All Ajna's retreats embody 6 principles of trauma informed approach: creating safety, trust and transparency, peer support, collaboration and mutuality, empowerment, cultural, historical and gender issues.
The diverse international team of practitioners are trained and specialized in an array of mind and body practices, including cognitive therapy, solution focused brief therapy, EMDR therapy, somatic regulation, craniosacral therapy, attachment building etc.
"What impacted me most was to learn how important it is to love yourself"

–  Mariam*
The retreats also invite participants to explore their attachment pattern that is formed by the age of three. Dr Ali explains, "Attachment theory explains that the way we treat ourselves and others is the way we have been parented. So, the tone of the workplace set by managers becomes important and determines whether staff feel calm, secure and comforted or anxious, worried or even fearful." Childhood experiences, traumatic or not, are stored psychologically and physiologically in the body. Many behaviors are unconsciously developed as an adaptation or response to circumstances.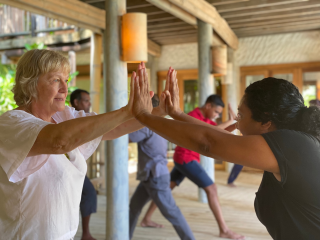 Featured Image: Ajna Retreat
The bespoke retreats are curated based on a resort's needs, company culture, and values. Values of sustainability or wellness drive the focus of the retreats to increase employee engagement and ensure a consistent understanding of company values.
"Following the retreat, especially the guys, we now fist bump in the mornings when we pass each other. It has created a level of check in on how the other person is doing."

– Joseph*
Ajna is proud to be able to deliver these retreats and create further positive impact. Retreat participants have noted positive outcomes, including increased motivation. Staff employees have reported being able to better cope with stress and work demands by understanding their own stress response. Increased mind-body connection leads to better emotional regulation.
"I came with no expectations but in return I have gained much more than what I didn't think about. It is a balance of living, peace, diet, connections and healing."

– Julie*
In 2021, Ajna tailor made the "Becoming You" retreats for the staff of Soneva Fushi and Soneva Jani. The retreats were a testament to Soneva's commitment to staff wellbeing. The functioning of a property is only as strong as its staff. Ajna's practitioners created a safe space for staff to delve deep into their emotions and incorporate new wellness techniques to improve their wellbeing.
"A week after the retreat, I sat with my wife, still discussing the experience. Many of the attendees were able to make several impactful and positive lifestyles changes."

-Mr. Solanki, Director of Learning & Development at Pulse Hotels and Resorts 
Using a holistic health approach, Ajna seeks to inspire hope in those looking to change their life. Resorts looking to improve the wellbeing of their staff are invited to contact Ajna at info@ajnabeing.com or through our Instagram for one-on-one sessions with staff or a tailor-made group retreat.
*Testimonials are from employees who attended a hotel staff retreat. The names have been changed for privacy.