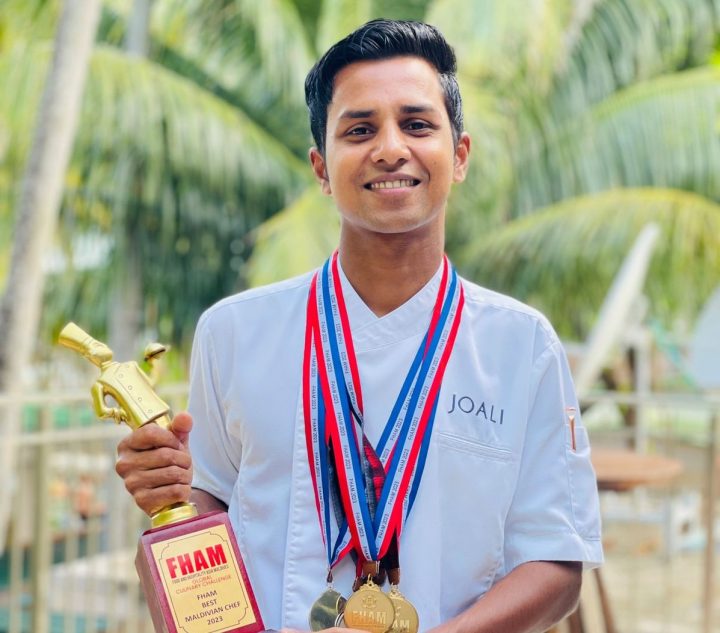 Ajwad Abdull Wahaab Awarded Best Maldivian Chef at FHAM 2023
Ajwad Abdull Wahaab was named Best Maldivian Chef at the 2023 FHAM Global Culinary Challenge. This year Ajwad participated in five categories in the Global Culinary Challenge, hot-cooking lamb, hot-cooking beef, hot-cooking poultry, hot-cooking seafood, and traditional and modern Maldivian meal. Ajwad received two gold medals, two silver medals, and one bronze medal from the categories he competed in.
Commenting on the award, Ajwad said, "I have dreamed of winning a title like Best Maldivian Chef since I entered the culinary world. I was filled with joy when I received the award."
Ajwad said that Maldivian cuisine is creative with limited ingredients. Thousands of aromatic dishes are made from the three staple ingredients: tuna, coconut, and rice. Authentic Maldivian dishes remind Maldivians of childhood memories and guests of their favorite country to visit.
Ajwad's culinary career began in 2017 as an apprentice at Four Seasons Kuda Huraa. Through the apprenticeship, Ajwad witnessed the connection and joy people feel through food. Simple recipes can transport people back in time or around the world. His skills developed through on-the-job training at various positions in the Kitchen. Ajwad currently works as Chef de Partie Supervisor at JOALI Maldives.
Ajwad's favorite ingredient to work with is meat. Whether it be beef, lamb, or poultry, he is creative with the flavors and the versatility of the cooking technique.