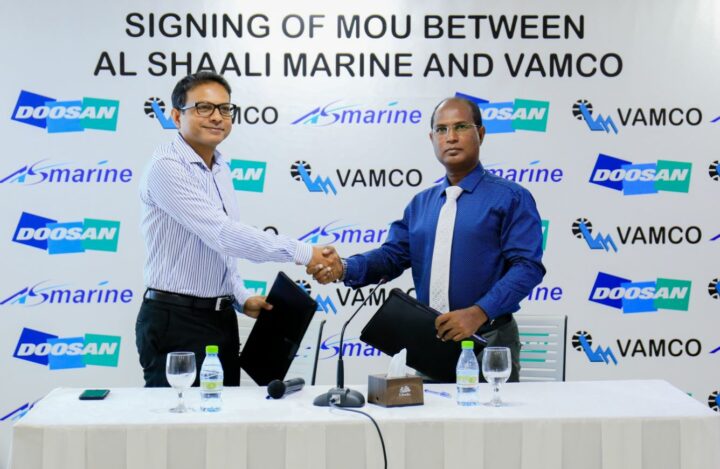 Al Shaali Marine, VAMCO partner to offer comprehensive marine solutions.
Al Shaali Marine Maldives and VAMCO have partnered to provide comprehensive packages; offering Al Shaali Marine's Island Hopper 50 vessels with VAMCO's Doosan marine engines. The partnership will result in high-quality complete marine solutions at very competitive prices for resorts, guesthouses and other customers.
Exceptional after sales services will be provided by VAMCO Service Centre and Al Shaali Marine to customers who utilise the engines and vessels delivered under the partnership. The partnership is expected to enhance customer experiences and boost growth for both companies, according to Al Shaali Marine Maldives and VAMCO.
Al Shaali Marine Maldives Pvt Ltd (is a joint venture between Al Shaali Marine Dubai and Coastline Investments Pvt Ltd, Maldives. The main Branch of AS Marine in UAE was established in 1979 and is considered to be a pioneer of fiberglass boats and yacht manufacturing in the Middle East.
Al Shaali Marine Maldives has served in the Maldives for more than 36 years with its top-quality fiberglass boats and providing other services such as boat design & manufacturing, haulage, repair & refurbishment, semi & fully customised solutions, fabricating & welding works, engine servicing & rebuilding and complete boat fit-out.
VAMCO is the one of the largest dealers of marine equipment and products in the Maldives. Being a one-stop place for quality and reliable marine solutions, it has provided solutions for sectors such as the fishing industry, tourism industry, ferry, and transport services for more than 17 years. VAMCO also operates the largest service centre in the Maldives, offering repair and maintenance services to various types of mechanical and electrical equipment in addition to offering efficient and timely after sales services to machinery and equipment sold by VAMCO.