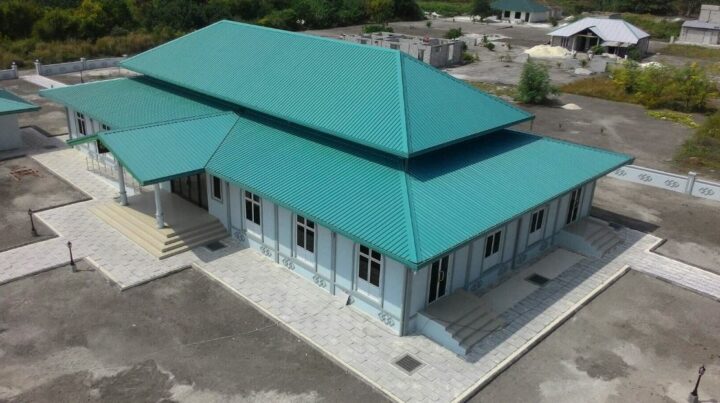 Ali Fulhu Thuthu Foundation: Addressing basic unmet needs through community-initiated projects
With a vision to improve the common citizen's quality of life, the Ali Fulhu Thuthu Foundation came into existence in November 2000. Aiming to provide equal opportunities for every Maldivian, this family venture was initiated in honour of the late Moosa Ali, otherwise known as Ali Fulhu Thuthu.
During the time of formulation, the foundation's major focus relied on the development of youth.  One of its major focus was granting scholarships to school leavers in collaboration with UWC (United World Colleges) International.Since 2000, the Ali Fulhu Thuthu Foundation had administered the selection of students for the UWC Maldives – an umbrella organisation of the UWC International – until it handed over sole administrative duties to the UWC Maldives in 2013.Up to date, AFT Foundation remains the only funding body for the Institute and has successfully awarded a total of 51 scholarships to students from UWC affiliations around the globe including Canada, Norway, India, UK, USA, Italy, Bosnia & Herzegovina, Hongkong, Swaziland, Armenia, Costa Rica and the Netherlands. An average of 2 students is awarded the scholarship annually through the Foundation.
The initiation, led by Karin Fathimath Afeef enrolled students aged 16-18 in a rigorous holistic education program of two years resulting in the obtainment of an International Baccalaureate Diploma, equivalent to GCSE Advance Level (A-Level) certificate.
In its efforts for youth related developmental programs, the Foundation conducts field visits to address local community needs. In some projects, children under the age of 12 years received training on youth development.In 2009, AFT Foundation ventured into social development projects to expand its current programs which, since the commencement of the Foundation, were limited to youth-oriented initiatives.The addition of the 'Atoll Program' to their chain of assistance opened funding opportunities for the nation, depending on community requests.AFT Foundation, by not limiting the sectors to specific developmental areas, gave a sense of independence to local rural communities seeking development aid from a specific area of their preference.
In that regard, the AFT Foundation has supported over 400 projects from 2009 till end of 2016 and has seen major growth in their collaborations with atolls and islands in analysing the proposals received for developmental, agricultural, educational, environmental, health, sports, entertainment, and cultural projects that would positively reshape the lives of the communities. The Foundation also aids in awareness programmes, training for skill development and other courses received on request.
Meeting with the Program Manager, Asima Luthfee, Hotelier Maldives gained more knowledge on the Foundation's programs of which, ironically Educational projects incurred the most expenditure for the company."Through community requests, we found out that the most portion of our budget was spent on education; from in-house installations for classrooms, to providing aluminium doors for a safe working environment. Because at times the conditions of schools in islands are so poor that during the rainy reason, the classrooms may not have a proper atmosphere for examinations to be held; with water seeping inside.We also give a lot of consideration towards aiding in infrastructure, from toilets to building ceilings for schools, shading play areas with nets and any other requests that come in requesting aid for infrastructure. Around 82% of our funds in this regard has been accounted for educational purposes just for the year 2015," stated Asima.
Apart from this, AFT Foundation has been a significant presence in improving healthy living standards. One of its projects that ensured the availability of clean drinking water involved the installation of water kiosks in an island; providing accessibility even to sea vehicles docking into the harbour. Similarly, their contribution towards setting up waste management systems and construction of water and sewerage within islands are also notable.
However, the implementation of an integrated water supply system and sewerage disposal system for a population of 1300 people in K. Dhiffushi – due to be complete within the year – remains the biggest highlight for a project of that scale. In collaboration with Meeru Island Resort & Spa, the total cost of the project amounted to US$ 4 Million.Their contributions to the community are evident in having been awarded the "Thila Uthuru Uhthama Aruthaveringe Award" on 27th November 2016 for the contributions made in-kind and financially for the development of the Ha. Atoll specifically; through its Atoll Program and ad hoc projects.Throughout its presence, the Foundation has portrayed an interest towards addressing major social issues in the nation by partnering with various Non-Governmental Organisation's (NGO's) but this branch of operations expanded in 2013 with AFT Foundation's decision to work extensively in programs and workshops held by NGO's operating in Male' as well. This includes Journey, Care Society, Maldives Autism Association, and Society for Health Education and Cancer Society of Maldives.
Under the partnership with Journey, AFT Foundation continues to support their activities towards prevention of drugs and help drug users to recover from diseases of addiction and educate the community on drugs and HIV.As per the partnership with Care Society, AFT Foundation ensures adequate educational and training are made available to those with disabilities while assuring the community of their value to our developing society.As a Corporate Member of Care Society since 2012, both organisations work hand in hand in leading the way to promote practices and public policies that support the total integration of people with disabilities including equal treatment.During the year 2016, AFTF supported the implementation of four projects within Maldives Autism Association through autism awareness workshops and training such occupational therapy sessions. In the hope of providing an interactive learning environment to children with special needs, AFT Foundation donated modern smart board systems to the association as well.
AFT Foundation also encourages awareness for bullying through its projects. outreach their program – SHE, youth leaders were trained on a 'TOT (Training of Trainers) Format' basis on Bullying, to pass on the knowledge gained from the training to outer islands. The outcomes of the training were very successful and trained participants facilitated sessions on Prevention of Bullying for over 600 students from schools in various atolls and different camps conducted over the years. Currently, five of those trained are active youth volunteers of Society for Health Education. In addition to this, seven youth panellists were mentored by one of their trained volunteers on Prevention of Bullying and Mental Health for the United Nation's General Assembly conducted in order to commemorate World Health Day.AFTF's most generous contribution to; SHE, to date, remains the DNA testing machine – the only provider of DNA analysis for thalassemia in the Maldives, donated in 2016.AFT Foundation also has plans of working with The Cancer Society of Maldives by supporting a cancer facilitators training workshop for school health professionals. Previously the Foundation remained an active figure in workshops held by the Cancer Society of Maldives on the breast, cervical and general cancer, as well.Most recent contributions by AFT Foundation is seen in their donation of an ultrasound scanning machine -in the year 2016- to support cancer awareness and screening program. This includes screening – outreach programs and male institutions
The Foundation has been recognised for their generous contributions made in support of NGO's when on September 25, 2016, they became the recipient of the "Disability Award". Currently, plans are ongoing for the imminent installation of flood mitigation water pumps in H.Dh. Kulhudhuffushi and H.Dh. Nolhivaram as support for the Maldivian Red Crescent's plans to provide community aid in the event of natural disasters. Drawing proceedings are underway for the construction of a pump station in H.Dh. Nolhivaram under the full assistance of the Foundation.The year 2016 additionally saw AFT Foundation's endeavour into strengthening relations with government by supporting the Ministry of Islamic Affairs in their plan of constructing six mosques within islands.AFTF managed to fully fund the construction of 7 mosques altogether – out of which 1 project was entirely initiated by the Foundation, in its decision to assist a local council request – at a whopping cost of over US$ 3.3 Million out of which 4 mosques have already been completed by the year 2016. The remaining 3 projects would be completed within the 3rd quarter of 2017. 6 six,
Ad hoc projects are also handled with serious strategies to ensure results are met; such as impromptu projects set up to resolve issues for communities facing imminent threats or those that become subject to natural disasters. In the year 2016 alone, the organisation spent a well-rounded $1.8 Million in achieving what they do best.
According to Asima, the current year foresees the Foundation's vision to open funding for small-scale local projects focused on elderly care, to be run nationwide. Planned to be offered towards the end of 2017, the project completion plans are scheduled for 1 year.
As she put it simply, the AFT Foundation will continue its mission to be resourceful by "addressing basic unmet needs through community-initiated projects".