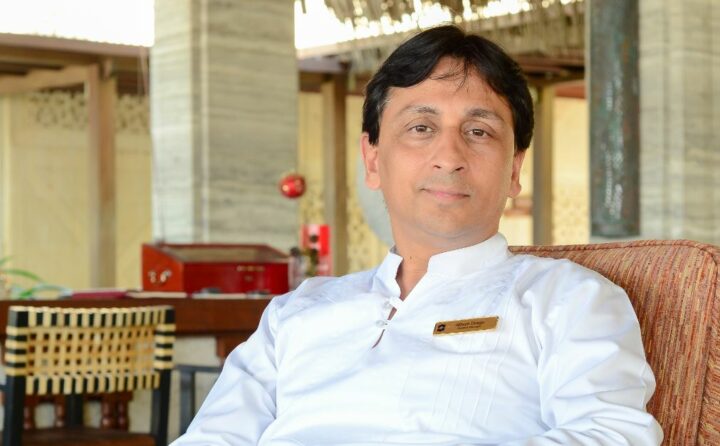 GM's View: Allwyn Drego, General Manager of Shangri-La's Villingili Resort & Spa
Allwyn Drego, the General Manager of Shangri-La's Villingili Resort & Spa, has been a passionate and determined hotelier since a very young age. His career has taken him to all the corners of the globe, before his current spell here managing one of the most luxurious properties located in the southernmost tip of Addu City. Hotelier Maldives sits down with Allwyn to bring you this GM's view.
Hotelier Maldives: Becoming an hotelier has been your childhood dream, which you pursued with a resolute drive. How did you enter the hospitality industry?
Allwyn Drego: It had always been a huge dream of mine to one day become a hotel manager. And my dream began to take shape a long time ago at the Oberoi Hotels in Bombay, India.
Like many others, my entry was as a waiting staff at the F&B department at the very young age of 18. I was juggling work and studies, as my aim was to enrol at the Oberoi School of Hotel Management—a management school for hospitality professionals.
After completing a three-year rigorous Management trainee programme from the Oberoi School, I joined the Oberoi Hotels in Bombay, India, as an Assistant Manager, from where my hotel career began. And within a ten-year span, I was managing one of the finest hotels in India—The Oberoi Amarvilas in India.
In 2005, I took a leap and moved to the Taj Group, managing the award-winning 142-villa and 56-acre beachfront Taj Exotica Resort and Spa in Goa, India. Four years after that, I found myself here on droplets of pearls in the turquoise blue sea on the verdant sandy beaches of Maldives, to open Taj Group of Hotels' first international Vivanta resort—the Vivanta Coral Reef Maldives.After two and half years I moved to Indonesia, and in late 2012 found myself back in Mumbai, for the opening of the brand new Shangri-La Hotel. And from 2013 to 2014 I was at the iconic Shangri-La Hotel in Kuala Lumpur, Malaysia—a 700 room luxury hotel in the heart of the city—before getting the opportunity to move back to the Maldives.
HM: During your stints managing luxury properties across the globe, you've always found time to gain more knowledge and you never once put your education on hold. Tell us a little bit about your educational background.
AD: I strongly believe education is the key to a successful career, and as you mentioned, I hold education very dear. I never really ceased in my pursuit of higher education. I hold a Bachelor's Degree in Economics and Commerce from the University of Bombay and a Diploma in Hospitality Sales and Marketing from The American Hotel and Motel Association.
I am also a postgraduate from the esteemed Oberoi School of Hotel Management in Delhi, India, and I attended the Mastercard – ESSEC Luxury Brand Management Executive Programme in Singapore and also Taj-Cornell Winter University for Senior Management. I am a firm believer that in order to grow in today`s fast-paced world we have to tenaciously update and upgrade our knowledge and skills continuously thru self-driven growth.
HM: You've been at the top job in a number of properties, in very different locations. How would you describe the difference in managing a city hotel and that of a resort island?
AD: There is a huge difference in managing a city hotel and running a resort operation. Here, planning has to be immaculate, especially since we have to import everything from overseas.These islands are cities in their own way, and engineering marvels; we have to produce our own electricity, desalinate our own water, manage sewage and waste, etc. These are things which you don't have to worry about in a city hotel, but out here, every single aspect has to be carefully planned and executed.I can say running a city hotel is a relatively easier task. But managing a luxury resort in the Maldives is the ultimate test for an hotelier. One needs skills, patience, a talented and self-driven team with the right skill set to be able to have a smooth operation. One needs to always be on the ball; mentally prepared to face anything.
In order to ensure everything goes like clockwork, especially at the time of an incident, we regularly conduct drills to make sure our staff are well-prepared to handle any scenario, be it a fire or an incident at sea. And I would say I am more than pleased with the response of my team.
HM: What are some of the challenges you face in operating a luxury resort here in the southernmost tip of the Maldives Archipelago?
AD: The challenges are many, and we face them every single day. How do we avert them? Careful planning by the top-notch executive management, and spot-on execution by our dedicated staff.One of our biggest blessings is the location and pristine beauty of this enchanting island. But, the location also comes with its trials and tribulations. The distance from the Velana International Airport is an issue, as our guests need to catch another flight to Gan International Airport, extending their travel time.
But this is something which can be solved with the increase of direct flights from international destinations. And we played a vital role in the introduction of scheduled flights to Gan from Colombo, Sri Lanka.More international flights will not only be beneficial for Shangri-La but the other resorts and Addu City and the southern atolls as a whole. Also, being far from the capital means it is challenging to find the right talent. Other than that, this is a fabulous place to work. The natural beauty of the place renders people speechless; they forget about everything else.
HM: Shangri-La is big on training staff and providing opportunities. How would you describe your staff?
AD: Sixty percent of our staff are locals, and be it local or expats, we provide them with extensive opportunities to learn and grow. And our staff are amongst the finest one can find anywhere.
One example of our commitment to provide opportunities to our staff is our partnership with Harvard University's Manage Mentor programmes, where 80 of our staff are offered the chance to undertake online training programmes. The programme offers some 24 courses to choose from, which are fully-paid by Shangri-La.
As part of our international exposure programme, we send our staff to Shangri-La properties in other parts of the world. And something that I am very proud of is the fact that one of our staff, a local, is currently working as the Executive Housekeeper at the Shangri-La's Hambantota Golf Resort & Spa in Sri Lanka.
We also have an apprenticeship programme targeting youth of Addu City, in partnership with Addu City Council.
Our staff are the cornerstone of this property, and the executive management ensures that the staff are happy and cared for. One thing that shows our bond can be seen during the fasting month of Ramadan. We take it upon ourselves to be at the service of the staff, and we personally serve them their breakfast every evening, as they fast during the day. It is something I take pride in, and at the same time immensely enjoy.We have to give back, in order to be accepted and respected. And not only to our staff but also to the community. We are not simply a resort island in Addu City, but a part of this great city. We have the causes of the people in our hearts, and we provide for the islands as much as we can.
We are big on sourcing local produce and utilising local talent. In order for us to grow, we also need the community around us to grow.This the reason why we were recognised as the silver winner in the Best in Local Sourcing category at the World Travel Market Awards, London, in 2016.
HM: Lastly, what are some of the aspects about Shangri-La's Villingili that strikes you, and also about the Maldives?
AD: Many of you know of our association with the British Royal Airforce and our island being an RAF base during the Second World War. Even today guests visit the remnants of the Garrison building, pill box, ammunition bunkers and a lot more on our island. And of course, there is nothing quite like our nine-hole golf course here in the Maldives. Another unique feature is our dense vegetation and forest cover, we are blessed with a rather large 2.5 km long island that offers our guests the ultimate escape.  Our Orchid Nursery houses over 1,500 orchids in full bloom and visiting guests are enthralled and surprised to see these delicate flowers bloom just a few degrees south of the equator.
Recently added is a beautiful stargazing platform, offering our guests the chance to wine and dine under the 'Southern Cross' and at the same time gaze at the stars using two telescopes. Our theme "Under the Southern Cross" signifies that we are in the southern hemisphere and under the group of stars called the Southern Cross.  Even the food we serve at the special dinner is sourced from countries under the Southern Cross—Australia, New Zealand, South Africa, Argentina, Chile and Brazil.
About the Maldives, there is nothing quite similar to the pristine beauty of its fabulous beaches, refreshingly clean air and twinkling and bejewelled night sky. It is truly a haven for everyone, where tranquillity and peace are unmatched elsewhere. This is truly paradise, and at the southernmost tip, with the Southern Cross shining bright overhead, is the magnificent Shangri-La's Villingili Resort & Spa, a magical island that will leave you in awe.