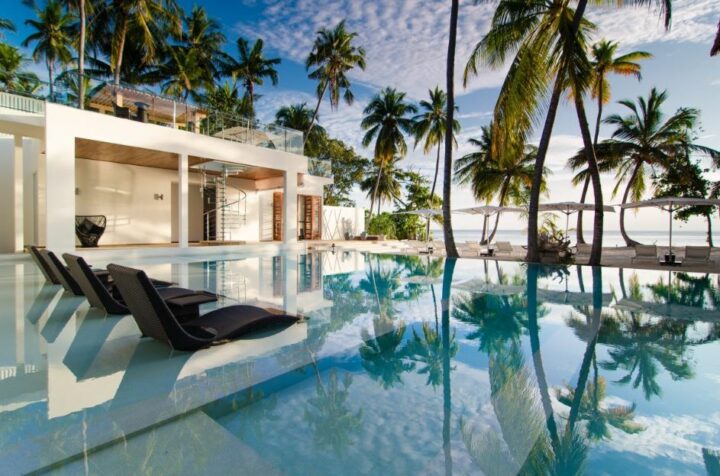 Refined bliss: Amilla Fushi gets a branding makeover
Amilla Fushi has made waves in the Maldives resort space in the two years since opening in 2015. It quickly became known as a getaway for discerning jetsetters, with sleek whitewashed villas and a greater selection of large, multi-bedroom residences.
This has opened up the archipelago to families and groups of friends who appreciate Amilla's clean, contemporary design, diverse dining options and ideal location, just 30 minutes from Velana International Airport.
According to QUO – the company behind Amilla Fushi's new brand strategy – the resort had successfully established its key selling points and did not need a radical brand overhaul. However, the resort's management came to QUO to refresh the brand to more precisely target guests and drive direct bookings, according to QUO.
Amilla Fushi's identity in its first two years focused on the concept of 'your island home'. It was a natural brand essence that derived from the name; Amilla Fushi literally translates to 'My Island Home' in Dhivehi. Ultimately, this identity didn't quite capture the glamorous exclusivity of Amilla Fushi, so tweaks to its brand traits and brand essence were in order, according to QUO.
To define exactly how Amilla Fushi should evolve its brand, QUO analysed competitors and guest typologies before creating a new brand strategy, which involved the creation of an updated visual identity and a new tone of voice. With the brand strategy and guidelines for images and copy in place, QUO proposed ideas to amplify the brand, before moving on to design and produce brand collateral, brochures, a new tagline and various marketing materials.
The new tagline – Island Bliss – more adeptly captures Amilla Fushi's seemingly effortless delivery of idyllic luxury, according to QUO. At the core of the new identity: an alluring vision of the good life, indulgently simple and blissfully free of ostentation.
QUO also created a modern website for the resort, with a crisp magazine-style layout that reflects Amilla Fushi's chic, minimalist aesthetic. Meanwhile, a poetic new tone of voice paints a lyrically descriptive picture of Amilla Fushi's richly idyllic surrounds. Check out the new Amilla Fushi website at amilla.com.
Editor's Note: This is a republication of an article on the official website of QUO.